Music in the Round #87: Oppo UDP-205 Recordings in the Round
Sidebar: Recordings in the Round
Rachmaninoff: Symphony 1
Gabriel Feltz, Dortmund Philharmonic
Dreyer Gaido 21100 (SACD/CD). 2017. DDD. TT: 45:43
I'd just switched on the radio. Wow. Several times, I thought, Yes, this piece must be ending now. It continued. I didn't know what it was, or that I'd tuned in at the middle of the first movement. What was it? Surely too brash and clumsy for Rachmaninoff, but . . . it sure sounded Russian—and boy, was it exciting.
That was more than 20 years ago, and I still find unique enjoyment in this work composed by Rachmaninoff in his early 20s. I usually turn to a recording by the London Symphony Orchestra: the one led by André Previn (CD, EMI 764530 2) that I heard that first time, and Valery Gergiev's more recent multichannel version (SACD/CD, LSO Live LSO0784). However, it wasn't until I heard this new recording that I recovered that thrill of discovery of two decades ago. Gabriel Feltz and his Dortmunders play as if the ink on the score were still wet, and hold back nothing. The playing is outstanding; only the thinness of the strings and a woodwind or two reveal that this is not the LSO or VPO. The brass are great. Feltz moves it all with pace, emphasizing the beat with the prominent bass drum and timpani without trampling more reflective passages. The recording supports his approach with a wide dynamic range, deep bass, and a broad, detailed soundstage. It all makes this youthful work sound even more fresh and new.
Various Artists: 17th Annual Blues Masters at the Crossroads
Joe Beard, George Brock, Sonny Green, Marquise Knox Band, Lazy Lester, Mighty Sam McClain, Moreland & Arbuckle, Rip Lee Pryor.
APO Records XBMC2014FULL (multichannel or stereo DSD64, stereo 24/176 FLAC Downloads. 2015. DDD. TT: 10:47:49.
Chad Kassem of Acoustic Sounds has long been a supporter of the blues, and over the years has promoted the tradition by releasing new and remastered older recordings. Acoustic Sounds has also provided support for live concerts, in Salina, Kansas, and elsewhere. I've had the pleasure of hearing Kassem's artists in the intimate settings of hotel rooms at audio shows.
This blockbuster set was recorded at Kassem's Blue Heaven Studios—a former church more than a century old—over two days in October 2014, and released on Acoustic Sounds in February 2015. At the controls was Gus Skinas, of the SACD specialty firm the Super Audio Center, and a key member of the Sonoma team that produced many of the very first SACDs. I'm sorry I missed the set's debut more than two years ago, but have tried to make up for it by downloading the entire 67-track, 51.20GB set in multichannel DSD64: nearly 11 hours of music for $74.98.
If you're a blues fan, this is about as close as you can get to hearing it live. One of the greatest attractions of the set is the high level of talent, ranging from veterans like Sonny Green and big names like Mighty Sam McClain, to such newcomers as Marquise Knox. Another is the musicians' engagement—not only in their intense and personal performances, but also in their give-and-take with all present in this relatively uncut streaming of the live event. All is greatly aided by the multichannel DSD recording, which greatly captures the presence of the performers in an ambiance of audience and venue. (The set can also be downloaded in two-channel DSD64 or in 24-bit/176kHz FLAC, each for $49.98.)
Few could handle the whole thing at one sitting—I couldn't. I most enjoy it by immersing myself in one or two of these six concerts. When I do, I'm gradually more and more transported from present-day Manhattan to that former Salina church, where I make a deep emotional connection with the music. The individual artists' sets are also available, but I urge you to go for the whole enchilada—it's much greater than the sum of its parts.
Shostakovich & Barber: Symphony 5 & Adagio for Strings
Manfred Honeck, Pittsburgh Symphony Orchestra
Reference Fresh! FR-724 (SACD/CD, DSD64 & DSD256 downloads from www.nativedsd.com). 2017. DDD. TT: 60:17
I eagerly await every new Reference Fresh! release from Manfred Honeck and the Pittsburgh Symphony Orchestra. Each has been an artistic and sonic delight, and this one is no exception. The PSO is a magnificent, world-class orchestra, Honeck is a mature and innovative leader, and through my multichannel system, the Soundmirror recordings sound nearly ideal.
There is no dearth of recordings of either of these 20th-century classics, and it would be foolish of me to say that this disc sweeps all competition. What I will say is that Honeck's balanced and dramatically effective control provides momentum and, in the third movement of Shostakovich's Symphony 5 and Barber's Adagio, a sense of bated-breath stillness. The orchestra flawlessly executes his direction, and the result is completely satisfying and emotionally draining. The DSD256 file has outstanding dynamic range and transparency. As in previous Reference Fresh! releases, classical-music recording specialists Soundmirror provides a fairly close perspective, but not at the expense of a generous sense of space. So revealing is the result that I can occasionally hear Honeck breathing, but that doesn't impair my enjoyment. Overall, this is the best Shostakovich 5 of this century . . . so far.
Alexandre Kantorow: À La Russe
Balakirev: Oriental Fantasy, "Islamey." Rachmaninoff: Piano Sonata 1. Stravinsky: Firebird Suite, three excerpts. Tchaikovsky: Two Morceaux, Op.18; Scherzo a` la Russe.
Alexandre Kantorow, piano
BIS 2150 (SACD/CD, DSD 64 download from www.eclassical.com). 2017. DDD. TT: 76:29
This one caught me by surprise. I'd quite enjoyed Alexandre Kantorow's first BIS recording, of Liszt's first two piano concerti and the Malédiction. However, it was irresponsible of me to casually discount it as an accommodation to the pianist's father, veteran conductor Jean-Jacques Kantorow, who led the Tapiola Sinfonietta on that disc. À La Russe is clear evidence that Kantorow the Younger is a performer of consequence.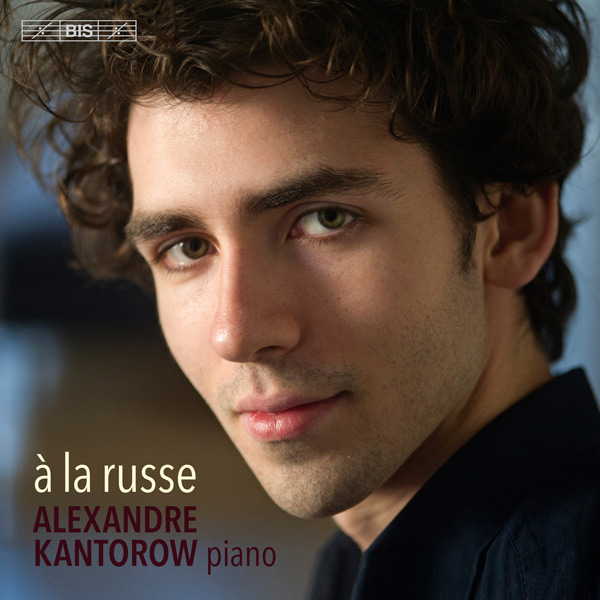 Kantorow's reading of Rachmaninoff's Sonata 1 is notable for its style and passion, though it lacks the gravitas of Robert Silverman's (CD, Stereophile STPH019-2). This approach is even more appropriate for the Tchaikovsky selections, which I found impressive. The disc concludes with a fleet transit of the Oriental Fantasy, "Islamey," Balakirev's infamous finger-buster, which Kantorow tosses off with aplomb. But what makes this recital essential listening comes earlier: Kantorow's spectacular and visceral performance of three familiar excerpts from Stravinsky's Firebird. From his stunning first chord, Kantorow delivers a presentation of nearly orchestral dimensions with a thrust and élan that I'd thought only the great Stravinsky conductors could conjure—and he does this on his own. The piano sound is remarkably clear and present. You must hear this.—Kalman Rubinson