Music in the Round #41 Recordings In The Round
Sidebar 2: Recordings In The Round
HAYDN: The Virtual Haydn: Complete Works for Solo Keyboard
Tom Beghin, clavichord, harpsichord, tafelklavier, fortepiano, piano
Naxos NBD0001-04 (4 BDs). Martha de Francisco, prod., eng.; Wieslaw Woszczyk, virtual acoustics architect.
Tom Beghin performs all of Haydn's works for solo keyboard on a selection of instruments chosen to suit the various compositions. This, he says, is necessary because the dates of composition span so many years that the instruments Haydn and others are presumed to have played would have changed in that time. Such an approach is not novel, but Beghin has also chosen to play each instrument in an acoustic environment appropriate to it, and thereon hangs the novelty of the entire project.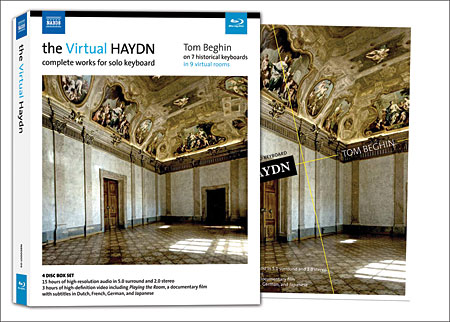 Rather than travel with a recording crew to each building and try to accommodate the sessions to the schedules of engineers and venues, Beghin teamed up with colleagues at McGill University, in Montreal, to bring the acoustics of the various venues back to McGill, where he could perform with fewer constraints. Wieslaw Woszczyk, who holds the James McGill Professorship in Sound Recording, has developed techniques for re-creating in one room the entire soundfield of another. Woszczyk gets his raw data by using "an 80-second logarithmic sine-sweep ranging from 18Hz to 48kHz," radiated from multiple loudspeakers and captured on multiple microphones at three different heights. From this he computes how the room transforms sounds made within it. Then he creates convolution filters that, back in Montreal, would instaneously generate virtual responses triggered by the sounds of Beghin's instruments and endow them with the acoustics of the remote, "virtual" performance venue. For more about how this works, see the links here.
Within the laboratory room in which Beghin performed/recorded, Martha de Francisco set up arrays of recording microphones, finely tuned and individually placed for. Each instrument, to pick up all the direct sound. This complex process, of course, is superimposed on all the other complex assessments and manipulations ordinarily involved in making a multichannel recording. De Francisco, an associate professor at McGill, is the well-known engineer also responsible for the excellent series of SACD recordings with Christoph Eschenbach and the Philadelphia Orchestra released on Ondine. She describes this process as an extremely delicate procedure in which changes in level of less than 1dB in one microphone channel made a big change in the overall sound. Finally, Beghin sat down at his instrument and played. He had to wear headphones so that he could hear the "virtual" acoustic and temper his playing to suit it—much as he would had he been performing there.
The result of all this is ear-opening and mind-blowing. We hear the evolution of Haydn's brilliance and ingenuity on a series of delightfully colorful instruments, played stylishly and with historical sensibility, all sounding as if recorded in a series of wonderful and different acoustic spaces. The pieces are organized into 10 programs, each with an apt combination of instrument and venue, and span three audio-only Blu-ray discs with 5.0-channel dtsHD Master Audio sound. PCM 2.0-channel tracks are also provided.
The fourth Blu-ray disc includes a video documentary that introduces the trio of contributors, their ideas about the project, and a tour of the instruments and recording sites, virtual and real. There are also five live performances recorded in Blu-ray video, showing an on-site performance and various virtual ones. I found these informative—they clearly illustrate the virtual reconstruction process, while revealing that the virtual acoustics were not absolutely precise clones of the originals. Considering the many variables involved, including such factors as the effects of temperature and humidity on the instruments themselves, this is not surprising.
Wow, that's my reaction to the second feature: a 7x9 matrix that permits the listener to hear every one of the instruments Beghin used in each of the virtual venues. After listening to this exercise, anyone who doesn't accept the impact of the hall acoustic on a recorded performance should have his ears or head examined. Finally, there is a gallery of lovely photos of the venues, most of them as interesting and pleasing to the eyes as they are to the ears.
HAYDN: Late Piano Works
Gary Cooper, fortepiano
Channel Classics CCS SA 26509 (SACD/CD)
These are some of the same works performed in the Naxos set above, but I would be remiss if I let these gems be lost in the shadow of that behemoth. Gary Cooper's performances are, if anything, more stylish and characterful than Tom Beghin's; in fact, some listeners may find them too much so. Still, they're beautifully recorded in a real acoustic. A wonderful alternative for those of us who can't get enough Haydn.
BRUCKNER: Symphony 7
Mariss Jansons, Symphonieorchester des Bayerischen Rundfunks
BR Klassik 403571900100 (SACD/CD)
With this fleet and forceful performance, we welcome a new label to the SACD fold.
MARTINU: Piano Trios 1–3, Bergerettes
Kinsky Trio Prague
Praga Digital PRD/DSD 250256 (SACD/CD)
MARTINU: Piano Quintets 1 & 2, Piano Quartet
Ivan Klansky, piano; Kocian Quartet
Praga Digital PRD/DSD 250250 (SACD)
I have been remiss in not keeping you up to date with Praga's remarkable chamber-music series, particularly these lovely and fascinating discs of works by Bohuslav Martinu.
BERG: Drei Orchesterstücke, Op.6; Altenberg Lieder, Op.4; Seven Early Songs
J. STRAUSS, JR.: Wein, Weib und Gesang
Christiane Iven, soprano; Marc Albrecht, Orchestre Phil. de Strasbourg
Pentatone PTC 5186 363 (SACD/CD)
As a Berg fan, I was disappointed in conductor Mario Venzago's lackluster SACD of the composer's works (Chandos), but these are performances of rare passion and flair in superb sound.—Kalman Rubinson