Music in the Round #26 Recordings in the Round
Sidebar: Recordings In The Round
BERLIOZ: Requiem Toby Spence, tenor; Roger Norrington, Stuttgart Radio Symphony Orchestra, Stuttgart Southwest German Radio Vocal Ensemble Hänssler Classic SACD 93.131 (2 SACDs)
What an exciting surprise! Roger Norrington's earlier Berlioz struck me as lightweight, but this is a phenomenal Requiem that I find musically and sonically superior to the multichannel competition from Robert Spano (Telarc) and Maurice Abravanel (Silverline, Vanguard). While the big moments are thrilling, with the most intense Tuba Mirum I have experienced from a recording, it is the lucidity and subtle pacing of the rest that make this performance so affecting. Sir Roger's recording is a keeper to join that of Charles Munch (on three-channel RCA Living Stereo SACD and RCA Soria LPs).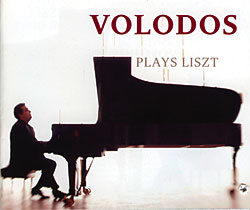 LISZT: Volodos Plays Liszt Arcadi Volodos, piano Sony/BMG 87380 (SACD)
Arcadi Volodos performs several pieces from Liszt's Années de Pèlerinage, along with Funérailles, his own arrangement of the Hungarian Rhapsody 13, and other pieces, in a recital stamped as much by his own personality as the composer's. In fact, Volodos's flourish and intensity make this seem more like a live recital than a studio recording. But a studio job it is, and we are once more the beneficiaries of Teldex Studios in Berlin for an up-close perspective that places Volodos's Steinway big and bold in the listening room. The ambience adds to the presence and clarity but doesn't change the venue. Just marvelous.
DE MURCIA: La Guitarra Española William Carter, baroque guitar Linn CKD 288 (SACD)
Santiago de Murcia (1682–1732), the child of a musical family, wrote many original pieces and arrangements for the court of Maria Luisa Gabriela of Savoy until her death in 1714, after which date little is known of him. The selections here are remarkably complex and melodious, often flavored with delicious Spanish accents, as in the opening Folias Españolas. Carter's guitar, a modern copy of a baroque original, is simultaneously crisp and richly resonant. These truly lovely pieces are played with style and beautifully recorded. Another winner from Linn.
VAUGHAN WILLIAMS: Symphony 5, Fantasia on a Theme of Thomas Tallis, Serenade to Music
TALLIS: "Why fum'th in fight?" Jessica Rivera, soprano; Kelley O'Connor, mezzo-soprano; Thomas Studebaker, tenor; Nimon Ford, baritone; Cecylia Arzewski, David Arenz, violin; Reid Harris, viola; Christopher Rex, cello; Atlanta Symphony & Chamber Chorus; Robert Spano Telarc SACD-60676 (SACD)
After praising Robert Spano's Sibelius in May, I now add similar praise for his Vaughan Williams. (I do find many similarities between the two composers, and thought Spano's Berlioz and Rachmaninoff somewhat less successful.) Not only are the tempos wisely chosen, but the Atlanta Symphony has an almost British sound and swagger. The Symphony 5 and the smaller pieces are equally well done in Telarc's now familiar Atlanta sound. It was a brilliant idea to include the brief Tallis hymn on which the Fantasia is based, and it's the perfect way to open the program.
TCHAIKOVSKY: Violin Concerto, Sérénade mélancolique, Valse-Scherzo, Souvenir d'un lieu cher Julia Fischer, violin; Yakov Kreizberg, Russian National Orchestra Pentatone PTC 5186 095 (SACD) BRAHMS: Violin Concerto, Double Concerto Julia Fischer, violin; Daniel Müller-Schott, cello; Yakov Kreizberg, Netherlands Philharmonic Orchestra Pentatone PTC 5186 066 (SACD)
From her wonderful recordings of the Khatchaturian, Prokofiev, and Glazunov concertos, all with conductor Yakov Kreizberg, Julia Fischer went successfully on to Bach, Mozart, and Mendelssohn. Now she tackles the heart of the virtuoso concerto repertoire, and again I have nothing but praise. The Tchaikovsky disc includes all of his music for violin and orchestra, which Fischer plays with just the right balance of intensity and charm. She eschews the superficially flashy to give us a warmly romantic performance not lacking in prodigious dexterity. These are major contributions to the recorded literature, and in Pentatone's consistently excellent sound. The Brahms disc has somewhat less horsepower but is nonetheless topnotch, with cellist Daniel Müller-Schott on equal footing with Fischer. The Russian National Orchestra plays with a bit more passion than does the Netherland Philharmonic, but mebbe that's just what Kreizberg asked of them. Pentatone is fortunate to have found such a talented young musician as Fischer. So are we.—Kalman Rubinson