Music in the Round #15 Records in the Round
Sidebar: Records in the Round
GERSHWIN: An American in Paris, Catfish Row, Promenade, Rhapsody in Blue, Cuban Overture
Jeffrey Siegel, piano; Leonard Slatkin, St. Louis Symphony
Mobile Fidelity UDSACD 4007 (SACD)
Yet another spectacularly successful transfer by Paul Stubblebine of Nickrenz-Aubort master tapes to SACD. If you like this music and you're over 40, you probably have these performances in their original releases or on Classic Records DAD 1018, but you ain't heard nothing yet. In 4.0 channels, the orchestra is more coherent as an ensemble performing in a real space, and there's lots of detail without highlighting. So, while bass and treble are more prominent on the Classic DADs, there's more information and greater ambience here. A delight from beginning to end.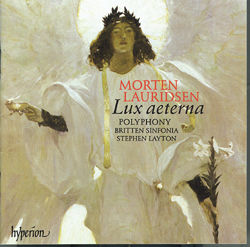 LAURIDSEN: Lux Æterna, Madrigali, Ave Maria, Ubi caritas et amor, O magnum mysterium
Polyphony, Stephen Layton; Britten Sinfonia
Hyperion SACDA67449 (SACD)
I am not a fan of choral music, but this is special. Morten Lauridsen writes melodic music that incorporates the styles of past eras and the fresh tonality of our own time. Each work here reflects a different spirit, but Lauridsen's feeling for line and harmony makes it hard to listen to only one. Polyphony and, in the Lux Æterna, the Britten Sinfonia, are across the front in some of the most deliciously human representations on record. The ambience is subtly rich and enveloping.
POLYPHONIC SPREE: Together We're Heavy
DTS Entertainment 69286-011189-9-1 (DVD-Audio)
PORCUPINE TREE: Deadwing
DTS Entertainment 69186-011030-9-1 (DVD-Audio)
Why recommend two discs I probably won't ever listen to again? First, because they sound simply fantastic, making great use of all the channels and richly filling the room, my ears, and my head. Second, just because I don't like this music is no reason to keep the news from others. Try the groups' websites for samples; if you like those, rest assured that these multichannel discs will be even better.
BEETHOVEN: Piano Trios 2 & 5 ("Ghost")
Storioni Trio: Wouter Vossen, violin; Marc Vossen, cello; Bart van de Roer, piano
Pentatone 5186 071 (SACD)
Lest one think that orchestral recording is Pentatone's only forte, this recording says otherwise. Miked close but not too close, it captures both the edge and the warmth of the instruments without dismembering the ensemble. As is typical of engineer Jean-Marie Geijsen's work, the rear channels provide only ambience, but that serves to open the perspective up front. The Storioni's Beethoven is not flashy but warm and romantic, and the recording pulls you into the performance.
Hi-Fi Fiedler
Music of Rimsky-Korsakov, Rossini, Tchaikovsky, Chabrier, Liszt, Berlioz
Arthur Fiedler, Boston Pops
RCA Living Stereo 67895-2 (SACD)
Rhapsodies
Music of Liszt, Enesco, Smetana, Glinka, Wagner
Leopold Stokowski, RCA Victor Symphony, Symphony of the Air
RCA Living Stereo 67903-2 (SACD)
MAHLER: Symphony 4
Lisa Della Casa, soprano; Fritz Reiner, Chicago Symphony
RCA Living Stereo 67901-2 (SACD)
BRAHMS: Violin Concerto
TCHAIKOVSKY: Violin Concerto
Jascha Heifetz, violin; Fritz Reiner, Chicago Symphony
RCA Living Stereo 67896-2 (SACD)
FRANCK: Symphony in d
STRAVINSKY: Petrouchka
Pierre Monteux, Chicago Symphony (Franck), Boston Symphony (Stravinsky)
RCA Living Stereo 67897-2 (SACD)
The hits keep coming. From the latest batch of remasterings from the golden age of RCA Living Stereo I have selected five three-channel releases that represent pinnacles of musical achievement. (I would have gladly included Reiner's excerpts from Strauss's Salome and Elektra, but they're in two channels only.) Hi-Fi Fiedler comprises favorite bonbons conducted with Arthur Fiedler's unique flair in sound that's a bit lightweight. Leopold Stokowski's collection of Rhapsodies are painted broadly but with his characteristic fine control, and in sound that is larger than life. Fritz Reiner's Mahler 4 has been eagerly awaited by many of us who find this among the great performances of the work, completely lacking in artifice and offering the music with simplicity and clarity. Jascha Heifetz, of course, is sui generis, and his take on these capstones of the repertoire is essential listening. Finally, Pierre Monteux's almost definitive Franck is greatly freed of the compression of earlier releases (including the LP) and given room to breathe, and it's coupled with his stylish and equally authoritative Petrouchka. This disc belongs in every classical collection.—Kalman Rubinson