Music Matters: A Better Way.
Back in January, after having spent a few days in Las Vegas for the annual Consumer Electronics Show, I felt as though I had been robbed. Not only had I lost sleep, I had lost my patience, lost my way, perhaps even lost a bit of my soul. I'm exaggerating. My soul is intact, but the maddening experience of the 2012 CES was enough to make me wonder why we go through with it every year. Why CES? Why Las Vegas? A city marked by glittering lights, buzzing sirens, heavy clouds of smoke, fireballs and geysers hissing into the terrible night sky: I can think of no place less appropriate for the discussion of high-end audio, no place less appropriate for the appreciation of music.
But I keep forgetting one important point: People make money in Las Vegas; business takes place in Las Vegas. Manufacturers of high-end audio make new contacts, acquire new dealers, sell their products to millionaires. Despite how worthless I try to make the endeavor sound, I can't blame anyone for wanting to make money. I'd like to be rich, too.
But still: Why does it seem okay to sell music, yet less okay to sell hi-fi? Is it because the people who sell hi-fi claim to value music above all else? Is it because they use music to justify their products, many of which cost several thousands of dollars? And why does this justification almost always strike me as disingenuous?
We talk all the time about how silly it might be to match a $1000 cable with a $300 loudspeaker or a $20,000 cable with a $6000 speaker, but we make it seem like a matter of course that we should spend $20,000 or more before we can even begin to enjoy a $15 record.
Isn't there something strange about that?
I've never been attracted to sales. Salesmen, like actors and exotic dancers, set off my bullshit alarm (footnote). I want to get away from them as fast as possible. But I'm becoming aware of the futility in the situation: There's nowhere to run; salesmen are everywhere. The fact that even my words are being used in advertisements is enough to make me contemplate some very dark things.
In the conclusion to our CES show report, I wrote: "Hi-fi is about making music. CES is about making money."
But maybe I was being naïve. Though I'd love to pretend otherwise, high-end audio is as much about commerce as it is about music. This fact is inescapable. Yet the focus on money was so great at CES that I left Las Vegas wondering whether there was some better way. Isn't there a better, more appropriate way to showcase high-end audio, one that sets aside monetary matters and, at least for a short while, puts music matters first?
I left Seattle last week wondering if we had already found that better way.
The 7th Annual Music Matters event, held at Definitive Audio in Seattle, was refreshing and encouraging for a number of reasons. A successful party requires a few things: Great music, delicious food, interesting guests, and a good venue. Music Matters 7 had it all.
Definitive Audio's outstanding Seattle showroom is unusual for being both large and comfortable. I can think of several hi-fi dealerships that are small and comfortable, or worse, large and cold, but few come to mind which offer Definitive Audio's combination of size and warmth. Seattle is blessed.
The event was well-organized. There were six listening rooms, each with manufacturer representatives on hand to provide demonstrations, play music, and answer questions. Room 1 was hosted by Meridian/Sooloos, with Bob Stuart, Ken Forsythe, and Jeff Dean on hand; Room 2: Wisdom Audio (Mark Glazier, David Graebener, Todd Sutherland) and Audio Research (Dave Gordon); Room 3: Wilson Audio (John Giolas, Peter McGrath, Jerron Merchant), D'Agostino Master Audio Systems (Dan D'Agostino, Petra D'Agostino), HRS, and Stereophile (John Atkinson); Room 4: Transparent Audio (Brad O'Toole, Katie Gilcrest), Vienna Acoustics (Kevin Wolff), Ayre (Alex Brinkman), and Finite Elemente; Room 5: Linn (Steve Croft, Fred DeBiase) and Stereophile (me); Room 6: B&W (Doug Henderson), Classe (Dave Nauber), and Rotel (Dave Baker).
Each room was equipped with a system and, on average, somewhere between 20 and 30 seats. The larger rooms may have seated more, but I'm not certain. Additionally, in the grand lobby, a smaller Peachtree display was hosted by Jonathan Derda, the company's enthusiastic "Ambassador of Awesome."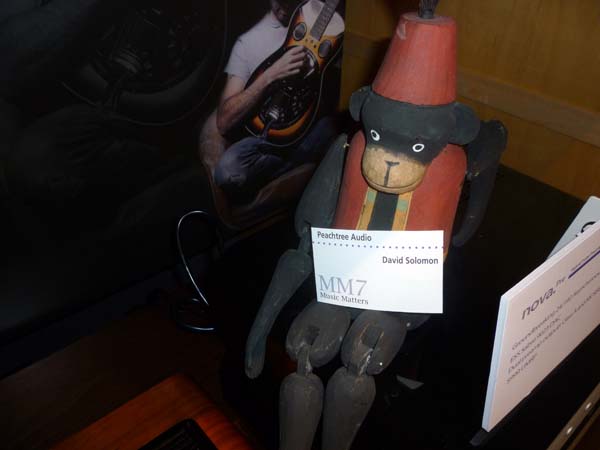 Signs throughout the lobby greeted guests and explained how the event worked: Each demonstration would begin promptly on the hour and the half-hour. Guests would be asked to rotate between rooms accordingly. Prior to the event, Definitive's VP of sales, Craig Abplanalp welcomed all of the presenters and asked us, firmly yet respectfully, to remain on schedule. We did. There were no problems. This last fact becomes more impressive when we take into account the approximate 450 guests who showed up for the event. The doors opened at 5pm and closed shortly after 10pm. For most of that time, the store was filled to capacity with eager, curious, enthusiastic listeners. It wasn't until the 9:30 session that I noticed a few empty seats in the Linn room.
Definitive Audio says that 30% of last year's attendees reserved a spot for this year's event. In other words, 70% of this year's guests were new. This is an impressive figure—new interest can be a sign of growth—but it begs the question: Why did only 30% of last year's guests return? Would it be possible to achieve a high return rate, while also attracting a large number of new guests?
Food was provided by local restaurants—the pulled pork sliders were especially yummy—and water, wine, and beer lasted throughout the evening. Again, this is impressive, considering the great number of guests. Few people were shy, and aside from the extremely busy presenters, none went home hungry.
There was outstanding music. Because I was officially a presenter, I didn't get to experience all of the demos. I did get to sit in on the D'Agostino/Giolas/Atkinson/McGrath demonstration (a Dream Team of Hi-Fi, if ever there was one) and I practically memorized the Linn demo. In the latter, Steve Croft and Fred DeBiase played some fine tracks by Ryan Adams and the Black Keys' Dan Auerbach, as well as an endlessly charming video of Bobby McFerrin leading an audience through song. Across the hall, JA and Peter McGrath played a selection of their lovely recordings through a system comprising Wilson Alexandria XLF loudspeakers, D'Agostino monoblock amplifiers, Transparent cables, and a Sooloos/Meridian source sitting on a HRS stand. The sound was as dynamic, compelling, and impressive as we should expect from such a system.
The names I've mentioned are some of the best in the business. I've attended my fair share of bad hi-fi demos, and few things leave me more frustrated and bewildered than a poor demonstration of an incredibly expensive hi-fi component. Such failure is largely inexcusable. Happily, there was no such problem here. Though it surely could be done, you'd be hard pressed to put together a finer collection of presenters than those found at Music Matters 7.
So, I've covered the venue, the guests, the food, and the music—all necessary components of a successful party—but I've failed to mention the hosts. The team at Definitive Audio was as gracious, welcoming, professional, and delightful as I could have hoped. I felt immediately comfortable in their presence. In fact, it was an honor to be a part of the evening. From my first moments in Seattle, I wanted this event to succeed, and it clearly did. The truth, though, is that Music Matters would have been an easy success with or without me: Definitive Audio knows how to throw a great party.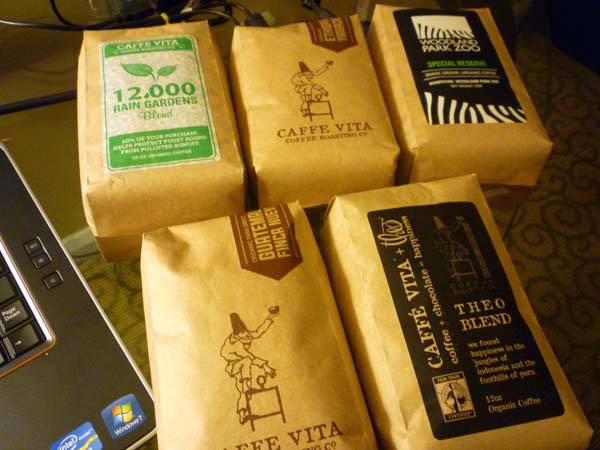 Music Matters 7 was billed as "An Evening Devoted Exclusively to the Reproduction of Music." Is this true? Is Music Matters devoted exclusively to the reproduction of music? No, not exclusively—at least not as I see it. I believe such an evening can exist, but this isn't it. Even at Music Matters, where the explicit intent is a celebration of music, the underlying goal is still to sell hi-fi—for the most part, it's salespeople that are giving these demonstrations, after all—but this is an event that I am nevertheless happy to support. Music Matters presents hi-fi in a positive light. And if you care about this hobby like I do, then this annual event becomes something for which we can be proud.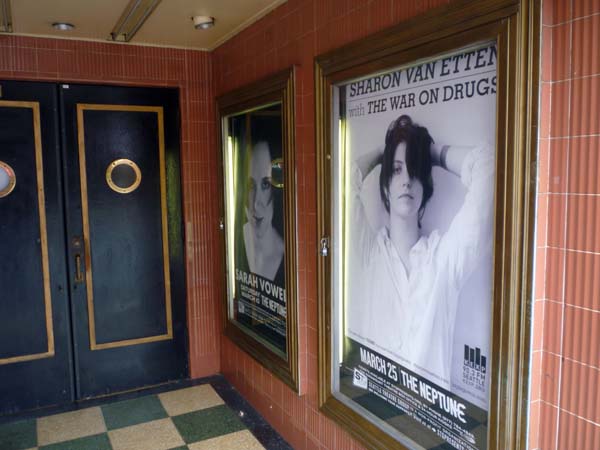 Unlike the Consumer Electronics Show, which had me questioning everything, Music Matters left me feeling encouraged, motivated, and certain. We've written a lot about how regional shows are replacing local dealers: As more bricks-and-mortar dealerships close shop, curious audiophiles must turn to shows like the Rocky Mountain Audio Fest, Axpona, Salon Son et Image, and T.H.E. Show for opportunities to hear high-end audio. But I wonder if our country's remaining premier dealers can turn back the clock by opening their doors and providing more events like Music Matters.
If that sounds like a pipe-dream, consider this: I'm having a hard time keeping up with the open houses being provided by New York City's hi-fi shops and, in the last few months, I've received more entries for our "Dealer Events Calendar" than I can recall. Dealer events focused on the appreciation of music are popping up all over the nation. For instance: Pitch Perfect Audio's Greenhaus Events in San Francisco, David Michael Audio's Analog Evenings in Michigan, Analog Audio of Minnesota's New Music Release Parties, Krystal Clear Audio/Video's New Record Nights in Texas, the upcoming 5th Annual Music Matters event at Sound Environment in Omaha, Nebraska, and more (I know I'm forgetting some).
So, what's going on here? Are we really encouraging the appreciation of music, or are we just desperate for something that'll sell?
Either way, I think good things can come from such events and I hope to see even more of them in the future. For now, I'll look forward to next year's Music Matters event at Definitive Audio. If I'm invited back, I would like to attend as a reporter. That way, I'll have a better chance of enjoying all of the presentations.
---
Footnote
: I'm generalizing. There are several salespeople, actors, and exotic dancers that I call "friends."