A Modern Witches' Sabbath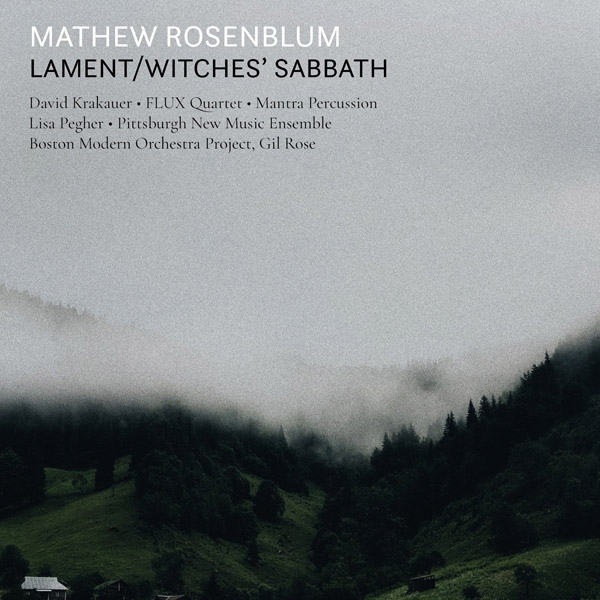 This review and its companion that will follow next week spotlight two very different and equally recommendable recordings of contemporary music with a common theme: the quest for freedom and justice in perilous times. This week's special,
Lament/Witches' Sabbath
(New Focus Recordings), due out today (November 9), contains four works by Mathew Rosenblum, an East Coast composer who occasionally ventures into forbidden territory as he blends percussion, acoustic instruments, electronics, voice and microtonal elements in extremely visceral, moving, and sometimes gut-wrenching ways.
Recorded in 24/44.1, Rosenblum's recording takes its name from its lead work, the 23-minute Lament/Witches' Sabbath (2017). Performed by Gil Rose's one and only Boston Modern Orchestra Project and the astounding klezmer clarinetist, David Krakauer, Lament/Witches' Sabbath received its premiere this past January at Pittsburgh's Beyond: Microtonal Music Festival, performed by the Beyond Festival Orchestra and Krakauer, both under Rose's baton. The extremely personal work blends klezmer-tinged clarinet with orchestra with historic field recordings of Ukrainian laments and private recordings of Rosenblum's grandmother, Bella Liss, who speaks and sings in Ukrainian, Russian, and Yiddish.
Liss and her seven children fled Proskurov, Ukraine in 1919 to avoid being massacred. While giving birth to Rosenblum's mother in the woods during her escape, this political refugee crossed the border, sold her silver in Vienna, and emigrated first to Palestine and then to the US. Each Passover, she would gather over 30 relatives in her small apartment in the Bronx and, in an Eastern European lament style that blended song, sobbing, and speaking, recount the saga of her flight from persecution. What Rosenblum does with these elements, in a work that takes some inspiration from the final "Witches' Sabbath" movement of Berlioz's Symphonie Fantastique, is extraordinary.
The thought of a Jewish-themed work about escape from persecution appearing on "record" barely two weeks after the massacre of 11 Jews in the city where the work premiered certainly provides cause for pause. The music itself is so powerful, and the singing and playing so atypically eloquent that they simply must be heard. This is music that transcends speeches, rhetoric, and thoughts and prayers as it cuts straight to the heart.
Rosenblum's three other compositions bring equal rewards, each in its own way. Written for percussion soloist Lisa Pegher, Northern Flicker for Percussion (2012) takes inspiration from the Northern Lights and a Yellow-Shafted Northern Flicker that flew into Rosenblum's yard one afternoon. Energetic, radiant, and energizing, it's a must for both percussion fans and those who revel in the extraordinary.
Falling (2013) is as riveting as it is weird. Based on an James Dickey poem of the same name that traces a 29-year old stewardess's accidental fall from an airplane—a poem that Rosenblum first heard at Music and Art High School in NYC in a recitation by his classmate, Kevin Klein, Falling blends Dickey's recorded reading of the poem with soprano, flute, clarinet, violin, cello, percussion, and piano/keyboard. Try to imagine every thought and sensation that could have possibly gone through the woman's mind and body as she fell to her death, stretch it out to almost 24 minutes, and you may end up with an inkling of what's in store. The Pittsburgh New Music Ensemble under Kevin Noe plays superbly.
Finally, we have Last Round (ostatnia runda) (2015), performed by the four members of the Flux Quartet and the six members of Mantra Percussion for whom it was written. If the performing forces alone are not enough to send the curious amongst us scurrying for this recording, the music itself, which calls for amplified strings, bongos, a variety of small bass drums and metallic percussion, and a set of pipes tuned to a 19 note-to-the-octave scale, will. Violent, aggressive, and filled with color, it's quite the piece.