Mach2 Music Mac Mini Upgrade Package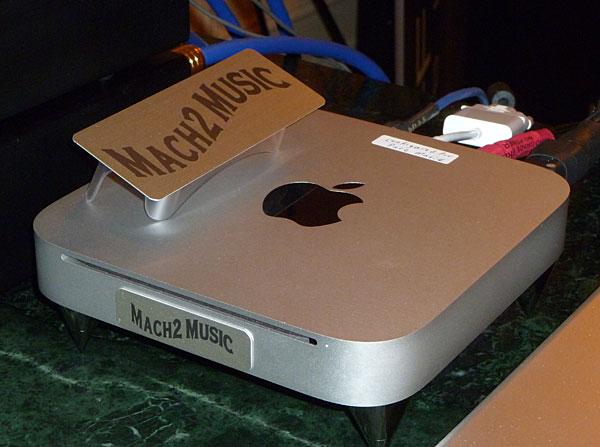 Mach2 Music offers two services: they will sell you an upgraded Apple Mac Mini computer optimized for digital audio music serving, or take your already purchased 2010 or later Mac Mini and perform their upgrades on it.
They had the first option on hand, which includes a 40GB solid state OCZ Vertex drive to replace the factory drive, Amarra 2.1.1 installed and set up, 8GB RAM installed, cables from Most Beautiful Sound (they cut the power lead in the Firewire 800 cable) and a power cable from PI Audio Group.
Also included, but missing from the photo above due to shipping issues, is a PI Audio Mac Sandwich clamp system. Dayton Audio Brass Speaker Spikes (shown in black) complete the package which retails for $2,995 through the end of this month. All you need to add are external hard drives, a monitor (or iPad/iPod control device) and music.