Listening #200: Tzar DST1 & Shindo Montille CV 391 Page 2
Before the CV 391 went back to Connecticut, I sated my curiosity by once again removing its bottom cover, this time for a close look at the hookup scheme used for its off-the-shelf Hammond output transformers, whose multiple windings can be combined in different ways to create 4, 8, and 16 ohm taps. They were wired for 8 ohms. While it may be tempting to assume that's why the CV 391 locked in especially well with the DeVores, any number of other things could have played a role—and I hesitate to give the impression that such specs can be relied upon to predict synergy. Like all of the Shindo amps of my experience, the Montille CV 391 appears to have been designed for speakers of higher-than-average efficiency: Disregard that and you won't get nearly as much magic from this amp as I enjoyed in my home.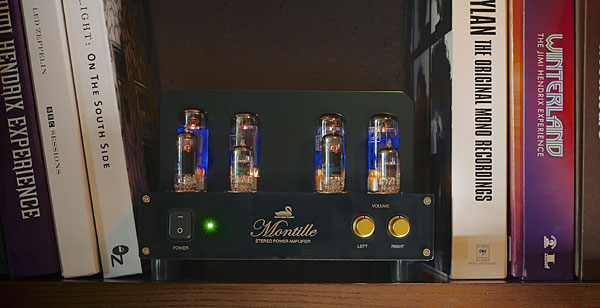 And the Montille CV 391 and the Haut-Brion can indeed sound magical: both musically and sonically thrilling, yet with slightly different voices. I'd own both if I could, but I could live happily with either—and that distinguishes Shindo's second-least-expensive amplifier as an exceptional value among artisanal, as opposed to mere luxury, playback gear.
Another New Record
One morning last week, my wife sent a text message that included a photo she'd taken minutes before of a shattered LP. It was her copy of Steve Winwood's Arc of a Diver, the title song of which boasts an opaque and mildly smutty lyric by the late, great Vivian Stanshall of Bonzo Dog Doo-Dah Band fame. Indeed, as it turns out, it was while pulling the inner sleeve from the jacket in order to read that very lyric that the disc slipped free and landed on its edge with improbable force.
Though by no means a rare LP, that copy had sentimental value, added to by the fact that she and I had enjoyed listening to it the evening before. Then and there I knew what the right cure should be: Get her another good-condition copy of Arc of a Diver. I didn't have to wait long for an opportunity: Days later, an email blast informed me that, on the following Sunday from 10am to 5pm, Albany's perennially damp Ramada Inn would host the city's semiannual Record Riot. The admission fee was $3, but early birds hoping to get a jump on the hoi polloi could get in two hours earlier for $10.
I made it to the show a little after 8am and found that perhaps 80% of the vendors were set up and ready to go—and I was one of only a handful of shoppers to arrive so early. I asked the first vendor I came to—a 50-some-thing woman who, like all but one of her colleagues at the show, specialized in rock music—if she knew offhand whether Arc of a Diver was among her wares. Her reply was remarkable: "I'm pretty sure I sold mine last weekend. But come with me"—and at this she stepped out from behind her table and led me across the repurposed ballroom to a competitor's table, asked if they had the record I was looking for, and assured me that the dealer in question was a good guy. And he was: He wanted just $3 for what turned out to be a dead-mint Arc of a Diver.
That scene and variations were repeated during my two hours at the Record Riot. Every seller I encountered was cordial, helpful, and, when I made a purchase, effusive with thanks. Best of all was an exchange I had with a youngish dealer from northern New York State, whose copy of the second album by the Penguin Cafe Orchestra (footnote 5) I spied underneath his display table: He was holding onto it for another customer and, as he told me good-naturedly, he couldn't consider letting anyone else have it for any amount. (Damn his scruples!) But he pointed me toward other titles I might find interesting, one of which I wound up bringing home: The Lark in the Morning, by British folk duo Dave and Toni Arthur (Topic 12T190). The first time I played it, this well recorded album or traditional English ballads (think: Cecil Sharp), most performed a cappella, suffused my soul with bright sunshine and allowed me to tune out all the other nonsense in my life. Dave and Toni's voices were distinctive and clear, their harmonies just weird enough to catch my attention at every turn: a marvelous, charming, and perfectly beautiful record.
No less charming was my parting conversation with the vendor. I asked for his card, and in reply he asked for mine—and when he examined it, his eyes lit up: "Stereophile. Wow! I know you guys!" I half-expected his next sentence to be one of praise—vanity, thy name is obscure, 60-something writer—and was deflated in the nicest possible way:
"Hey, do you know Ken Micallef?"
I assured him that I do, and that's he's a very nice guy.
Idler Gossip
Were it possible to be dazzled to death, I wouldn't have survived last year's High End show in Munich: The sheer volume of ultra high-quality playback gear on display there all but overwhelmed me, so much so that even certain AC power conditioners and megawatt power amplifiers—products to whose charms I'm mostly immune— had me in their thrall. Yet for all that, I remember the 2018 Munich show as the one where British analog specialists SME announced their intention to revive the classic Garrard 301 turntable.
Thus was I disappointed not to attend High End 2019, where the revivified 301 was to be unveiled (footnote 6). Yet during the show and throughout the days that followed, I was surprised by the reports I saw, from audio enthusiasts and colleagues in the press alike, on the reintroduction of the most well-regarded motor unit in all of vintage audio. Some said the 301 on static display there was brand-new; others claimed it was merely a refurbished original; still others dismissed the whole enterprise as an example of that most disdained 21st century phenomenon, the nothingburger. It seemed the biggest story of High End 2019 was turning into a perfectionist-audio Rashomon.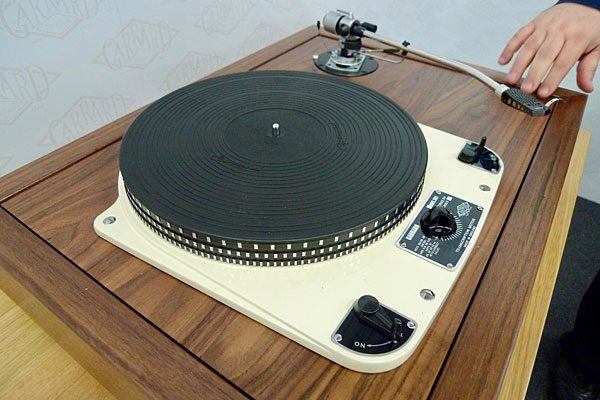 Unreliable narrators make for great fiction but unsatisfying consumer journalism. So while I was off sunning myself in Florida, Editor Jim Austin got in touch with SME and asked for clarification. The response came from Ajay Shirke, the chairman of Cadence Audio, which owns SME, Spendor, Siltech, Crystal Cable—and now Garrard. Shirke stated that the first wave of new Garrard 301s are being built with the existing stock of parts from the brand's previous owner, Loricraft, as well as some newly manufactured parts, the latter made using tools, jigs, and molds from the original Garrard factory. According to Shirke, while SME continues to tool up for making brand-new platters and bearings, parts from their existing stock, though not newly cast, are put through the same process or making [them]" to ensure that they are up to spec. He adds that, "even in the days gone by," bearing spindles and other parts were "made for Garrard by SME, so a lot of tooling and technical data is still preserved and available [here]."
As for the motors that will appear in the first wave of new 301s, Shirke says they're "from stock or donor units [and] are fully refurbished...to obtain all exact values as the Garrard specs for them when new (resistance values and all other parameters, start time, torque), as are the idler wheels and the magnetic units (eddy current) for the fine speed control system." Castings for the housings of new Garrard 301 motors, like the forthcoming new platters, "are in process of development and will be available when we have exhausted stocks of parts with us, and in all probability will be available by 2021." Shirke also mentions that SME has recently broken down "quite a few platters...for exact metallurgical analysis. Ditto tor the motors, because we do not believe in making new motors of a different design or technology. The new motor will exactly be the same design and will employ the same wiring methods as well as operational strategies.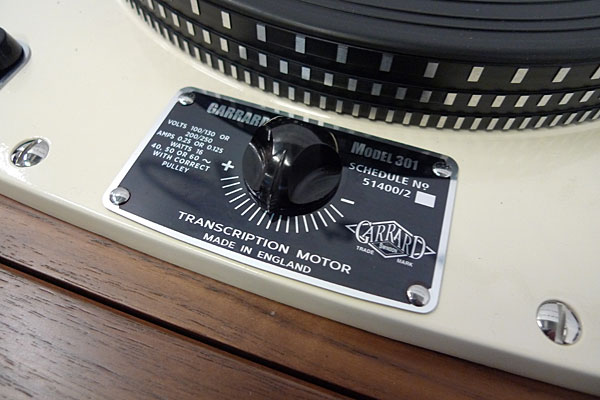 "With regard to the two points I have touched here, let me clarify that quite a few 'restorers' are using machined platters, and some have tried to 'improve' the drives. We firmly believe in the opposite, and that is the unique point. This is and will be an exact Garrard transcription motor." Shirke added that his company will not distinguish between the first wave of new 301s, built with new-old-stock and restored parts, and the next wave, manufactured from all new parts, in terms of price.
That bit of information was a topic of particular controversy in early reporting: The price originally published on stereophile.com and elsewhere, supplied pre-show by a Cadence employee not directly involved with the 301 project, proved to be in error. As Shirke explains, "the price is not yet finalised." He adds that the company is still considering various issues, such as whether the turntable and its companion arm—an SME M2/12R itself a new incarnation of a classic component—will be made available separately or only as a package.
One might suggest that the 2019 Garrard 301 turntable is thus less Fiji Mermaid than 1992 Porsche 959 (the latter a limited run of cars made from leftover parts, four years after production had ceased)—but it has the potential to be more than that. In its day, the original 301 was one of two motor units regarded as the best and was priced within the reach of most serious hobbyists: Over 60,000 of them had been sold by the time its plug was pulled. If all goes well—if Garrard can make a smooth and seamless transition from NOS and reconditioned parts to new ones, if consumer demand is sufficient, and if the price can be kept sane—being able to buy the new 301 could become the audiophile's version of being able to buy a new Mercedes 300SEL or Leica M3. Which is to say, a dream come true.
I'll know sooner rather than later: I've accepted SME/Garrard's offer of the first review sample, and I'll let you know how it compares to my 1959 original.
Something for the Ladies
Allow me to close with a few words about my "Listening" column in the April Stereophile, in which I attempted to discuss the relative paucity of women in our pastime while avoiding mention of physical endurance, gender-specific hunting and gathering instincts, or home decorating. That column attracted more than a few letters, and I'm pleased to say that most of them were thoughtful—and I'm nonetheless grateful that even the few who weren't took the time either to read the piece or to have it read to them by a patient young person, hopefully one who left out the words dick and douchebag.
But here's the thing I apparently failed to get across: It's fine that you're an audiophile, and if you're a man, that's fine, too. There's nothing wrong with either of those conditions, at least one of which is an accident of birth. I still don't have an answer to the question—why our ranks include so few women—and it's likely I never will, but I'm sure it doesn't lie in loathing ourselves and putting the other gender on a pedestal. When you worship half the population, the law of averages suggests you're worshiping at least as much ugliness, stupidity, and nastiness as beauty, wisdom, and kindness. A better approach likely lies, as it almost always does, in being more generous to others, not stingier to ourselves.
---
Footnote 5: Many thanks to EAR-USA's Dan Meinwald for turning me on to their music.
Footnote 6: Sad but not crushed: My reason for skipping the show was a long-planned family vacation.