Listening #131 Page 2
Leeza
Especially where preserving the texture and the tactile qualities of recorded sound is concerned, I persist in thinking that all moving-coil phono pickups sound best when loaded with a well-made and properly selected step-up transformer. Because the people of Kondo share that belief and design their phono preamplifiers accordingly, it was easy to begin my Kondo adventure by substituting their GE-1 for the phono preamplifier of my
Shindo Masseto
preamp, with my own Hommage T2 step-up transformer in place.
With my system thus configured, the tonal signature of the GE-1 was quite different from that of the Shindo phono section: Where the Shindo was rich and boldly colorful and just a bit bass-happy, the Kondo was leaner and more pastel and somewhat more open—it sounded more modern, if you will, but in a pleasant way. And, in any event, the Kondo was every bit as good as the Shindo at communicating musical force and touch. With very compressed pop music, in fact—Procol Harum's A Salty Dog (Regal Zonophone SLRZ 1009) comes to mind—the Kondo found more impact that I thought was in the groove. In particular, the GE-1 revealed bassist David Knights, whom I'd always taken as competent but no more, to have a rather nice touch, emphasizing some notes with a staccato attack, and others by sliding away from them before they died out altogether.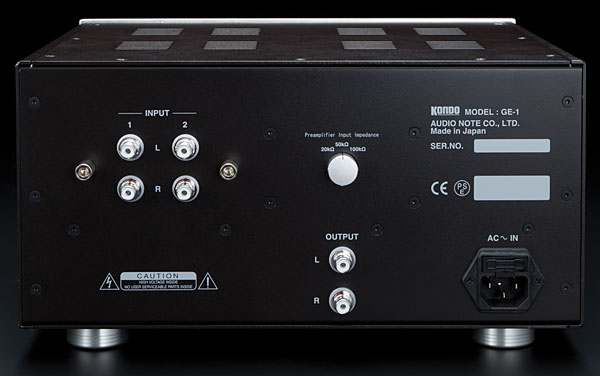 Back to the matter of tone: There's little question that my Shindo Masseto's phono stage portrays timbral colors as being deeper and more saturated than did the Kondo GE-1; examples abound, none better than Pieter Wispelwey's recording of Bruch's Kol Nidrei, with Daniel Sepec conducting the German Chamber Philharmonic Bremen (SACD/CD, Channel Classics CCS SA 16501), in which Wispelwey's cello was less dark and had less apparent tonal complexity through the Kondo. Another was that pleasantest of jazz chestnuts, Ike Quebec's Soul Samba (LP, Blue Note/Classic 84114), in which the tenor sax and guitar were rather richer through the Shindo. To some, the existence of such a distinction implies that one preamp must be better than the other; I persist in the perverse belief that, because such a thing is nearly impossible to know for sure, the "best" playback device is the one whose tonality and other qualities most impress you in the context of your system.
In time, I added the Kondo Overture integrated amp to my system, replacing my Shindo monoblocks and the line stage of my Shindo preamplifier. After the Overture had spent just half an hour warming up—Bob Visintainer, the proprietor of Rhapsody Music & Cinema, had thoroughly burned in this sample before sending it to me—I simply couldn't believe what I was hearing. I put on John Barbirolli and the Philharmonia Orchestra's recording of Elgar's Enigma Variations (LP, EMI ASD 548) and was again impressed by the degree of sheer, human feeling in the playing that was uncovered by the Kondo gear. The obviously painstaking manner in which Barbirolli rehearsed his players and shaped every line was on full display: The usually subtle differences that distinguish one conductor's version of a well-worn work from another's were more pleasantly, evocatively straightforward than ever before.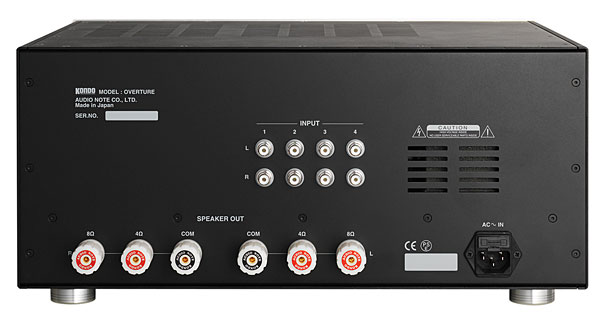 And that was just music; the sound, too, was remarkably good. The system now sounded more extended in the treble than with my Shindo separates, yet in spite of the apparent reduction in richness per se, the Kondo gear was nonetheless subtly colorful, with woodwinds in particular sounding vibrant and real. The sound of the flute in Variation 10, Dorabella, was, as I mentioned in my notes, about as perfect as I'd ever heard from a hi-fi, being both silvery and appropriately meaty and substantial. But the nicest thing the Kondo electronics found in this record was the portrayal of scale and size appropriate to the music. During those many Elgarian crescendi, when the strings swoop and the trombones shore them up, the amp's sense of physical scale moved with them, expanding and contracting in a manner I've never before heard from my system. Really: I could have written 300 words alone on how well this amp brought that Elgar record to life. Although the GE-1 lacks a mono blend switch, the Mozart à Paris boxed set from the Electric Recording Company (7 LPs, Pathé/ERC DTX 191-197), played with my EMT OFD 25, sounded magnificent. The Piano Sonata in a, K.310, played by Lazare Lévy, sounded appropriately dry and startlingly present, with as much human flow as I've ever heard from a hi-fi. Tonal balance was, again, a bit light and could have stood a little more low-frequency fullness and "bloom," but the sound was nonetheless listenable and convincing.
The Kondo gear also did a fine job of expressing the intensity of Johanna Martzy's legendary performance of the Ciaccona of J.S. Bach's Partita 2 (EMI/ERC 33CX 1287); I was captivated, although I missed the greater richness of my Shindo separates, which seem to add to the Martzy experience. But there was no questioning the Kondos' astonishing reproduction of Walter Gieseking's 1950 recording of Beethoven's "Waldstein" sonata (LP, Angel 35024), which sounded appropriately physical—and lyrical, and charming—through the GE-1 and Overture.
The Kondos communicated force in a big way—figuratively and, taking into account the way the Kondo amp melded physical impact and physical scale, quite literally. The plucked strings that open the recording, by Neville Marriner and the Academy of St. Martin-in-the-Fields, of Britten's Variations on a Theme of Frank Bridge (LP, Argo ZRG 860) were physically stirring, even at the modest volume levels I prefer—yet in the subtler sense, the Overture's excellent sense of drive pushed the melodies along in a nice and natural manner.
Maxium
In retrospect, I feel comfortable suggesting that the Kondo electronics have less of an identifiable "tube sound" than my own Shindo gear—and are even less obviously tubey than Lamm's well-engineered ML2.2 single-ended amplifiers, which I wrote about in the April 2013 issue. Still, I think any experienced listener would say that the Kondo GE-1 and Overture possess the timbral naturalness, the texture, and the complete lack of harshness and mechanical sound that are traditionally associated with good tube components. That the Kondo products had, in my system, a believably wide and well-chosen bandwidth, and that they performed without undue noise, hum, or any other such flaw, suggest that they are remarkably well-engineered tube components.
There remains only the matter of value—or lack thereof, as the case may be. Kondo Audio Note in Japan has a total of seven employees: They make most of their own parts, and even where they do not, the company demands and achieves a level of quality that all but the most dedicated would refer to as unnecessary. Moreover, the company seems, at times, almost perversely unconcerned about actually selling any of their products. Do I think the principals of Kondo, their distributors, or any of their dealers are getting rich by selling this stuff? I do not. Do I think that either the Overture integrated amplifier at $33,900 or the GE-1 phono preamplifier at $12,900 is a high-value product? I do not (footnote 5).
Consumer goods that make sense as works of art—products this original, this influential, this excessively well crafted—often don't make any other kind of sense. Yet neither that realization, nor the acknowledgment that I will surely never be able to afford even the least expensive Kondo amp, can prevent me from saying that you should go out of your way to hear these products. Perhaps 1% of you will both get them and be able to afford them—for which you have my congratulations and my envy. For everyone else, these Kondo electronics can provide a glimpse into a sonic world in which words such as extravagant and unnecessary don't exist, and where excess has less to do with opulence than with a single-minded dedication to the pursuit of audible art.
---
Footnote 5: There are many people in the DIY community who will read this column and think,
I could make this thing myself for less than 1/10 the cost
. I sigh my sorry sigh.