At the Linear Tube Audio Headphone Lounge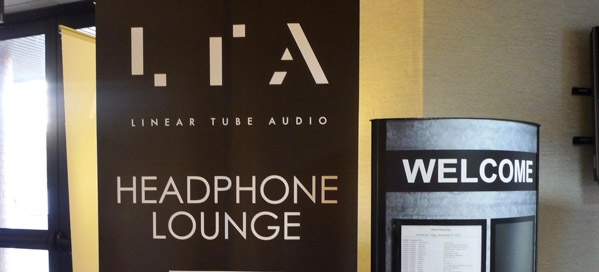 I have been beating the headphone drum at Stereophile since I started in 2014. By 2016, when I reviewed Linear Tube Audio's inaugural product, the microZOTL2.0 line-stage/headphone amplifier, I was falling asleep with AKG K812s on my head. (Now I'm falling asleep with HiFiMan Susvara and RAAL-requisite SR1a ribbon headphones.) To me, headphone listening is the gateway to audio's newest wonderland.
Therefore, naturally, I had to start my Friday morning CAF adventure at Linear Tube Audio's Headphone Lounge, which featured the full array of LTA's handsome amplification featuring casework designed and executed by Fern & Roby. This "lounge" was located in a sunlit corner at the end of a long hall and was perfect for relaxed, quiet listening. Each listening station was equipped with several of the world's best headphones, so attendees could make serious auditions.
At the first station, I auditioned the crazy–good-looking LTA Z10e electrostatic headphone amp/integrated amp, which costs $6950. It reminded me of a plumper more fashionable-looking microZOTL2.0.
I listened to Herbie Hancock's "Chameleon" and the Beatles' "You Never Give Me Your Money" through a duo of headphones by a new Maryland-based company called Aurorus Audio. The first was a 32 ohm open over-ear model with 50mm dynamic drivers called the "Borealis." It cost $899 and had no outside grills, so you could see the actual driver. (It looked more open than it sounded.) The second was a beautifully-finished closed headphone (also dynamic) called the "Australis" that I thought sounded impressively natural for the price (also $899).
But! The LTA Z10e has a 5-pin, 580V electrostatic headphone output, so I listened to both the Stax SR-009 and the MrSpeakers VOCE electrostatic headphones. The Z10e let me switch mid-song from electrostatic to dynamic headphones. And! And! This little beauty was also a 12Wpc loudspeaker amp! I was in heaven! I asked LTR's principle, Mark Schneider, for a review sample.
At the second station, I used a pair of Focal Stellia headphones to audition LTA's Z10 Integrated. The Z10 appeared similar to the Z10e but minus the electrostatic headphone power. Price: $4900.
Life in the headphone world is now more exciting than ever.