The Klipsch Way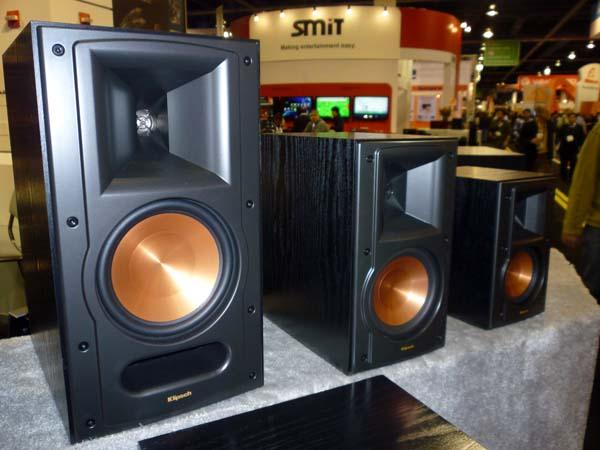 From left: Klipsch Reference RB-61 II ($529/pair), RB-51 II ($329/pair), and RB-41 II ($279/pair). I spotted this handsome family of Klipsch Reference loudspeakers on static display at the Las Vegas Convention Center. Each is a bass-reflex design with a rear-firing port and each utilizes a 1" titanium diaphragm compression driver mated to Klipsch's Tractrix horn. As you go up the line in size and price, you gain greater bass extension and sensitivity.
Earlier in the week, back at the Venetian, Klipsch's Mark Casavant and Chris Aiello gave me an introduction to Klipsch's history, philosophy, and latest products. Casavant explained that with the top-of-the-line Palladium family of Klipsch loudspeakers the goal was to carry the torch of Paul W. Klipsch, matching great dynamic range with clarity and low distortion. "We were looking for ways to dramatically improve dynamic range without dramatically increasing cost," said Casavant. "What we do with 1–5W, that's what's important," he smiled. In the latest designs, Klipsch has partnered their Linear Travel Suspension tweeter with new, improved woofers and crossovers, and these technologies have trickled down from the Palladium line into the Reference and Synergy lines.
The big differences between the Reference and lower-priced Synergy lines, Casavant explained, are the Reference's larger tweeter (1" in the Reference vs 0.75" in the Synergy) and an improved crossover. I mentioned to Casavant that I've been impressed with the Synergy B-20 ($279/pair), which utilizes a 5.25" woofer and manages to fill my room with well-defined images, and he nodded, "We are trying to show that great sound does not have to break the bank."
In addition to improvements throughout Klipsch's 2-channel line, the company is also introducing new lines of subwoofers featuring wireless technology, and "new media power bars," slim, horn-loaded, room-friendly designs with deep bass. "Style without substance is not what we do," emphasized Casavant.
Klipsch's product planner for personal audio, Chris Aiello, then walked me through the latest Klispch headphones, including the new Image One, profiled earlier by Tyll Hertsens. Aiello piqued my interest in Klipsch's in-ear monitor, the S4i ($99), designed for use with an iPod, and said to be extremely comfortable for long listening sessions. I have trouble with in-ear monitors, so I'm hoping the S4i is the cure.