Kenny Dorham: Quiet Kenny
The critic Gary Giddins once wrote that Kenny Dorham is "practically synonymous with
underrated
," so don't feel ashamed if you've never heard of this golden-toned trumpeter, who came up in the 1940s alongside the bebop giants, toiling for a decade as a sideman—to Charlie Parker, Dizzy Gillespie, Thelonious Monk, Bud Powell, Art Blakey, and Max Roach—before leading his own group and, even then, rarely on the front line alone.
Quiet Kenny, a 1960 album on the New Jazz label (the precursor to Prestige Records), is the only Dorham album that features no other horn player. It's just his quartet, and what a quartet—Dorham is accompanied by Tommy Flanagan on piano, Paul Chambers on bass, Art Taylor on drums. Manning the controls was Rudy Van Gelder at his peak—and what magnificent sound.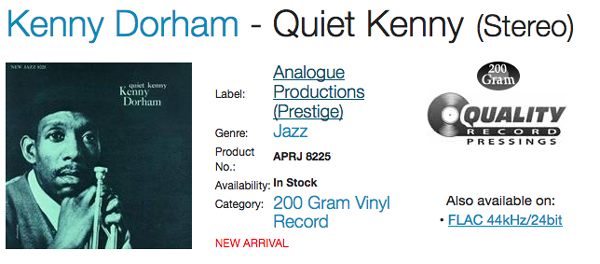 I've never heard an original pressing, but this reissue by Chad Kassem's Analog Productions—a 200-gram QRP pressing, mastered at 331/3rpm by Kevin Gray—is every bit the equal of Van Gelder's Blue Note LPs from the same era: the trumpet's brash brass and bushels of air, the pluck and wood of the bass, the sizzling hi-hat and smashing snare of the trap set. The only shortfall, common to Van Gelder recordings, is the piano, though this one seems less veiled than usual—there's sparkle to those keys, the sniff of a bouquet rising from the overtones, even if it's reduced in size and impact. The reverb must have been Rudy's doing—he recorded in a small room—but it sounds natural. He had that trick down. Listen to "Blue Friday," and you'll be reminded of the trumpet-led passages on "Stolen Moments," the high point of Oliver Nelson's The Blues and the Abstract Truth. There's a similar sound, and it's no accident.
The music here is melodic, straightforward: not all ballads, as the album's title might suggest, but nothing raucous. The tunes are a mix of standards—"My Ideal," "I Had the Craziest Dream," "Old Folks," "Mack the Knife"—and Dorham originals: "Blue Friday," "Blue Spring Shuffle," and, especially, "Lotus Blossom," which starts off the album and will lift your spirits.