KEF Blade Two loudspeaker Page 2
In the bass, Jerome's Taylor acoustic bass guitar on
Rendezvous
, and my Fender bass on
Editor's Choice
(CD,
Stereophile STPH016-2
), were each reproduced with a rich, weighty bottom octave and terrific impact. The low-frequency, 1/3-octave warble tones on
Editor's Choice
were reproduced with full weight down to the 32Hz band, which was boosted by the lowest-frequency mode in my room. The 25Hz warble tone was still readily audible at normal listening levels, though the 20Hz tone disappeared. The half-step–spaced tonebursts on
Editor's Choice
were reproduced cleanly from the midbass through the mid-treble, with impressive weight below 80Hz, though with a touch of emphasis in the presence region. Overall, however, the low-frequency tones sounded very clean—KEF does specify very low distortion for the Blade Two.
Serendipity Strikes Deep moment No.634: I was moving some boxes in my office and found a white-label CD from 2007 that had fallen down behind a stack of old press releases. It was Thelonious Monk's Live at the 1964 Monterey Jazz Festival (CD, Monterey Jazz Festival/Concord Jazz MFJR-30312). I love Monk, but it was a double-bass solo in the herky-jerky–themed "Evidence" that caught my attention. There were no credits on the disc; a quick bit of Googling revealed that the bassist was a 24-year-old Steve Swallow, playing for the first time with Monk.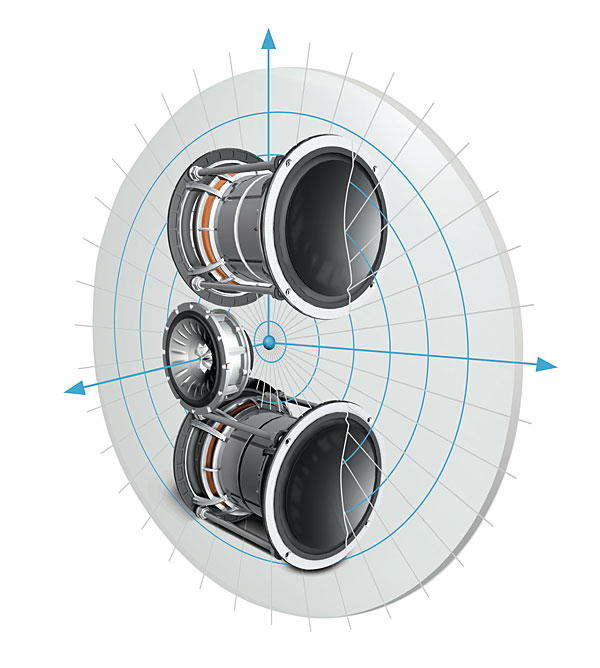 The first jazz record many audiophiles my age bought was Kind of Blue. But I was a latecomer to Miles Davis—In a Silent Way, a decade after KoB, was my introduction to the iconic trumpet player. The first jazz LP I purchased was the Gary Burton Quartet's Lofty Fake Anagram, which was also my first exposure to Steve Swallow's masterful bass playing. I have followed his career since this 1967 album, and especially after he switched to bass guitar. But Swallow was still playing double bass on Lofty Fake Anagram, and as I listened to the album (16/44.1 ALAC files ripped from CD, RCA), the Blade Twos caressed his every note, reproducing them with power and precision.
It was a bit too good to be true. In my relatively modest-sized room (greatest dimensions: 27' long by 16.5' wide), the Blade Twos' low frequencies were too generous in absolute terms, Swallow's bottom octave sounding a touch too powerful. This is not necessarily a bad thing. Leonard Cohen's deep-toned speaking voice in "The Jungle Line," from Herbie Hancock's River: The Joni Letters (24/96 ALAC file, Verve/HDtracks), sounded magnificently magisterial, with no apparent coloration.
And like its small sibling, the LS50—which I described in my review as "one of the finest speakers at reproducing female voices that I have heard"—the big Blade Two, too, loved the female voice. I recently treated myself to the live recording of Russian soprano Anna Netrebko singing Strauss's Four Last Songs, accompanied by the Staatskapelle Berlin conducted by Daniel Barenboim (CD, Deutsche Grammophon 479 3964). I initially felt that Netrebko's opera-gestated vibrato was too deep for this music, but her voice has a molten-metal quality that draws the listener into her performance and that the Blade Twos faithfully reproduced. In the final song, "Im Abendrot" (At Sunset), Strauss's sensitive scoring paints a rich-toned soundstage above which Netrebko soared in contemplative calm, without the KEFs editorializing in any way. And again, the image of the solo violin in the third song, "Beim Schlafengehen" (Going to Sleep), was the correct size, and stable. Magic music. Magic speakers.
I reached for some Steely Dan: "My Rival," from Gaucho (24/96 ALAC file transcoded from FLAC, HDtracks/MCA B0000868-36), features bass guitar and kick drum in lockstep. Through the Blade Twos this track sounded rich but tight, and on the words "prickly pear," when the bass guitar drops an octave, to a low E-natural, the damped note was weighty, with excellent pitch definition. This was with the Bricasti M28 monoblocks, which Michael Fremer reviewed in May. With the Ayre Acoustics MX-R Twenty amplifiers (review underway), the lowest bass-guitar notes were not quite as weighty, but the upper-bass register seemed a bit more even. But with either amp, Nick Mason's kick drum in "Us and Them," from Pink Floyd's Dark Side of the Moon (24/96, HDtracks/EMI), sounded a touch too ripe through the KEFs.
Looking at what I've written so far, it appears that I mainly played old-fart music while preparing this review. But I did play a lot of modern rock. I have been in love with Hildur Gudnadóttir's Leyfdu Ljósinu (CD, Touch TO:90) ever since Stephen Mejias gave it to me as a Christmas present a couple of years ago. For the title track, Gudnadóttir constructs soundscapes comprising a looped motif based on a major-second interval that at first is underpinned by long, bowed notes on her cello, then by sung notes that first echo, then clash with the harmonies established by the cello. As each looped clone of the singer enters, it occupied its own place on the stage thrown by the KEFs, unambiguously hanging there as the track developed.
In "Limit to Your Love," from James Blake's eponymous album (CD, A&M) the bottom-octave synth-bass notes a minor second apart that had given the LS50s stomach trouble were reproduced cleanly and with excellent pitch definition.
Nothing for it—time to reach for a speaker killer: "Nightwalker," from Anders Trentemoller's The Last Resort (ALAC file ripped from CD, Pokerflat PFRCD18). This German DJ–created track has a combination of high-level ultrabass, plus a soundscape created by massive phase manipulation, to produce images that extend well beyond the speaker positions. All of which the Blade Twos handled with English aplomb: "Can you give me a bit more, old chap?" I turned up the Ayre preamp's volume control until the books started walking along their shelves and one of my children shouted at me from the kitchen, one floor and the length of the house away. "That'll do, old chaps," I instructed these English thoroughbreds. "Let's back it off a jot."
As I finish writing this review, I'm streaming from Tidal a fast and furious performance of J.S. Bach's Double Violin Concerto, BWV 1043, with soloists Giuliano Carmignola and Mayumi Hirasaki, accompanied by Concerto Köln (from CD, Deutsche Grammophon Archiv 0289 479 2695 5). The big KEFs get everything about this recording right: the upfront miking of the two violinists that gives the soundstage a wide-angle perspective; the solid stability of that soundstage; the ambient bloom of the recording venue; the natural tonalities of the instruments, both solo and ripieno; the gruff richness of the basso-continuo cellos and double bass; and the harpsichord's accompanying arpeggios. All is as it should be; all is to the benefit of this sublime music.
Summing Up
In the 1970s and early '80s I was never a fan of KEF speakers, feeling they sacrificed musical involvement in favor of tonal neutrality, resolution in favor of not wanting to offend. A colleague at Hi-Fi News & Record Review, the late Geoff Jeanes, had bought a pair of the original KEF Reference 105s when that speaker was launched in 1977, and too much of the time I listened to the R105 in his system, I found it just too polite. It wasn't until 1986 and the appearance of the Reference 107, the very last product I reviewed for Hi-Fi News before joining Stereophile, that I felt KEF was managing to marry resolution to an absence of coloration.
The Blade Two carries that evolution to the limit. It preserves all the positive qualities that made KEF's little LS50 Stereophile's "Product of 2013," while adding greater dynamic range and two more octaves of bass extension—though at $25,000/pair, this is for a price more than 16 times greater! The low frequencies are balanced to be neutral in a room larger than mine, though too large a room and the top octaves might start to sound mellow—which could be a concern, considering how sweet they already were in my room. But that imaging magic and its midrange clarity make the Blade Two a winner all the way.