JVC XL-Z1050TN CD player Measurements
Sidebar 2: Measurements
Fig.1 indicates a virtually ruler-flat frequency response, while in fig.2 the de-emphasis response indicates that no response-caused aberrations will be experienced with pre-emphasized discs. The fine squarewave response (fig.3) again is typical of a player with a linear-phase digital filter, but with a slight overshoot on the leading edge. And in fig.4, only the measured crosstalk from left to right is shown; the right-to-left curve practically overlays it.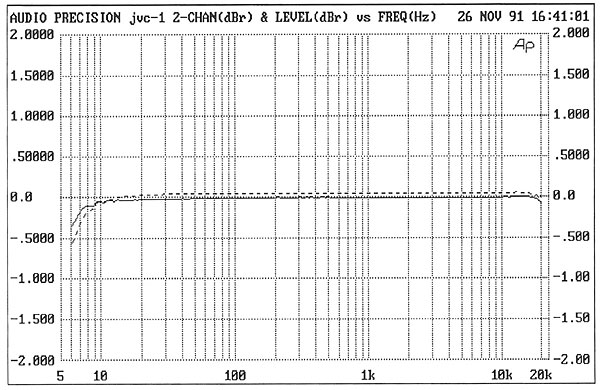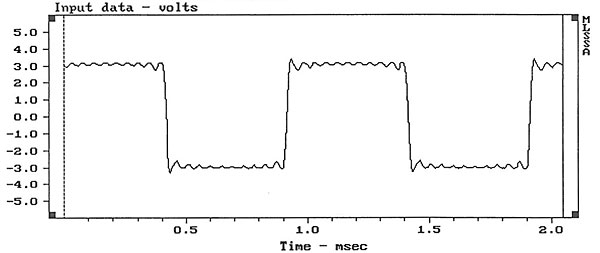 The JVC's response due to a dithered, 1kHz –90.31dB tone is shown in fig.5. Neither distortion artifacts nor power-supply noise are evident in this curve, and the minor (about 1dB) linearity error at –90.31dB is likely due to a small error in the curve's calibration. The latter is confirmed in fig.6, showing perfectly linear output down to –100dB, and an average deviation (minus the expected low-level noise) within 1dB down to below –110dB. Listening to the fade-to-noise with dither track from the CBS CD-1 test disc produced a clean fade to noise free of audible artifacts. The noise spectrum of a silent (infinity zero) test track is shown in fig.7. Note that in this 1-bit player there is a significant increase in noise at ultrasonic frequencies, though still below –95dB at 150kHz. Recall that the noise-shaping found in 1-bit machines shifts noise upward in frequency to above the audible range, where most of it is removed by additional, usually very gradual, analog filtration.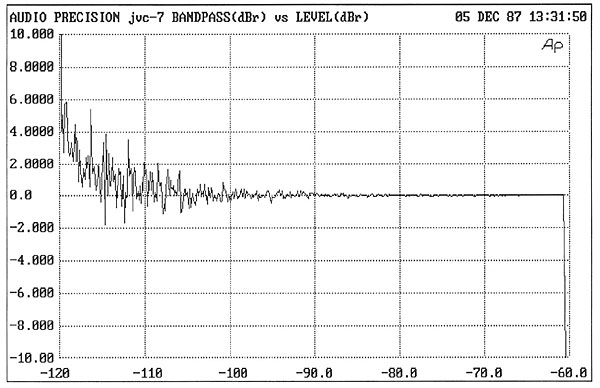 The –90.31dB, 1kHz undithered tone in fig.8 presents a reasonably good approximation of the expected stairstep response to playback of this signal, with the typical addition of ultrasonic noise. And the intermodulation spectrum (fig.9) was excellent, with no distortion products visible above the analyzer noise floor.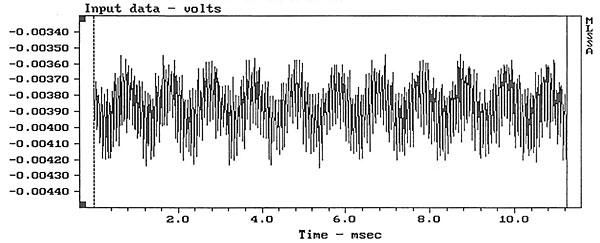 The JVC had no DC offset on its outputs, and was non-inverting. Its output impedance measured 103 ohms within a fraction of an ohm on both channels at the fixed outputs. The variable output measured 503.9 ohms at full volume, 4254 ohms at one-half volume, which again will roll off the highs with suboptimal interconnect choices. The output of the JVC measured 2.18V on both channels in response to a 1kHz tone at 0dB, this 0.75dB above the standard level.—Thomas J. Norton