John Crabbe: Firebrand Page 2
"So that was a great introduction. It was all 78s still, of course. But it was lovely to fiddle around with these things and hear the different shapes and radii. So I switched right on to that—and made my own [tone]arm to go with it, eventually."
Then came two years' National Service in the army. "With a radio-type background, I was put into the REME, the Royal Electrical and Mechanical Engineers, and trained as a radar technician. I studied the two main types of anti-aircraft radar, one of which was the very early type, attached physically to searchlights, with aerials comparable in length to present-day television aerials, four of them dotted around the light. Someone operating the device had to equalize the signals, and when all four signals were of equal amplitude, then you knew that they were facing the aircraft, you would switch the light on and there it would be. This was a very crude form of radar, but by then they had introduced another type, the parabola reflector. My work was maintaining and repairing these devices around the country.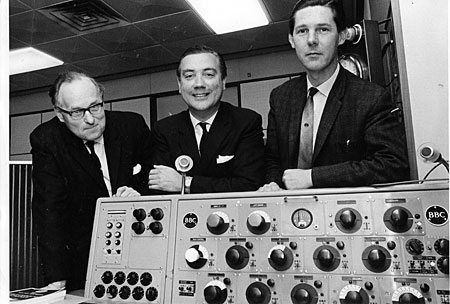 "I got promoted to corporal in the end, and I was assistant to the manager of a radar repair workshop down in Dorset. Then, for the last year or so, I was posted out from there to north Cornwall, up on the high cliffs—a marvelous place to spend my last summer in the army. It was not very busy and it was a lovely summer, so we spent most of our time down on the beach sunbathing and looking at the wonderful coastline!
"When I came out of the army in late 1949, I looked around for a job in electronics. As it turned out, I went back to Decca—then in Raynes Park, and eventually Tolworth, in Surrey—and they were manufacturing radar very seriously then. Again I was in charge of inductors of all sorts; that was my speciality. I gradually got promoted up to testing complete radar systems.
"But during all this period I was greatly interested in making loudspeakers and building amplifiers. I'd picked up a certain amount in that first year at Decca, and I took all that up again once I was out of the army. I met other people with comparable interests, technicians who were interested in what became hi-fi, and we shared this hobby. We used to go to the various BSRA [British Sound Recording Association] exhibitions in London, at the Waldorf, I think. If we could afford to buy stuff, we would; otherwise, we would make it ourselves.
"One of the people in the team at Tolworth had been making moving-coil pickups following the Voigt patent, which means an elongated body with the coil wound lengthwise and a sort of triangular bit coming down and the stylus stuck in the base, and rubber rings on the end. You could clamp it so that it would waggle laterally, rather like the T-piece in the Decca—which was a moving-iron, of course. You had a pair of magnets either side. He showed me how you made these things with something like 50-gauge wire, a very fiddly business, and how you could get them to track at very low weights with hardly any wear. So I started making my own cartridges, and of course I'd still got all these styli from way back at Decca! This was about the time that the Leak pickup came out, also using the Voigt patent.
"This was still with 78s. And shellac is a much harder material than vinyl, so there is less compliance. The moving mass against whatever compliance there is determines the upper frequency of the resonance. So of course when LP came in, the huge problem was that with all these better-quality pickups, the high-frequency resonance came down by something like an octave because of the compliance of the material.
"The Leak pickup was of this ilk. I think it had a resonance at around 12kHz on 78rpm, which came right down when it was used on LP. Now, I could hear this, and a lot of my friends could—though I couldn't now! I knew damned well I could make a better sound than Leak could, so I started making these things for friends. Even sold a few."
In 1955, because of his hobby interest, John was looking for a job in audio. He found one, as a lab technician in the Phonetics Department at University College, London. By coincidence, the other two technicians there were both called John, and one of them was actually named John Crabbe.
"He was John James, and my real first name was Henry, so we became known as JJ and HJ. But you can imagine the confusion."
John's full initials, HJFC, would later appear on his first published magazine articles.
"In my early days at UCL, a group of three of us—myself, the senior technician, and another friend of mine—built the big concrete corner-horn loudspeakers, to my design, which are described in a Wireless World article which eventually appeared in February 1958. We did three loudspeakers, each doing part of the whole structure."
In the meantime, though, John had married and left this job, to try a complete change of direction.
"Gwen and I were married in October 1955. Her father owned a six-acre smallholding in Essex, near Wickford. And it seemed an opportunity, a challenge, to go back to the land. I ploughed, reared some pigs, and took them to Wickford market, where they were duly sold, and I got a Ministry of Agriculture grant. But for various reasons, there was no way it was going to work. After four months, I thought, We've got to go back to London. Well, the job I'd vacated, as senior technician at UCL, they'd never filled! I went back to the same job. They were grateful to have me back. That was a real piece of good luck.
"We found a flat in Herne Hill, in South London. We had a technique. We would walk up a side road and knock at every alternate door, asking if they had any vacant rooms. We didn't do this very thoroughly, but we knocked at one door and an elderly lady said, 'Well, we've got the attic rooms in this house.' She obviously took to us. So we went upstairs, and there were two little rooms, plus part of the loft which you could make into a kitchen, and I thought I'd make a go of it, being a DIY sort of person.