JA on Relativity vs Absolutism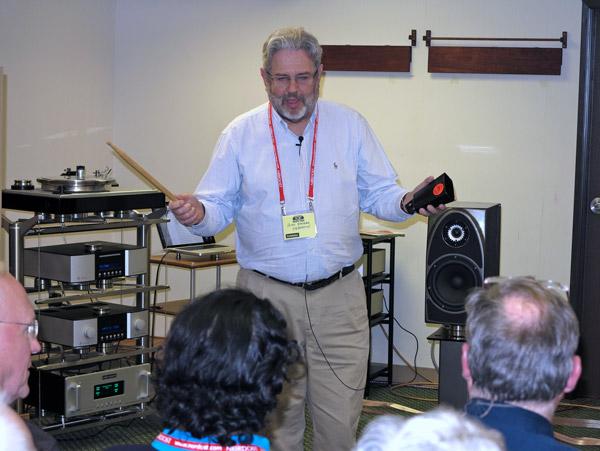 Without, of course, wishing in any way, shape, or form for the title of his four seminars, "Just How 'Absolute' Is Recorded Sound?," to be misconstrued as referring to a certain publication based on what I personally consider a dubious concept,
Stereophile
editor John Atkinson used everything from a drumstick to a cowbell, both sounded "live" and played back on the seminar room's stereo system, to convey the message: "Nothing is real. How the recording art affects what you think you hear!" As John proceeded to point out that the brain combines information from separate left and right loudspeakers into a single stereo image, my own brain began to repeat the refrain, "30 or so more rooms in the hall, 30 or so more rooms, If one of those rooms should end up uncovered, your ass will be plastered far into the wall." Hence I vamoosed, and now leave it to John to say more about the content of his seminar.
JA explains: Using the master files for some of my own commercially released recordings, played on a MacBook Pro using Pure Music and either Halide's HD or the AudioQuest DragonFly USB DACs, I showed that it is a fallacy to assume that "the absolute sound of live music in a real acoustic space" resides in the bits, pits, or grooves, even when such a live event existed. Making recordings is an art, not a science and there may only be a coincidental resemblance between what is presented to the listener and the sound of musicians playing live, even when all concerned with making the recording were trying to be as honest as possible. Even the fundamental decision of what microphone to use moves the recorded sound a long way from reality—I played listeners the recording on the original Stereophile Test CD where the late J. Gordon Holt read an excerpt from a 1960s essay with a different professional microphone used for each sentence—and it is a naïve reviewer who doesn't realize this fact!