Girls Across America: Live From Nashville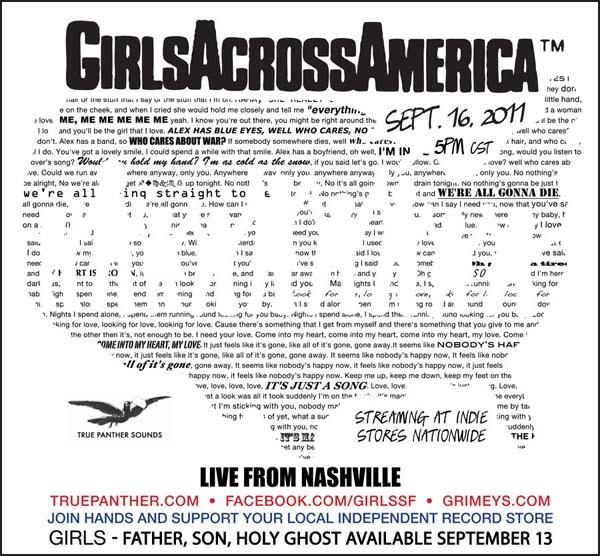 To celebrate today's release of Girls' sophomore record,
Father, Son, Holy Ghost
, the band will make an in-store performance at
Grimey's
in Nashville, Tennessee, at 5pm on Friday, September 16. You won't want to miss this. If you can't make it to Grimey's, you can still enjoy the show because this will be the very first
nationwide in-store
: The performance will be streamed live, one time only, across the websites of our most cherished, influential, and important independent record stores.
All you have to do is visit your favorite record shop's website or Facebook page at 5pm on September 16 and watch the live stream.
As a way of also showing their appreciation for independent record shops, Girls will create a limited-edition vinyl release, exclusive to those stores participating in the event. Currently, over 75 shops are participating, including Other Music in NYC, Amoeba in California, Newbury Comics in New England, and Criminal Records in Atlanta. See the full list here.
You can stream Father, Son, Holy Ghost in its entirety, and take a look at the sweet vinyl package, right here.
And here's the video for "Vomit," track six on the record.
Girls write catchy, classic pop and rock songs—tales of life, love, and heartbreak—and their records sound awesome on the hi-fi. Their debut, Album, was one of my favorite records of 2009.