The First Transducer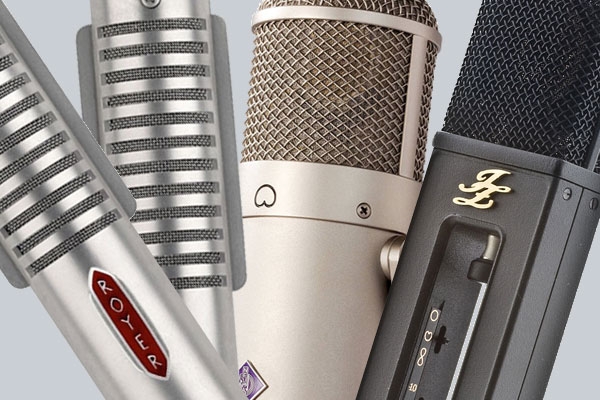 A recording engineer's choices of microphones to record singers, guitars, horns, bass, drums—or an entire orchestra—are absolutely crucial. Those very subjective choices are, in large part, what separate the best recordings from the also-rans. When I contacted some of the best engineers in the business to talk about mikes, I got an earful. I was told that mikes have a more profound impact on reproduced sound than does any other link in the recording chain. Yes, the acoustic of the recording venue also plays a huge role, and post-session mixing and mastering can of course improve or ruin the sound—but the choice of mikes is absolutely crucial.
The diaphragms and voice-coils of dynamic microphones and speakers are structurally similar, but they perform opposite tasks: mikes convert sound into an electrical signal, and speakers convert an electrical signal into sound. Fun fact: Engineers have, from time to time, used speakers as microphones. Butterscotch Records' Allen Farmelo told me that, to get a really big sound, some guys use a Yamaha NS 10 monitor speaker's woofer to "mike" kick drums. Over the course of their careers, engineers develop their characteristic "sound" through the mikes they favor for each instrument, the sounds of different combinations of mikes, and how those mikes are positioned. They use what works.
So I was taken aback when engineer Marc Urselli told me that some singers and players bring their own mikes to recording sessions. "Peter Frampton used his Royer Labs R-122s, which are amazing, and I loved them so much I got a pair for myself. When I worked with Lou Reed, he always wanted to use his Schoeps mikes on his guitar amp." When Urselli engineered for Nona Hendryx, she requested a Neumann U47 FET—but Urselli's go-to mike for singers is the JZ BlackHole BH1S. He told me that singers are amazed by how good and clear the BlackHole sounds, then quickly added, "I have favorites for every instrument."
Larry Crane, editor of Tape Op magazine and owner of Jackpot! Recording Studio, in Portland, Oregon, always tries to audition a few mikes when he records a singer for the first time. But he doesn't always go for the mike that sounds most like the singer—his first priority is to find a sound that's appropriate for the song. Does the sound serve the music? How does the vocal mike sound when mixed with the other mikes? What's key is how all of the mikes sound together. There's no single, perfect way to make a recording, and as a session progresses, Crane is open to anything.
Crane told me about his new DynaMount robotic microphone mount, a motorized jig that you mount on a stand. As the engineer listens in the control room, the DynaMount lets him or her remotely move the mike to repeatable positions relative to the instrument or voice. That's a big deal—moving a mike even an inch or two can change the sound. With the DynaMount, Crane can quickly zero in on the best placement.
Joe Ferla has recorded some of my favorite players: Jim Hall, Esperanza Spalding, Christian McBride, John Mayer. At the start of a session, Ferla listens to the sound of the instruments from near where he thinks he'd place mikes, then tries to get that sound on the recording. Double basses are the hardest to get right—while the sound during a bass solo might be perfect, the balance might change depending on the tune's arrangement, other instruments in the same range, and how the kick drum is tuned. Early in Ferla's career, when a double bass disappeared in the mix or sounded boomy, he might have over-EQ'd and/or overcompressed the instrument to keep it present in the mix; in the years since, he's learned that the right mike in the right position gets the job done.
Some engineers take a different approach, using the same mike for all instruments. For every Chesky Records recording session of the last five years, engineer Nicholas Prout has used a single B&K binaural "dummy head" with two mikes in its ear canals. M•A Recordings' Todd Garfinkle also keeps it simple, for each session relying only on a single pair of custom-built omnidirectional mikes. He has no mixing desk, no rows of faders and knobs for compressors and equalizers. Instead, Garfinkle tweaks the sound by moving the positions of the instrumentalists and singers relative to each other, to their positions in the recording venue, and to the mikes' positions. Rather than a sterile recording studio, Garfinkle prefers recording in churches and halls with great acoustics. In that sense, the sound of each M•A recording is specific to its venue—and Garfinkle records all over the world. The results speak for themselves: His recordings are among the best I've heard.
Peter McGrath, who is now a brand ambassador for loudspeaker maker Wilson Audio Specialties, records classical music and sticks with what he knows: two or more pairs of the late Joe Grado's HMP-1 omnidirectional mikes, and sometimes a pair of Grados to spot-mike a vocalist. McGrath is always trying to capture, as transparently and accurately as he can, the sound he hears in the hall, and he feels that his Grados do just that. When he began recording, in the 1970s, he used B&K 4133s; from the '80s forward he used Schoeps MK 2S mikes, until, in 2009, he bought the Grados.
As I chatted with Dave Raymond, who records concerts at the Metropolitan Museum of Art, it dawned on me: Engineers' descriptions of microphones aren't that different from the way audiophiles talk about speakers. There are fast mikes, natural mikes, warm mikes; some are great for rock; some image well, some don't. Which is why it's the engineer's job to pick the best mike for a particular instrument or voice—or, as Raymond put it, "You want the right 'bad' one that makes the best-sounding recording."
I second that emotion.—Steve Guttenberg