Exposure Electronics XM5 integrated amplifier Page 2
I returned to the Curzon-Knappertsbusch Beethoven and heard it played back with considerably more clarity and color than before, if still with less than the ultimate in both of those qualities—plus considerably less compression on dynamic peaks. And not only did the XM5's apparent musicality not suffer from the change, it flourished. Now that transition from second movement to third—a transition that Knappertsbusch engineers with great control and delicacy, as pizzicato strings punctuate a short phrase that points first toward B and then toward E-flat—was more brilliant than ever.
The Exposure was no less competent with popular fare, sounding brilliant with Neil Young's After the Gold Rush (LP, Reprise RS 6383, footnote 1). In "Tell Me Why," the Exposure's clarity was sufficient for me to distinguish between Danny Whitten's and Neil Young's acoustic-guitar parts—the instruments themselves sound very similar—and in the cover version of Don Gibson's "Oh, Lonesome Me," the passion in Young's voice, especially in the line "There must be some way . . . ," was impossible to miss. The album's up-tempo numbers were also well served, especially "When You Dance I Can Really Love." Billy Talbot's electric bass and Ralph Molina's impassioned drumming had good impact, despite the extent to which they're compressed in the original recording, while the distinct vocal harmony lines—the choices of notes in the lowest harmony are not at all what one might expect—came through clearly.
As good as the XM5 ultimately sounded via its phono inputs, CD playback, through its line stage, was more colorful and vibrant. Murray Perahia's fine 2001 recording of Chopin's Études (CD, Sony Classical SK 61885) sounded lovely, with good tonal-color saturation, a very good sense of force, and an apparent freedom from temporal distortions: Perahia's very subtle dynamic shadings and flexibilities of tempo weren't obscured as they can be with lesser gear, through which this recording sounds merely pretty.
Among my three or four favorite recordings of Bruckner's Symphony 9 is the one made in 1995 by Sergiu Celibidache and the Munich Philharmonic (2 CDs, EMI 5 56699 2). I haven't the slightest idea how, but Celibidache maintains an emotional intensity throughout that keeps me on the edge of my seat, despite what seem, at times, to be overly broad tempi. The Exposure amp honored that quality, and more. The XM5 didn't reproduce pizzicato notes with quite the tactile excitement of other amps—something on which the Scherzo depends for maximum effect—and it wasn't the last word in sweetness and color of string and brass tone, but it was nonetheless very good in those respects. Listening to this recording through the Exposure, especially with the lights off, was very satisfying.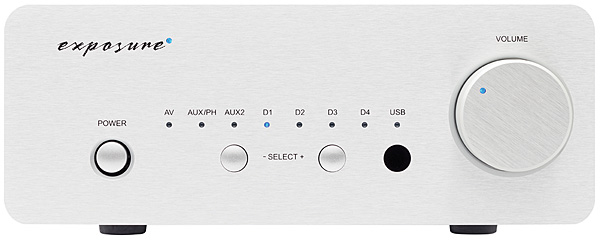 With JVC's reissue of Kenny Burrell & John Coltrane (CD, Prestige/JVCXR-0048-2), the Exposure's sound was well sorted—spatially present and well defined, tonally convincing, and emotionally raucous, in the best sense. Guitarist Burrell and tenor saxophonist Coltrane begin the opening number, "Freight Trane," by playing the melody in unison; then, at the precise moment when Coltrane begins his first solo, the ensemble's momentum kicks into a higher gear, something the Exposure amp communicated quite well. The joyful relentlessness of Paul Chambers's double bass was also well expressed—and every time Burrell raked his pick across the strings for an arpeggiated chord, the XM5 put across the physicality of that gesture. I'd also played this disc while the Altecs were in the system, and while those vintage speakers typically outperform the DeVores in the ability to communicate music's more tactile aspects, with this recording and with this amp the O/93s stood head to head with the Flamencos. I was surprised and delighted.
Overall clarity was good, if not quite the "hear-through" sort offered by other amps— although, again, the Exposure sounded more transparent through the DeVore speakers. But even then, Burrell's comping behind solos by Chambers and pianist Tommy Flanagan wasn't quite as intelligible as I wished.
I compared the D/A processors in the Exposure XM5 and the Hegel Mohican by using the Hegel as a transport, via one of the Exposure's two BNC inputs. (I used a 1.5m-long Shindo interconnect with BNC-to-RCA adapters at both ends.) Listening tests required some level matching, the complete Hegel player's level being much higher than that of the Exposure's internal DAC. That done, the comparison did not flatter the XM5. With "Have Love Will Travel," from Tom Petty's The Last DJ (CD, Warner Bros. 48396-2), the sound of the Mohican through the amp's line-level Aux input was richer overall, with more weight in the sounds of the piano and electric guitars; through the Exposure's own DAC, cymbals, snare drum, and, especially, Petty's voice sounded lighter, with a slight added glaze, if not brighter per se. The Exposure DAC wasn't edgy or rough, just shiny. The same held true in this album's brilliant, quirky last number, "Can't Stop the Sun," with the same sheen on sibilants when Petty sings "But you can't steal / what you can't feel / can't stop the sun from shining." Similarly, Tony Rice's acoustic guitar in selections from his Unit of Measure (CD, Rounder 11661-0405-2) sounded richer and more substantial through the complete Mohican; its sound through the Exposure DAC, though not unrewarding, was lighter, with more audible squeaking of fingers on strings.
The time came to try the XM5's USB input, so I tried a few selections from my Apple MacBook Air, with which I use Roon playback software (v.1.5, build 363). As luck would have it, I'd long ago ripped that Tony Rice CD to my laptop's hard drive; with the disc itself still in the Hegel's drawer, I could now compare three different ways of delivering the same zeros and ones: via the complete Hegel player, via the Hegel transport alone driving the Exposure DAC, and via an AIFF file streamed from my computer via USB and driving that DAC. Surprisingly or not, all three sounded slightly different. Played from my computer, "An Olde Irish Aire (Danny Boy)" no longer had the sheen I'd heard with the transport driving the DAC via its S/PDIF input. Minus that distraction, the sound was more enjoyable—though it was richer and still more involving through the complete Hegel player. There's a moment in this album's version of "House of the Rising Sun" when the sense of force behind Rice's pick is such that, with the best gear, I can virtually "see" his right arm moving when I hear it. The complete Hegel nailed that; with the Exposure DAC in the equation, it was missing.
But as a USB DAC in concert with my Roon-enriched laptop, the XM5 got the job done, as I noted while listening to "Ellis County," from Buddy and Julie Miller's Written in Chalk (AIFF from CD, New West NW 6158). The whap of the wildly well-recorded snare drum came across loud and clear, and the Millers' emotion-drenched singing had me crying by the first middle eight.
One other thing: With the DeVore O/93s in my system, the Exposure XM5 sounded better after it had been running for an hour—as years of experience with other amps might lead me or any audio enthusiast to expect. But crazy as it may sound, with the Altecs, the Exposure's sound not only didn't improve with use—it actually grew half a hair rough and congested after driving those speakers for an hour or more. I think it just plain didn't like them. Was it the Altec's 16-ohm load vs the DeVore's 10-ohm load? Darned if I know, but . . . well, there it is.
Conclusions
Exposure Electronics products, including the XM5, are still manufactured in the UK. A quick spin through the chat sites will turn up lots of folks who care about that sort of thing, and probably just as many who don't. I usually try to stay neutral—as I write this, I'm fresh from a dustup on Facebook where a feller said he "just couldn't get used to the idea" of playing bluegrass music on a guitar built in China, no matter how good it was—but I can't help feeling glad that England still supplies the world with good-sounding, affordable amps of sane size. The XM5 is all of those things, and a decent value for $1795. If your primary source is a CD transport and you're looking for an integrated-DAC to accommodate it, this might not be your best choice—its S/PDIF inputs don't reach the same heights as its USB input—but the Exposure XM5 is otherwise solidly recommendable.
---
Footnote 1: For previous reviews I've used the 2009 Neil Young Archives reissue of this album (LP, Reprise 517936-1), but despite that LP's superior bass extension and wider apparent dynamic range, it disappoints with its crunchy edge on vocal sibilants and other high-frequency sounds—things not present in the original LP mastering—and the very audible pre-echo between the first two songs on side 2 is inexcusable. (This master was cut at an evidently high signal level.) The NYA reissue's combination of pros and cons may suit the priorities of other listeners, but from now on I'll keep it in its jacket and revert to my original copy, purchased in 1973—and which, like most of my Reprise LPs from that era, is in crazy-good condition.