Everything Mattered at Music Matters 12
The 12th annual Music Matters event, held at Definitive Audio's Seattle location on March 9, featured six complete systems plus an Auralic-driven headphone display and static Rega turntable corner. All but the silent display showcased recorded music in its finest light. By the end of the evening, it was clear why Music Matters has earned a reputation as the top retailer-sponsored audio event in the USA.
Attended by at least 465 pre-registrants, plus three members of the Stereophile team, the event enlisted a huge buffet spread plus wine bar to assuage audiophiles who dutifully waited in long queues for the opportunity to hear systems at widely diverging price points. Those who got into the rooms of their choosing, as well as those who preferred to listen a bit and nosh a lot, left equally sated.
By the time the first group of audiophiles poured in the doors at 5pm, and exhibitors scrambled to their posts, I had already taken photos of all set-ups and chatted with folks about their premieres. Pride of place, on the premieres score, went to the Bowers & Wilkins/Classé/AudioQuest room. There (L–R in photo), Doug Henderson, President, B&W Group USA (US distributor for Bowers & Wilkins, Classé, and Rotel), Dave Nauber, President of Classé, and Dave Baker, regional sales manager, Bowers & Wilkins, introduced me to several new products.
Let's start with the public premiere of pre-production engineering units of the third generation of Classé's reference Delta series components. Expected "mid-summer," the third-generation amplifiers—the Delta Mono ($9500/each target price), which outputs 300Wpc into 8 ohms, and Delta Stereo ($11,000), which outputs 250Wpc into 8 ohms—have a fixed bias of 25Wpc in class-A, and are optimized to deliver lots of power for the low impedance speaker loads of the Bowers & Wilkins 800 D3 and 802 D3.
"With the design goal of extremely low distortion throughout midrange and high frequency, we use new lateral MOSFETs for broader bandwidth and greater stability," Nauber explained. "We didn't appreciate the full importance of those goals until we tried the latest-generation 800 series speakers, which are considerably lower distortion than the last models from Bowers & Wilkins. This caused us to look into the effects of distortion on the perception of sound, and how the ear works. What I hear with this very low distortion is a new sense of openness, and, thanks to a lack of artifacts, greater resolution of low-level detail."
Classé claims the amps' distortion levels remains flat at various power and frequency levels. The company has more than doubled the amount of bulk capacitance, enabling the Delta amps to store more energy. The signal path of the new Delta preamp/DAC is almost entirely new. The unit also sports a better precision, low noise volume control with 0.25dB increment settings, new DACs and clock oscillator, and offers upsampling to 384kHz. While DSD playback is not part of the package, MQA implementation is possible at a future date.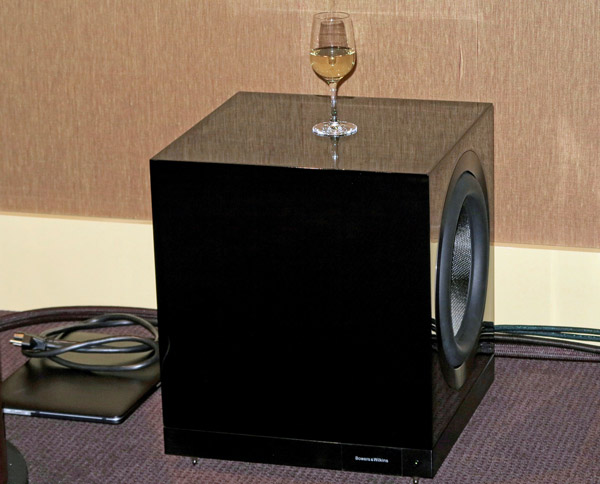 Henderson introduced the three subwoofers in Bowers & Wilkins' new DB series. The 2000W DB1D ($4500), which was active in the room, is expected in June. Like the 1000W DB2D ($3500) and DB3D ($2500), it is based on technology developed for company's D3 series, and uses those loudspeakers' new "aerofoil"-cone drivers. Featuring the most powerful amplification ever offered in a company product, the sub also includes DSP for dynamic management and room EQ, and control via a downloadable app.
"These are the best-performing subs we've ever marketed," said Henderson. "The enclosures have a fancy bracing system to eliminate box resonance, plus balanced, dual bass drivers to self-cancel internal resonance." To prove his point, he placed a wine glass on the BD1D, which descends down to 8.5Hz (–6dB), and proclaimed that it would not shake during demos.
Sporting AudioQuest's new prototype Hurricane power cable, the company's just-as-sporty Kevin Wolff explained that for its 37 years of existence, AudioQuest's motto has been "do no harm." Reducing harm in audiophiles' electrical circuits is the company's fairly new Niagara 5000, which costs half the price of the flagship Niagara 7000, yet claims 90% of its performance. Promising greater dynamics, more power, far smoother bass and more defined layering, the Niagara 5000 is said to work especially well with amplifiers. System cabling consisted of AQ Fire interconnects, Redwood speaker cable, and NRG Wild.
The playlist during the demo include snippets of Adele's "If It Hadn't Been for Love," Gillian Welch's "Everything is Free," and the LSO's performance of Dvorak Symphony 9 "From the New World." I found the sound very clear, but a little dry and lacking in liquidity. During the symphonic excerpt, I noted how well the system depicted the edge and body of the horn, and how expertly controlled the timpani sounded. Even with the effortless combination of big, deep bass and crisp highs, the wine glass shook not at all.
Other premieres were in the Naim/EAT/Focal room, and in the Linn room that I visited at show's end. In the former, Roy Feldstein, CTO of Vana Ltd. audio distribution, and Jozefina Lichtenegger, founder and CEO of the European Audio Team (EAT), explained that EAT is the more expensive brother company to Pro-ject. EAT's newest turntable, the B-Sharp ($1599), takes its name from both the note/key and the phrase, "Be sharp." The least expensive table in the EAT line, the B-sharp comes with an Ortofon 2M Blue cartridge and a special clamp designed not to warp records by curling up their edges. The table has a separate chassis and sub-chassis, with six TPE isolators between them; a 9" carbon-fiber tonearm with pinpoint bearing, and platter with a TPE internal damping ring.
Mark Raggett, export sales executive for UK-based Naim, showed two new entry-point, one-box Naim solutions in the new Uniti range: the Uniti Core ($2595) which is out now, and the Uniti Nova ($6995) which is due in August. (In static display sat the Atom ($2995), aka the baby Nova, which may make its appearance in June at the Los Angeles Audio Show.)
The Core is Naim's server, and enables you to rip discs and store data using Naim's software, which works closely with Exact Audio Copy. You can playback music over the Naim network or via S/PIDF output. The Core uses a linear power supply for optimal performance, but switches to switch-mode when in standby for lower power consumption. While it doesn't come equipped with a drive, it can accommodate drives up to 8TB. You can also attach external storage, and rip to NAS. The Core reproduces up to DSD128 or 32/384 through the company's network player, and is also equipped for Tidal, Spotify Connect, Airplay, Bluetooth, Google Cast, and lots more. MQA implementation is a possibility down the line.
Naim's Uniti Nova is their new Uniti series network player and amplifier, and offers 80Wpc into 8 ohms. WiFi aerials are buried in the unit's heatsinks for better signal strength, and there is a Bluetooth antenna embedded in the volume control. You can use either an SD card or external USB drive for storage. The unit can be upgraded with an external amplifier for more power, and can handle a multi-room environment with up to 5 different zones. It also has an A/D converter. Its digitally-controlled analog volume control is taken from the company's reference Statement amplification. Software is Linux-based (previous-generation product was Windows XP-based), and offers five times the processing power as before. Control is via remote or the now nearly ubiquitous phone/tablet app.
Through Focal Sopra No.1 loudspeakers and Naim Super Lumina cables, the Naim Uniti Nova, Naim Stage Line w/Super Cap, and EAT B-sharp, mounted on a Quadraspire SVT rack, tracks by Vanessa Fernandez and Hugh Masekela sounded quite impressive. Analog reproduction in this room offered the most neutral and natural midrange, and a more grounded sound.
For the first time ever, Sony appeared in Definitive's cozy home theater room to show off its VPLVW5000ES projector. Images projected on a Stewart Filmscreen, played on the McIntosh MVP901 Blu-ray player, were as lively and colorful as all get-out, particularly a live concert from Sting. Other components included the McIntosh MX122, preamp, MC601 600Wpc monoblock amps for the front channels, and MC207 for surround. Speakers were Golden Ear's Triton Ones ($4999.98/pair) for the front, plus the Golden Ear Super Center XXL ($1249.99), two Aon 2s for surround ($799.98/pair), and two Super Sub XXL subs ($1999.99 each) for you know what. Total cost: $11,000. The Triton 1 is the company's flagship, with the bigger Triton Reference ($8498/pair) expected in the fall
Enrique Iglesias's Bailando Blu-ray, designed for those who love to watch and listen in the fast lane, sounded and looked great. So did tracks from Dean Martin and Muddy Waters. But a snippet of Haydn in hi-rez showed the system's timbral limitations and, no doubt due to the set-up constraints of a compact home theater environment with huge leather chairs, lack of ultimate transparency. The bigger impact the music had—War's "The Cisco Kid" and Stevie Ray Vaughan in 24/176.4—the better it sounded.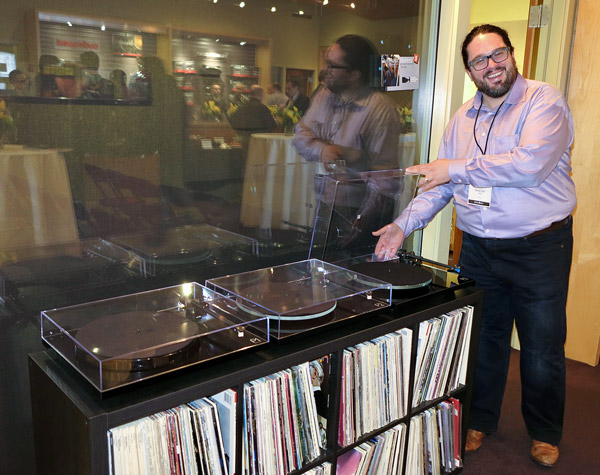 Off to the side of lobby area, The Sound Organization's David Carr (above) displayed Rega's three newest entry-level turntables: the Planar 1 ($475), Planar 2 ($675), and Planar 3 ($945). The first two come complete with cartridge, while the P3, which Herb Reichert reviewed in the March Stereophile, can be had with the Elys cartridge for $1145.
At the other end of the room, Auralic paired several of its fine-looking products with open-backed headphones from Focal, HiFi Man, and AudioQuest. Those who stayed to the end, when the room quieted down, or possess tune-out powers stronger than my own, enjoyed some fine sound.
Without question, the only exhibit whose queue was as long as the room in which our own Michael Fremer conducted LP pressing comparisons (see later) was the space that housed the big guns: Wilson Audio Alexx loudspeakers; four Dan D'Agostino Master Systems Momentum M400 monoblock amplifiers in bridged mode, along with a D'Agostino Momentum preamp and Phono; dCS four-stack Vivaldi playback system (transport, upsampler, DAC, and clock); Clear Audio Master Innovation turntable with Goldfinger Statement cartridge; Transparent Opus cabling and power isolators; and a whole slew of HRS MRX racks with all the trimmings. The only things bigger than that equipment list were the price tag . . .
. . . and the sound itself. Oh, the sound. Big, lusciously color saturated, and most definitely impactful. No subwoofer necessary as Peter McGrath played a recording of an organ from Holland that has 16' and 32' stops, and the speaker descended effortlessly into a low octave region that caused more than a few objects and internal organs in the room to vibrate. Johnny Hartmann on LP sounded absolutely lovely, thanks in no small part to the Clear Audio Double Matrix Professional Sonic record-cleaning machine that Musical Surroundings' Garth Leerer touted. Peter Gabriel sounded equally great in DSD, and Rickie Lee Jones fine on 10" vinyl once the correct speed was discovered.
Bill McKiegan of D'Agostino, who began working with Dan at Krell in 1994, noted that the M400s we heard were upgraded from the original issue and, in bridged mode supplied Wilson's Alexx 2000Wpc for a vice-like grip. McGrath, in turn, said, "We are all a little bit biased toward Transparent" as he noted that Transparent is also Wilson's internal wiring of choice.
For me, the highlight of the particular session I attended was once again hearing a bit of McGrath's recording of the Kalichstein-Laredo-Robinson Trio's Beethoven concerts that I witnessed and covered for Stereophile. All the nuance of Joseph Kalichstein's pianism that had been lamentably diminished by the hall acoustic during the actual performance was on display, with the ample miracles of his touch a source of wonder. There seemed nothing too small for this system to convey with clarity, and virtually nothing too large for it to master.
Several friends who also visited this room reported, upon hearing different material, that it was most definitely the high point of their visit. To quote my audiophile buddy, Peter Schwartzman, "I thought it was beautiful. Digital and vinyl were equally good. On my system, the vinyl always sounds better, so I really liked the dCS stuff."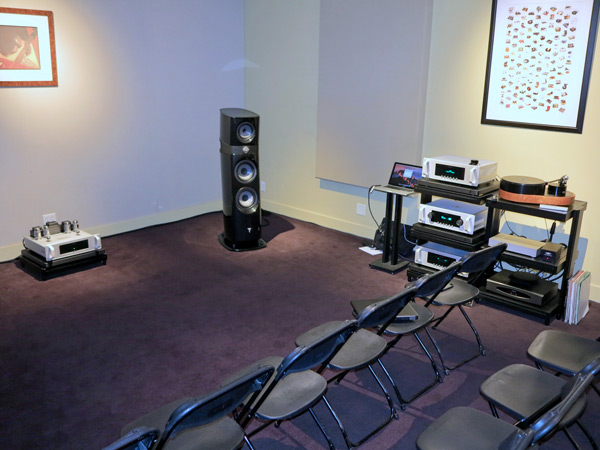 The other "big boys" room included an AMG Viella turntable w/ 12JT Turbo tonearm and Benz LP-S cartridge; Audio Research hand-built, USA-made PH9 phono preamp, LS28 line stage, and VT80 self-biasing tube amplifier; dCS Network Bridge (for streaming); Focal Sopra No. 3 loudspeakers; Transparent Ultra cabling with Reference Power cable and PIR power isolator; HRS RXR racks w/ Nimbus couplers . . . and Michael Fremer.
When my friends visited the room, Mikey was comparing pressings of the same LP. For my visit, it was less about pressings than sources. He visited two different versions of the famed Reference Recordings title, Nojima Plays Liszt; one was sourced from the original analog tape, the other from a 24/176 digital transefer of the analog master. Through this equipment chain, at least, the all-analog pressing sounded so superior to its digital counterpart as to beg the question, "Why did they abandon using the analog master tape as the LP source?"
I also thought, thanks in no small part to Audio Research's much-praised midrange as conveyed by Transparent cabling, that the sound was extremely natural as well as pleasing. Soundstaging from a front and center seat was perfect.
My friends noted that bass was not absolutely tight on the tracks they heard, but an Arturo O'Farrill demo track chosen for my particular session simply indicated where the loudspeakers couldn't descend lower with clarity. Higher up, while Rachel Podger's baroque violin sounded fabulous, the highs on Nojima's piano were more metallic-sounding than the real thing, with a hard leading edge. However, even when Ibrahim Mallouf held forth at very high volume, I heard no distortion.
Last but not least, at closing time for the event's half-hour staggered sessions, came my first opportunity to hear another debut: the Linn Limax DSM streamer/preamp with new Katalyst DAC architecture ($25,000), demonstrated by Gilad Tiefenbrun (left) and Andrew Ward (right). I did so in the context of an almost all-Linn system—Klimax LP12, Klimax DSM (Katalyst) streamer/preamp, Solo amplifiers, and Akurate Akubarik loudspeakers—paired with Transparent Reference cabling and a Finite Elemente Pagoda master Reference equipment rack.
I skipped the same room correction demo on which I reported favorably a year ago , and focused on the newest development from Linn. While Linn's Klimax series has been around since 2007, their 4th generation Katalyst DAC architecture was first released at the end of 2016. In its first public showing in the US, the Katalyst DAC upgrade—available for $6000 to current Klimax owners—now handles files up to 24/192. Linn does not smile favorably on DSD or, God forbid, MQA.
Bless these boys' hearts for playing, not a single over-hyped, audiophile bells'n'whistles track, but instead their own recording of Gilbert & Sullivan's HMS Pinafore, and another of Ingrid Fliter playing Chopin's Piano Concerto 1. Without/with Klimax comparisons delivered not only far more color, but also far more overtones and undertones. The Klimax difference is easily audible and unquestionably major. Hearing Fliter's piano actually sound like a semblance of the real thing provided a fitting climax to MM12.
Once again, my congrats to Definitive Audio's Craig Abplanalp and Mark Ormiston, and their entire team. That the event went so smoothly proved that you folks, as well as all the industry folk who converged on Seattle for the demos, are truly pros amongst pros. For those audiophiles who couldn't get to hear all the systems they wished, or longed for far more than a quick, half-hour exposure to components they covet, you know where to go for more.