The Entry Level #21 Page 2
Learning firsthand about Barton's process was fascinating, but paled in comparison to simply standing quietly in the chamber with my eyes closed. People had told me to be careful—strange things happen in anechoic chambers, I might go crazy or something—but I loved it from the start. As I stepped onto the grate, I felt a tightening in my ears and a pressure above my eyes. The silence was staggering—exquisite, profound. The sound of our voices was absolutely pure. I quickly developed a headache as my mind and ears attempted to latch on to the silence but were confounded by our discussion—a mental and emotional tug of war. Soon, though, I grew used to the strange sensation and was better able to appreciate simply being there.
"The silence is so beautiful, I want to cry."
Paul Barton laughed. He knew exactly what I meant.
Our time in the anechoic chamber was over far too soon, but no amount of time would have been enough for me: This was the silence I'd searched for all my life, and now I hadn't even stayed inside long enough to hear the sounds of my blood and nervous system. I needed more time. I stepped back into the familiar noise of air vents and reflective surfaces, shut the heavy door behind me, and vowed to someday build my own anechoic chamber.
Listening Tests
There were two rounds of listening tests. For each round, four members of our group were asked to sit in the NRC's IEC-specified listening room, which is designed to resemble a typical listening environment with modest room treatments and furnishings. It measures 22' long by 13.5' wide by 9.2' high and has a reverberation time of 0.34 second (±0.08s) from 250Hz to 4kHz, rising to 0.8s at 40Hz and falling to 0.2s at 10kHz. We sat in two neat rows facing a screen, behind which were four different loudspeakers playing in mono. Armed with a switchbox, an operator at the back of the room played music and, in a quasi-random sequence, switched from speaker to speaker at intervals of 5 to 15 seconds, depending on the program material. We listened to the music and marked up our forms, attempting to rank 10 variables of performance for each speaker: Clarity/Definition, Softness, Fullness, Brightness, Spaciousness, Nearness/Presence, Noise Distortions, Loudness, Pleasantness, and Fidelity. We were given as much time as we needed. Between rounds, one of the speakers would be removed and replaced by a new speaker and the positions of the remaining three revised.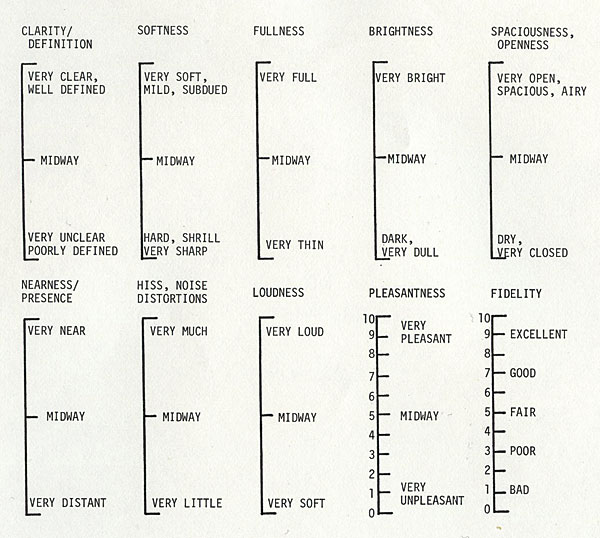 As I waited for the tests to begin, I could feel my heart beating in my chest. I was nervous—not the best condition for listening. Once the music began, however, I was surprised by how easy it was to hear differences among the speakers—much easier, in fact, than when conducting my own A/B/A tests at home. In Round 1, one speaker stood out as being far less capable than the other three, with an overall sound that was murky, distant, and hollow. The remaining three were tougher to distinguish. In Round 2, the lemon was replaced with a better speaker, making our overall task more difficult.
Good news: I can hear! I'm relieved to say that my rankings of the three fixed loudspeakers were extremely consistent between the two rounds of listening. As it turned out, I'd ranked PSB's Imagine T2 floorstander as my favorite; B&W's CM7 floorstander came in second; and PSB's Imagine Mini, reviewed by John Atkinson in last month's issue, came in third. My least favorite speaker of Round 2 was a small desktop prototype, but it's fair to note that it nevertheless sounded very good. The dud of Round 1 turned out to be a 40-year-old Tannoy recording monitor.
Back in Jersey City, as luck would have it, I'd just set up a new pair of Tannoy speakers. It would be interesting to hear how they compared with my reference PSB Alpha B1s.
Tannoy Mercury V1 loudspeaker
The last few decades have seen dramatic improvements in the art (and science) of loudspeaker design. Tannoy's budget-priced Mercury series is now in its fifth iteration. The two-way, front-ported Mercury V1 measures 11.8" high by 6.7" wide by 10" deep and weighs 9.9 lbs. My samples came in a very handsome Dark Walnut finish (Sugar Maple is available) with simple black cloth grilles. I left the grilles off to reveal the speakers' attractive front baffles and accentuate their equally attractive high frequencies (more on the latter later).
The Mercury V1's fit and finish were excellent, with no visible blemishes of any kind. Designed in the UK and made in China, this speaker feels like quality. Knocking on a side panel resulted in just the slightest resonance—very fine performance for a model in this price class. Whereas many other speakers have contoured baffles, tapered edges, and/or rounded side panels to reduce vibrations and cabinet reflections, the Mercury V1 is all straight lines and right angles—not a curve in sight. Its overall look, then, is somewhat old-fashioned, but the front baffle's aluminum accents lend a touch of modern elegance. The speaker has a 1" soft-dome tweeter and a 5.1" pulped paper-cone mid/woofer, and its published specs include a frequency range of 45Hz–25kHz, a sensitivity of 86dB, and a nominal impedance of 8 ohms. Around back is a single set of sturdy, five-way binding posts.
I listened to music using my Rega Research P3-24 turntable, NAD C 515BEE CD player, Parasound Zphono•USB phono preamplifier, NAD C 316BEE integrated amplifier, and Kimber Kable 8VS speaker cables and PBJ interconnects. The Mercury V1s were secured with small globs of Blu-Tack to 24"-tall Target stands, while the electronics rested on my Polycrystal equipment rack. Source components and amplifiers were plugged into a Furutech e-TP60 power conditioner, itself plugged into a Furutech GTX wall receptacle via an AudioQuest NRG-X3 power cord.
Unlike the Definitive Technology StudioMonitor 45, which I reviewed last month and which took some time to distinguish itself as an outstanding performer, the Tannoy Mercury V1 sounded compelling right out of the box. In college, I listened endlessly to Indeterminacy: New Aspect of Form in Instrumental and Electronic Music, a collection of 90 one-minute stories spoken by John Cage, accompanied by David Tudor on piano and electronics (2 CDs, Smithsonian Folkways 40804). Though I no longer own that set, I've recently been enjoying a fine reissue on high-quality, 180gm virgin vinyl (2 LPs, Doxy DOZ406). Through the Tannoys, Cage's voice sounded uncommonly smooth and round, and was clearly focused in the center of a wide, stable soundstage. Piano and percussive elements flashed into my listening room with impressive speed and force. Interestingly, the Tannoys brought to the fore a persistent tape hiss I'd never before noticed. Through my PSB Alpha B1s ($299/pair), Cage's voice was just as clear and present, but with significantly more edge and hardness. On the other hand, the PSBs paid less attention to the tape hiss, but added a bit of size and weight to the entire performance.
To test the limits of the Mercury V1's bass, I first turned to "Limit to Your Love," from James Blake's self-titled debut (LP, Polydor B0015443-01). Again, piano and voice sounded softer, rounder, gentler than I'm used to, but pleasantly so; and while the song's incredible blasts of low-end energy lacked ultimate weight and authority, they were nevertheless extremely well defined and remarkably controlled. However, with more rhythmically complex music, such as Nicolas Jaar's reinterpretation of Mike James Kirkland's "What My Last Girl Put Me Through" (12" single, Ubiquity UR12298), the Tannoys' taut, lean bass couldn't make sense of the groove. Here the PSBs were more accomplished, sounding altogether funkier and nastier, and creating a more involving listening experience. The Tannoys were more polite and reserved.
It was while listening to the mps—the first album by my band, the Multi-Purpose Solution (CD, Mint 400 M4R00 18)—that I really noticed the Tannoy's magic: Even though our distorted guitars lacked some body and heft, our clean guitars were incredibly easy to follow and sounded wonderfully vibrant and true, and cymbals sounded sweeter and more fully expressed than I could recall.
That led me to Bérangère Maximin's gorgeous No One Is an Island (CD, Sub Rosa SR 337). So intoxicating was the sound of Frederick D. Oberland's electric guitar, so thrilling the sounds of Maximin's laptop effects, that I was compelled to listen to the album from beginning to end and over again. Though no other aspect of its frequency response seemed unduly sacrificed, the Tannoy's highs were especially delicate, clean, and lovely. Surprisingly, my emotional response to this music depended greatly on the speaker I used: The PSB Alpha B1 made it sound consistently bolder and more physical, creating a more dramatic and unsettling listening experience; the Tannoy offered a sense of ease and grace that transformed the music into a decidedly more intimate and peaceful affair—two distinct sounds, equally valid.
While I feel certain that I'd be able to successfully identify these speakers in a blind listening test, I'm not nearly as comfortable choosing a favorite. They both made beautiful music. In general, I'd give the PSBs the advantage for rock and large-scale orchestral music; the Tannoys would get my vote for jazz and smaller-scale music. But really, both speakers sounded fine with everything I played. If Floyd E. Toole were to blindfold me and put a gun to my head, I guess I'd pick the PSBs, simply because I listen to more rock and I like big bass. But I'd miss the Tannoys' delicacy and grace.
I think I'll have a hard time forgetting the Tannoy Mercury V1. But for now, good fortune smiles again: Kal Rubinson has just offered me some of his Echo Busters acoustic treatments, and I plan to pick them up later this month. While they won't exactly turn my listening room into an anechoic chamber, they'll provide a small step in that direction. Interestingly, a recent report in the UK's Daily Mail states that the longest time anyone has ever spent inside "Earth's quietest place," the anechoic chamber of Orfield Laboratories, in Minneapolis, is a mere 45 minutes. Founder and president Steven Orfield said, "We challenge people to sit in the chamber in the dark."
Challenge? To me, that sounds less like a challenge than a reward. Either way, I accept. Bring it on. Please.