A Conversation Between Kenny Barron & Dave Holland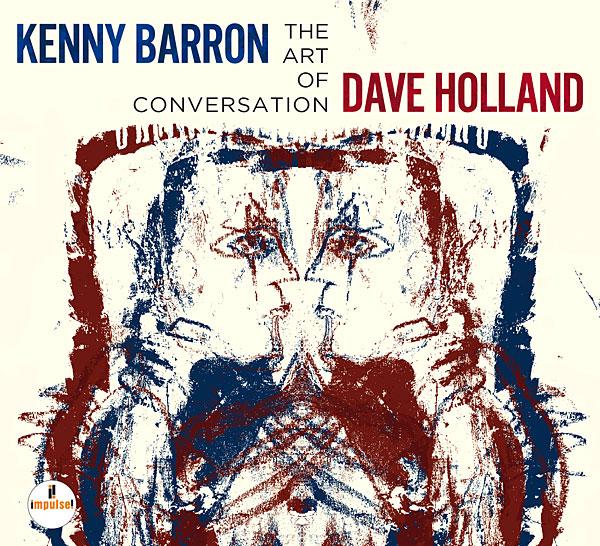 I know folks, dedicated jazz fans no less, who cannot be dragged into piano and bass duo gigs. Something about not having a drummer spells boredom for them. Not enough going on I guess. Or more likely, there isn't a horn at work. While jazz virtuosity is most often thought of in terms of the more ostentatious sounds of saxophones and trumpets, and the most common perception of jazz groups is quartets or quintets, it's the duo format, at its most pure piano and bass, that has always inspired a special vocabulary and sonic signature. Just a pair of instrumental voices and musical visions engenders the kind of special chemistry and quiet connections that can be heard on the new Kenny Barron and Dave Holland project, the appropriately named
The Art of Conversation
.
This newly released album is the fruit of the duo gigs that the pair began playing together in 2012. Recorded just this March at Avatar Studios in NYC by engineer James Farber, the sound here is impeccable—clean, true, dynamically rich and accurate. It's available on CD, streaming, and MP3 and as a 24/96 download via HDtracks. Produced by Holland and Barron, these sessions were "encouraged," according to the press release, by producer Jean-Philippe Allard who is currently serving as the managing director of Universal Music's newly relaunched Impulse! label. Allard has produced piano/bass duo records before with Barron, including Night and the City his 1996 duo outing with the late Charlie Haden.
Both players here, in fact, have explored the duo arrangement many times with success—Holland with saxophonists Sam Rivers and Steve Coleman and Barron with many players including violinist Regina Carter and the late Stan Getz on 1992's People Time, which proved to be the saxophonist's final recording. Holland and Barron have also recorded together before as part of a trio with drummer Daniel Humair on Barron's 1985 album, Scratch.
The key word here is "listening." Besides being gifted, sure footed players in their own right—I've run out of superlatives when it comes to describing Barron's playing—both reveal themselves here to be careful, unhurried listeners to the others playing. Their subsequent responses and intertwining make for a supremely thoughtful and refined dialogue. While Barron is clearly the more lyrical, mainstream player and Holland the more avant-leaning voice, numbers like Barron's exquisite ballad "Rain," in which Holland plays the melody line with an appealing leanness of tone, show that this pairing is multi-dimensional and uniquely satisfying. Barron returns the favor in Holland's "Waltz for Wheeler," written of course for the Canadian trumpeter, who died in September and with whom Holland worked and recorded on a number of projects, including the 1996 ECM album Angel Song.
Among the other highlights, Barron's recasting of the changes from "A Night In Tunisia" is buoyant and brimming. And of the record's trio of winning covers of jazz compositions by the likes of Monk, Bird and Strays, it's Holland's muscular solos that galvanize their reading of Thelonious Monk's "In Walked Bud." With this much to say and such elegant ways of saying it, I hope we will hear more from this stylish and perceptive alliance.