Coffman Labs "Hand-built in Portland"
Audio Machina speakers were featured in the Coffman Labs room, driven by Manley New Classic SE/PP300 monoblocks, but my attention was drawn to this superbly finished tube preamp from Coffman, the G1-A ($5495, $5795 with remote), which includes a phono stage and headphone output, and is being produced in a limited edition of 500 units. The rest of the system included Music Hall's MMF9.1 turntable fitted with a Sumiko Blackbird cartridge, Parasound's great-sounding Halo CD1 CD player, and an Audience Adept Response power conditioner. Also in the room was Coffman's similar-looking H1-A tubed headphone amplifier ($2295).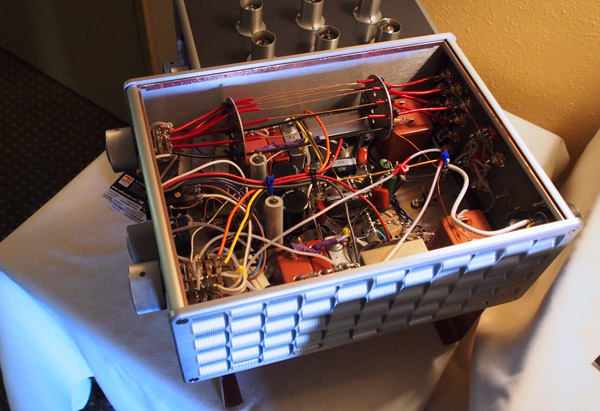 Turning over the G1-A, I was struck by the complexity of the hard-wired construction. All the capacitors are oil and paper types, the switches are all 1950s-era NOS, and chokes are used in the signal path rather than resistors. Power-supply rectification is performed with the classic 5AR4 diode tube; and note the careful spacing of the signal-carrying conductors.