Chord Electronics Qutest D/A processor Measurements
Sidebar 3: Measurements
I measured the Chord Electronics Qutest using my Audio Precision SYS2722 system (see the January 2008 "As We See It"), using both the Audio Precision's optical and electrical digital outputs and USB data sourced from my MacBook Pro running on battery power with Pure Music 3.0 playing WAV and AIFF test-tone files.
Apple's USB Prober utility identified the Chord as "Qutest" from "Chord Electronics Ltd," with the serial number "413-001." The Qutest's USB port operated in the optimal isochronous asynchronous mode. Apple's AudioMIDI utility revealed that, via USB, the Qutest accepted 32-bit integer data sampled at all rates from 32 to 768kHz. The optical input locked to datastreams with sample rates up to 96kHz (192kHz is listed in the specifications), the coaxial S/PDIF inputs to streams of up to 192kHz-sampled data.
A 1kHz digital signal at 0dBFS resulted in an output level of 3.01V into 100k ohms with the output level set to "3V," 2.01V with it set to "2V," and 1.01V with it set to "1V." (Except where indicated, all the measurements were taken with the maximum output level set to 3V.) The output impedance was an extraordinarily low 0.4 ohm at 20Hz and 1kHz, rising to 0.9 ohm at 20kHz, and the analog outputs preserved absolute polarity (ie, were non-inverting).
The Chord's impulse response with 44.1kHz data and the Incisive Neutral reconstruction filter (Filter button glows white, fig.1) indicates that this filter is a conventional linear-phase type, with a large amount of time-symmetrical ringing to either side of the single sample at 0dBFS. The Incisive Neutral HF roll-off filter's impulse (Filter glows green, not shown) was similar, while the Warm filter's impulse response (Filter glows orange) was still a linear-phase type, but with asymmetrical ringing (fig.2). The Warm HF roll-off filter (Filter glows red, not shown) was also asymmetrical, but with more ringing before the single high sample than after.
With 44.1kHz-sampled white noise (footnote 1) and the Incisive Neutral filter (fig.3, red and magenta traces), the Qutest's response rolled off extremely sharply above 20kHz, reaching full stop-band suppression by half the sample rate (vertical green line). An aliased image at 25kHz of a full-scale tone at 19.1kHz (blue and cyan traces) can't therefore be seen. The second and third harmonics of the 19.1kHz tone are visible above the ultrasonic noise floor, though both are very low in level, at just below –90dB (0.003%) and –100dB (0.001%), respectively. Repeating this test with the other three filters gave identical results, though the Warm HF roll-off filter had a very slight droop in its white-noise response just before 20kHz (fig.4).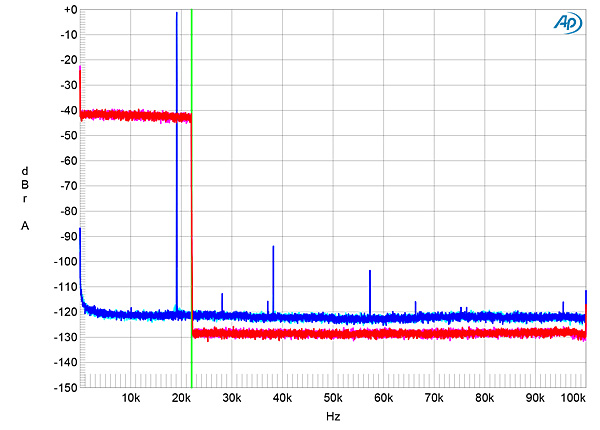 When I examined the Chord's frequency response with S/PDIF data at 44.1, 96, and 192kHz, the 44.1kHz output dropped like a stone above 19.5kHz (fig.5, gray and green traces). The responses at the two higher sample rates followed the same shape, flat to 20kHz, with then a slow rolloff, disturbed by a sharp drop at each Nyquist frequency (cyan, magenta, blue, and red traces). With the two HF roll-off filters (fig.6), the output with all three sample rates was down by 1dB just below 20kHz. Channel separation was superb, at >120dB in both directions below 3kHz, and still 115dB at 20kHz (fig.7).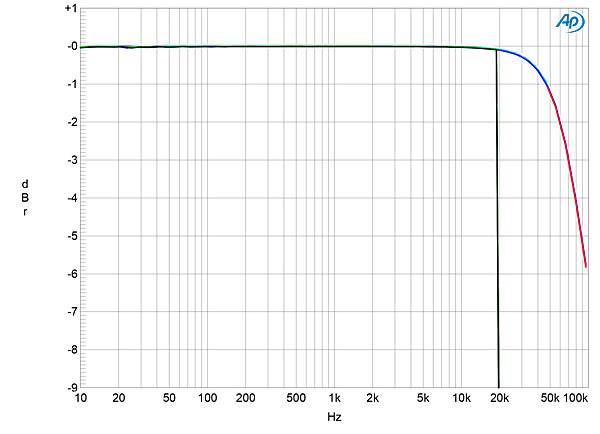 The low-frequency noise floor was both low in level and free from any power-supply–related artifacts (fig.8). When I increased the bit depth from 16 to 24 with a dithered 1kHz tone at –90dBFS (fig.9), the noise floor dropped by almost 30dB, meaning that the Qutest offers almost 21 bits' worth of resolution, which is close to the state of the art. With undithered data representing a tone at exactly –90.31dBFS (fig.10), the three DC voltage levels described by the data were well resolved, the waveform was perfectly symmetrical, and the very low noise level allowed the filter's linear-phase ringing to be seen. With undithered 24-bit data, the result was a superbly clean sinewave (fig.11).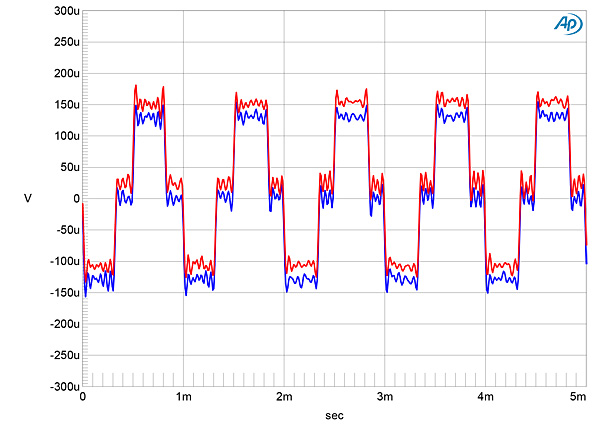 Harmonic distortion was extremely low in level into the punishing 600 ohm load (fig.12). The second harmonic in this graph lies at a roots-of-the-universe –120dB (0.0001%) in both channels! Intermodulation distortion was similarly vanishingly low in level with all four filters (fig.13). Tested for its rejection of word-clock jitter with 16-bit TosLink data, the Qutest turned in superb performance: all odd-order harmonics of the LSB-level, low-frequency squarewave were at the correct levels (fig.14, sloping green line). With 24-bit J-Test data (fig.15), no jitter-related sidebands were present.
Even without taking into account its small size, the fact that it's powered by a 5V wall wart, and its relatively affordable price, Chord's Qutest offers state-of-the-art measured performance.—John Atkinson
---
Footnote 1: My thanks to Jürgen Reis of MBL for suggesting this test to me.