Channel D Rocks Rocky Mountain: Goes High, Low, & Hilo
Lambertville, New Jersey's Channel D was in full effect at the 2013 RMAF, exhibiting in two rooms and proving that
high-end
doesn't necessarily have to be
high-priced
.
In one room, Channel D used two Lynx Hilo A/D-D/A converters: One Hilo fed an audio signal to Channel D's Pure Vinyl via the new Seta Piccola phono preamp; the other was connected to the output of the first, via AES/EBU digital cable, to demonstrate the headphone output. The Piccola MM/MC phono preamp ($1899) uses technology trickled down from Channel D's Seta Model L and provides balanced, non-RIAA–equalized outputs, for use with analog-to-digital converters and Pure Vinyl's software RIAA compensation. Meanwhile, the matching Seta Piccola DAC Buffer ($1599) allows users to drive a power amp directly with their DAC, providing gain in 6dB steps, from -6 to -30dB—in the analog domain.
In addition to the more common USB connection, the Lynx Hilo incorporates a Thunderbolt connection. Channel D's Rob Robinson explained, "Thunderbolt finally delivers on the promise of being able to reliably daisy-chain peripherals. You can connect a Hilo, a hard drive for storage, and even an HD monitor all on the same cable!"
That was all awesome, but I was more impressed by Channel D's second system, whose components had a total cost of just under $3500 and included Polk Audio RTiA1 loudspeakers ($300/pair), Emotiva XPA-200 power amplifier ($499), TC Electronic Impact Twin ADC/DAC ($350), Music Hall MMF2.2 turntable with Ortofon Vivo Blue MC cartridge, a Mac Mini with all the necessary upgrades (storage, memory, mouse, monitor, keyboard), and Channel D's cartridge-loading adapter ($35) and Pure Vinyl software ($279; $149 upgrade from Pure Music).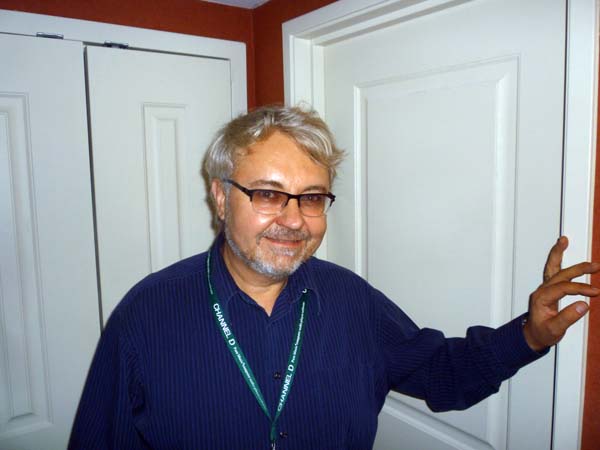 You might not guess it from looking at him, but Rob Robinson is a punk rocker. We listened to a Richard Hell LP and other assorted 1970s protocore bossitude salvaged from various South Jersey yard sales. The sound was totally rad, with fine impact, bass slam, image definition, and soundstage size, providing a big taste of what high-end audio is all about, while keeping hold of the music's fire and soul.
I asked Rob Robinson why he decided to show such a modest system.
"On one hand, it harkens back to eight years ago, when he first exhibited at Rocky Mountain. We were the first company showing computer audio software at RMAF and we did it on a system like this. But we also just wanted to show what's possible with an inexpensive system. This is an important hobby to me, and I want other people to get into it."
Right on.