Cary Audio Takes the Direct Sales Route (Kinda Sorta)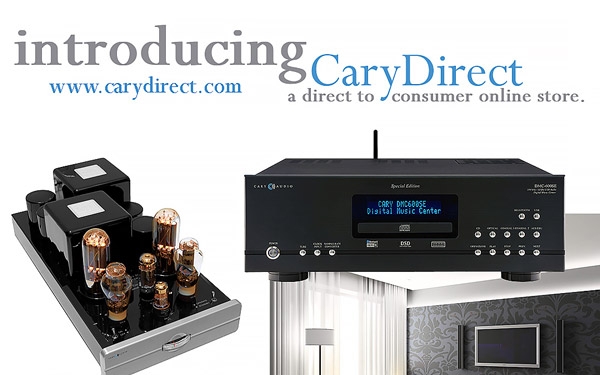 Two weeks shy of the Ides of March, Cary Audio has announced its transition from an all-dealer sales model to a direct-to-consumer web store in the U.S. it calls "
CaryDirect
." But rather than leaving its brick'n'mortar US dealers in the dust, the North Carolina-based company says it has assimilated them into a rather novel hybrid business model.
"We've changed the whole way we do things," company founder Billy Wright explained by phone of the company he began with Dennis Had in 1989. "We always sold through our website. Now, as the number of good dealers is declining, we have established two sets of so-called dealers, whom we classify as either Cary Reps or Cary Brokers. A Cary Rep has demo product on the floor. If they make that commitment to us, they can earn their full margins, just as they always have in the past. But they don't have to stock any product, which most dealers do not want to do these days. Even if we sell direct through our website to someone in their territory, we will pay them a commission."
Cary Brokers, on the other hand, do not even have to stock demo product, let alone product for sale. They simply display Cary on their website, with links that point back to carydirect.com, in order to receive a smaller margin for any sale they generate. But in all cases, Cary components will be sold by Cary, directly from their site, rather than by dealers.
"We've always sold direct to consumers who did not have a dealer within 100 miles, but we were careful to never infringe on a dealer's territory," Wright continued. "When we considered transitioning to the CaryDirect model, we began by sending questionnaires to all our dealers, and keeping them in the loop about our plans. We wanted them involved, because they've always been important to what we do."
Dealer response to Cary's queries revealed that most Cary dealers did not want to pay for demo product, and no one wanted to stock anything from any company. Wishing to shift to the Web-based sales model that is becoming more and more today's norm, Cary and its dealer network together found the way forward that includes offering free shipping and a 30-day in-home evaluation period with full return guarantee.
"We haven't gotten any pushback from what we want to do," said Wright. "That's not to say that won't, but so far it's gone very smooth because we've kept everyone in the loop. We will still have retail locations around the country where people can listen to Cary Audio. And no one will undercut anyone, because all pricing will be the same as on the Cary site, from which all product is sold."
To put Cary's carefully considered decision in context, some long-established audio companies, such as PS Audio (founded in 1974), have long championed a model in which, in the US, they both sell direct with a 30-day trial period with full money-back guarantee, and through a sizable network of US dealers. Other long-established companies, such as McIntosh Labs, have recently gotten into very hot water by moving to online sales without informing their dealer base. As recounted in an on-line news story posted March 3, two top McIntosh executives have resigned just weeks after steering the company into selling online via Crutchfield and Amazon (amongst others). The decision was news to their dealer network, which understandably felt that the rug had been pulled out from under them.
As the times change, so must companies adapt. It remains to be seen if CaryDirect is a harbinger of things to come.