CAF2016: Saturday at the Hilton with Herb
Bob's Devices is a company that make finely crafted and affordable step-up transformers for moving-coil cartridges, as well as silver-clad pure copper interconnects ($395/meter). Their lowest-priced SUT, the CineMag 1131 ($1195), has switchable gain (1:20/1:10). Next is the Bob's Devices Sky CineMag ($1250), which offers lower inductance, thanks to (switchable) ratios that are also lower. Finally there's the Integrated VPI SUT ($1650), a CineMag 1131 transformer that also takes the place of the standard VPI tonearm wire/phono cable interface.
Before I visited the Bob's Devices booth in the Plaza ballroom, I was having a hotel breakfast with my runnin' buddy (and Stereophile's Deputy Editor) Art Dudley. We were speaking in whispers—plotting the overthrow of all governments—when a happy guy with facial hair, who I later found out was Bob Sattin of Bob's Devices, comes to our table and says he wants to show us a photo of a "modified record player." I'm thinking: A gun shot to the groin will draw attention—maybe I should use the knife, when I look at the photo and see a darling two-year old (Bob Sattin's granddaughter, Benjamin Brill) with a scarf, a hat, and that French-artist look of ennui on her face. She is adjusting the speed on a fully modded (by grandpa Bob) Fisher Price MKII (with optional sticky platter hold-down). Note that Bob's daughter, Ashley, put a sign with a flower on the turntable lid so that Benjamin would know to switch between 33 and 45 based on the size of the record! (Photo by Bob Sattin.)
That was my real introduction to the Bob of Bob's Devices, whom I was pleased to finally meet. (Now I think I've typed the name Bob more than ten times!)
Dan Wright of ModWright Instruments used CAF2016 to introduce his new super-attractive Tryst headphone amp ($3000), which was at the top of my list of new products to track down—and it was right next to Bob and his Devices. Although I haven't had any chances for long-term listening, every time I hear a ModWright product, I'm impressed, and today was no exception. With the MrSpeakers Ether planar headphones ($1499-$1549), the Tryst made a couple of recordings sound startlingly good, (Photo by Eric Franklin Shook.)
In addition to making your headphones sound their best, it's important for a headphone amp to look not just good, but better than good: They sit right in front of you all day long! Headphone amps should instill pride of ownership and constant happiness about the sound of your recordings. In addition to fulfilling the above requirements, Dan Wright's latest creation may be used as a line-level preamp: it has two line-level inputs and two preamp outputs.
Care Audio in Edison, NJ had two exhibits. In the Plaza ballroom, their table offered a bunch of Linear Tube Audio microZOTL headphone amplifier/line stages, driving a wide variety high end headphones, including the HiFiMan HE-1000 ($2999). One reason I like headphones so much: where else can you sit on one or two chairs and hear four different headphones through the same amp? Where else is a 1W tube amp considered high powered? Where else will a beautiful family/crew like Sunil and Sangeeta Lekhi (Care Audio co-owners) and their two sons, Krishna Sau Lekhi (12yrs) and Narayan Sai Lekhi (7 years), play the hypnotizing "Sleep Till They Die" by La Luz? Good people, good music and good gear—all in the same place and time. Where else can you find that?
Sunil accompanied me to Care Audio's nearby exhibit room. Once there, I quickly found myself engrossed in the sounds emitted by My Audio Design's "Grand MS Maestro Supreme" loudspeakers ($11,000/pair). The Maestro Supremes employ proprietary MAD SFC coaxial drivers with "special symmetrical field large motor systems and radial chassis" and a "Diamond Silver capacitor with 99.997% diamond silver conductors" in their crossover. I thought the Supremes looked understated and played spritely, well-formed music.
Unquestionably, credit for the Maestro Supreme's musical successes must be shared by Linear Tube Audio's ZOTL40 power amplifier ($5800) and MicroZOTL2.0 amplifier/linestage, the Lumin T1 Streamer-DAC ($4999), and WyWires Diamond Cables.
I am consistently charmed by the tireless (and humble) endeavors of David Berning and his evolving ZOTL circuits. Mark Schneider and his company, Linear Tube Audio, have taken Berning's work to the next level of aesthetic and commercial viability. The microZOTL and the ZOTL40 are among the best new products of 2016. But I'm sorry, there is still a place in my ever-loving DIY heart for one of David's more old-school designs: this handsome but obviously home-made "Bud Box" Berning—a push-pull 6B4G amplifier with a switching power supply—was used to drive the sexy-looking Voxativ Zeth loudspeakers ($15K). I loved it!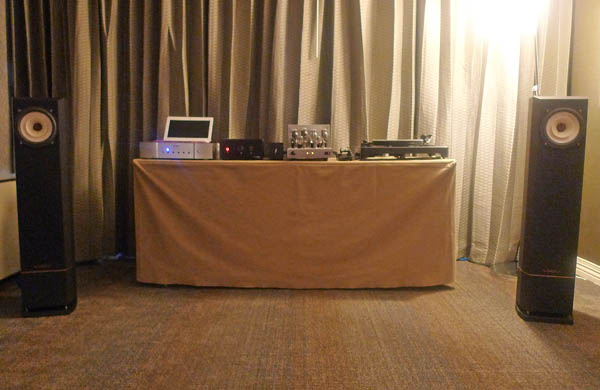 The Berning amp put out maybe 15Wpc, but that wasn't a problem, because the slender Zeth tower is a full-range design that boats 97dB sensitivity, with a 10.7-ohm impedance. The Zeths I heard at CAF2016 had Voxativ's optional wood cones; the standard cone material is Japanese calligraphy paper.
The Voxativ speakers were loaded internally by a "Russian stealth bomber"-inspired loading profile, the explanation for which I did not quite grasp—but that doesn't matter as much as how well they played music. Visually, with their whizzer cones, the Voxativ drivers reminded me of Lowthers (I once owned a pairs of PM4s), but these had almost none of my Lowthers' fingernail-scraping-on-cardboard coloration. The Voxativs were more muted and neutral sounding. Not dull—just not forward in their paperyness. The Voxativs played small jazz and pop extremely well. Very appealing.
I had just finished my room visits, so I went to chill and chatter at my friend Dave Slagle's Emia Audio room. Every bit of audio gear in the room is made (almost) from scratch by Dave Slagle (with the help of friends like Kent McCollum of Electrostatic Solutions)…but, like I said, I just came to chatter and chill—not listen and report. (AD covers the Emia room in his Saturday-afternoon report.)
When I arrived, there was a big crowd and no place to sit, so I smiled and waved at Dave and Emia emissary Ijaz Khan. When someone got up, I took a seat and a deep relaxing breath, and closed my eyes. They were playing some female vocalist, and after a minute or so of relaxing I began to wonder who the singer was. She seemed pretty good. When the song ended, I asked Ijaz, "Who was that?" Ijaz froze in his pose and stared at me. I turned my head to avoid his stern gaze and noticed everybody in the room was staring at me—strangely. To break the uncomfortable silence, Ijaz said: "Ella."
Ten seconds seemed like ten minutes, but when I recovered from the embarrassment, I spoke quietly: "I am more of a Nina or Billie guy than an Ella guy." Ijaz did not smirk, but replied simply, in a low voice, "I know"—and put on Nina Simones's powerful "Strange Fruit," from the LP "Pastel Blues" (Phillips PHS 600 187). I slipped instantly into a restless angry trance. I kept my head down and my eyes closed.
When the song ended, I looked up. I could hear the opening bars of the next song, "Sinnerman," and I saw Ijaz lifting the tonearm. I blurted out, "Don't you dare! If you don't play that song, I am leaving now and will never speak to you again!" The guy next to me was dialing 911. Several others got up and left.
Nina builds the 10-minute "Sinnerman" slowly. It segues often—and is everything Diana Krall is not. Within minutes I was shaking and sobbing quietly. About halfway through, I opened my wet eyes and the room seemed empty. When "Sinnerman" finally ended, Ijaz lifted the tonearm and Dave Slagle asked me, "So Herb, do you want to hear the difference between the LCR and the LR phono stages?" Rudely, I jumped up and shouted, "Absolutely not!" I love Dave Slagle like family, so I paused, took a deep breath and explained, "I just experienced one of the most intense and timely connections to a piece of recorded music ever! And Dave, I sure as hell am not going to spoil that feeling by thinking about engineering or sound!" Then I ran out.