CAF2016: Herb's Wrap-Up
The best hug I received at CAF came from Gary Gill, when I arrived. The second best hug came from the towering and lovable Klaus Bunge of Odyssey Audio. Klaus has such an unpretentious demeanor and down-to-earth (but worldly) grin: with Klaus, I could hang and talk and listen to his gear all day. Every time I visit an Odyssey room, the amplifiers, DACs, and speakers let the music present itself in a highly detailed—but warm and human-centered—way, just like Klaus himself.
In fact, I think the "embracing" nature of the Odyssey sound may cause its less obvious accuracy and neutrality to sneak in under our audiophile radar. To me, it feels like Odyssey is not getting the media credit and attention it deserves: Klaus's stuff rocks real music, real hard, and it feels like Bunge is giving it away for free.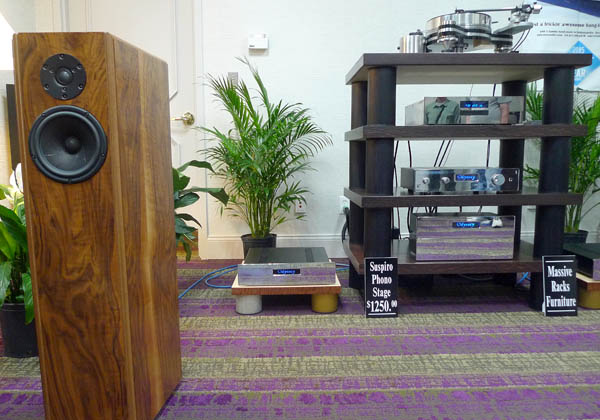 The room was crowded but the sound was, as usual, big and natural. This is the gear I listened to: Candela tube preamplifier ($1600), Khartago Mono amplifiers ($1995/pair), the new Suspiro phono stage ($1250), Kismet loudspeakers ($4200/pair), and last but massively not least, the giant Massive Rocks Furniture equipment rack.
Long ago, I was the importer for Audio Note products from both Japan and the UK. Therefore, I well understand that AN UK is an international purveyor of high-class, musically sophisticated equipment, designed to appeal to people of refined taste and discrimination. So: what's up with the Sharpie scrawlings on computer-printer paper taped to the fronts of the $4500 AN-J/Lx loudspeakers? Why is this "Below Best Buy" sales strategy used to cover Audio Note's phenomenally musical parallel-single-ended 6L6 amplifier, the P2-SE ($4500), as well as their DAC 2.1X ($4000)? Each of these components represents a long-struggled-for engineering triumph! I am unquestionably biased, but I think these components deserve a more respectful approach to lighting and display.
David Cope—who used to conduct beautiful demonstrations for Audio Note—is now involved in Audio Note's newly formed recording company, Audio Note Music. I asked the person in charge of the company's CAF2016 exhibit for an information sheet on pricing, and he pointed and replied gruffly, "Look over there!" Immediately, I knew what was up with the printer paper.
Moments later, I forgot all that. I forgot because the handsome and talented Vincent Bélanger began playing, on his own very real cello, artful duets with his recorded self. Simultaneously, his equally talented doppelganger was playing via the Audio Note J/Lx speakers, thanks to an Audio Note Music recording that was made in a small church. With only one stroke of Vincent's bow - everything classy and sophisticated about Audio Note returned. Here are my scribbled notes from the double-Bélanger performance: Vincent melding…tangible verity…merge, blend, separate, heart of force, converge, join, real always NOW, genuine, so positive…not so vivid, but very much alive!
Thank you, Vincent.
I am forever a fan of ATC loudspeakers. Their midrange domes are the greatest, and the company sound is accuracy defined—but without any loss of musicality or fun factor.
In the PrismSound room at CAF2016, the ATC SM 40A loudspeakers ($14,000/pair) were singing very pretty songs while driven by the charming Callia (by Prism Sound) USB DAC/preamp/headphone amplifier ($2595), connected with Atlas Cables.
I always feel bad for LKV Research: their LKV Veros One ($6500) and Phono 2-SB ($3000) phono preamplifiers have yet to receive all the respect they deserve. But maybe that's their own fault: Both products are quiet, well-spoken, charming, and well-mannered. Their efforts never jump out and grab your attention. I am most familiar with the Veros One, which always just rolls along, playing black discs with a subtle but sure magic. Every system I have experienced with an LKV phono stage preamplifier feels o r g a n i c.
And today, listening to the Veros One, with the LKV Research Line One line-level preamplifier ($3500) driving the Conrad-Johnson Premier Eleven power amplifier, itself connected to a pair of Joseph Audio Pulsar speakers ($7700), I experienced that exact same organic-ness. When I use the word organic as an adjective in an audio context, I mean it just like the food term: rich, tasty, right, and natural. For my analog audio palate, no phono stage or cartridge can achieve "reference" status without that Certified Organic label attached—and the LKV Veros One has earned it.
Like tribal rituals or primitive rites, Capital Audiofests do not close until the raffle bell rings and the big system giveaway is complete. Think: atrium mosh-pit filled with ecstatic attendees. Product's for this year's $12,000 system were provided by Alta Audio, VPI, and Luminous Audio. Additional giveaways were provided by the Tweak Studio, Viva Hifi, and Everything Audio Network. (Photo by Eric Franklin Shook.)
A fine time was had by all—especially the winners of the "Best-Dressed" award, Glen and Ivy!
When I got home from CAF I felt like an overtired child amped-up on raw caffeine. I was speed rapping and pontificating so hard I could barely sit down. The excitement and dense humanity of Gary Gill's Capital Audiofest had really penetrated my system. The sounds were great, the people were great—even the Rockville Hilton seemed great…
But in many places outside this air-conditioned hotel, strange things had been happening. I don't watch TV, so I only heard a few bleak words and terrifying mumbles. But I heard enough to sit myself down and listen to the Buffalo Springfield's 45rpm single, "For What It's Worth" on my record player. So with heartfelt love for dense humanities everywhere, let me close with these words that Stephen Stills recorded on December 5, 1966 (Atlantic 45 - OS-13073):
There's something happening here
What it is ain't exactly clear
There's a man with a gun over there
Telling me I got to beware
I think it's time we stop, children, what's that sound
Everybody look what's going down
There's battle lines being drawn
Nobody's right if everybody's wrong
Young people speaking their minds
Getting so much resistance from behind
It's time we stop, hey, what's that sound
Everybody look what's going down
What a field-day for the heat
A thousand people in the street
Singing songs and carrying signs
Mostly say, hooray for our side
It's s time we stop, hey, what's that sound
Everybody look what's going down
Paranoia strikes deep
Into your life it will creep
It starts when you're always afraid
Step out of line…
May Sunshine be with you all…peace and crickets. See you next year!
–Herb