Boulder 865 integrated amplifier Page 2
I then listened to a hi-rez DVD of male choral group Cantus's
While You Are Alive
(available on CD, Cantus CTS-1208) given me by John Atkinson, who engineered the recording. Oh, lordy—what I said about the acoustic of Merton College Chapel? That was a photocopy of a photograph compared to the sound of Goshen College's Sauder Hall captured by JA. Eric Whiteacre's
Lux Arumque
simply hummed into being, quietly building an immense sonic world—one light enough to float but massive enough to withstand, well, eternity. Any amplifier capable of transmitting that much emotion is an amp I'm willing to spend time with.
A small rock holds back a great wave
Eventually, new speakers occupied my large listening room—Klipsches with a sensitivity of 95dB that I will be reviewing in due course. Before removing the Boulder 865 from the system, I listen to it with these sensitive speakers, assuming that any noise or suchlike would be quite nakedly revealed. None was. In fact, I doubt I managed to move the 865 out of its initial 10W; if so, what I heard was Class A—literally.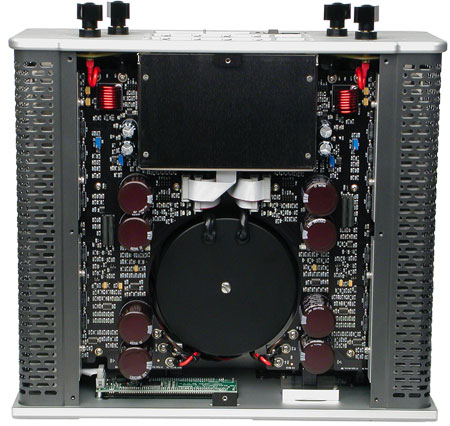 In my smaller listening room, however, I had a pair of speakers that actually needed the 865's apparent unflappability: Thiel's CS3.7s. I was enthusiastic about the Thiels in my initial review of them in the December 2008), but felt they lacked enough deep bass for some listeners. That may still be true, but using the 865 to drive them in my smaller room, I marveled at how much bass they had.
Okay, the room is smaller, and its proportions are better—for audio, anyway—than those of the larger room, but much of the change had to have been the Boulder. Jim Thiel famously explained his design philosophy to John Atkinson and me one night: "Watts is cheap." The Boulder 865's watts ain't cheap, but they're choice. The 865 took hold of the CS3.7s and just didn't let go.
"Gumbo Street," from Act Your Age, a recording by Gordon Goodwin's Big Phat Band (CD, Immergent 281147), had slam a-plenty. The song starts, stops, and pivots rhythmically 180° many times, but it never felt chaotic with the Boulder driving the Thiels. It felt effortless and graceful—which is also how it sounded.
The live bonus track on k.d. lang's Watershed (CD, Nonesuch 406908), a cover of Leonard Cohen's "Hallelujah," was startling in its immediacy. The big hall acoustic, the power of lang's voice, the way the piano accompaniment both anchors and sustains her—all came through. And when the understated bass comes in under lang's naked voice, I almost wept. That's not just technical perfection, it's the real thing.
When lang switched from head to chest voice in mid-hallelujah, it was as though I had a seat on the stage. I've never heard a version of this song that didn't move me, but lang, Boulder, and the Thiels reduced me to a puddle. I had to stop listening for a while to give myself time to process the experience.
At the 2009 Consumer Electronics Show, I was sitting in Stereophile's exhibition room, chewing the fat with John Atkinson and Kal Rubinson. "You know what I hate reviewing?" asked JA. "Products that are essentially perfect—I mean, I admire them and treasure them, but what do you say? 'I found nothing at all to complain about' is about 1992 words short of review length."
I said nothing. I knew I had this review to write, and that was my problem. The Boulder 865 had no sonic character of its own. It had no quirks in performance—its operation was about as straightforward as it gets. If it adds or subtracts anything to the signal, I sure couldn't detect it. Even the industrial styling of its remote control is well thought out. That's it—I could complain that the remote, also milled out of a solid billet of aluminum, is sorta heavy. Oh jeeze, that's weak.
Between a rock and a hard place
If I couldn't flap the Boulder 865 and I couldn't carp about it, I guess it was time to compare it. But with what? High-end integrateds were a hot category at CES 2009, but even I don't have a stable of them to compare the 865 with. And at $12k and given Boulder's engineering acumen, comparing it to a mainstream integrated seemed a bit off. So I compared the 865 to the best solid-state gear I had on hand: the Ayre Acoustics K-1xe preamplifier ($8950) and the Parasound Halo JC 1 monoblocks ($6000/pair).
I began with the Allegri Miserere through the Ayre-Parasound combo, switched to the Boulder, then switched back. What the...I heard absolutely no difference between them. Same immense soundstage, same seamless presentation of the two choirs, same timbral richness, same lack of obvious noise or distortion.
I hate when that happens.
The k.d. lang "Hallelujah" was the same story—both systems dominated the Thiel CS3.7s. Both systems "puddled" me. I couldn't have told one from the other in a million years.
I grabbed a copy of Rabih Abou-Khalil's The Sultan's Picnic (CD, Enja 8078), an oddball recording that mixes Kahlil's oud and Nabil Khaiat's frame drum with conventional jazz instruments and Howard Levy's harmonica. This great-sounding disc is a lot of fun. "Sunrise in Montreal" begins with that frame drum and Kenny Wheeler's trumpet floating over Michel Godard's rollicking tuba. Complications, as they say, ensue. In this track's eight minutes, an entire battery of hand percussion is employed, and in all the clang and clatter I began to hear a difference, albeit an exceedingly slight one: the Boulder had a shade, a smidge, a scotch more sparkle on top.
Maybe. It was really hard to tell. But time after time, I mostly preferred the Boulder 865 to the Ayre-Parasound system. Except when I didn't.
Lest you think I mock my own profession, I want to 'splain something: My very ability to perceive that difference was being blunted by the difficulty of having to choose one system over the other. In situations such as this, the reviewer gets only a few chances to listen to both systems before the noise of the effort expended simply overwhelms what are, essentially, extremely minor differences. After the third A/B comparison, I tended to get null results.
So I indict my own susceptibility.
Jazz trumpeter Tomasz Stanko's Lontano (CD, ECM 1980) is a moody, dreamy masterpiece, closely recorded in a very lively studio. The Boulder did a superb job of sorting out the direct sounds of the instruments and the room's acoustic. It captured the snap and zing of Michal Miskiewicz's snare and cymbal work. And it anchored Slawomir Kurkiewicz's double bass very forcefully to the earth.
So did the combo of Ayre K-1xe preamplifier and Parasound Halo JC 1 monoblocks. Virtually indistinguishably.
No losers, no winners—except for anyone who owns any of these components.
Let us make a joyful noise unto the rock of our salvation
Who needs a big, brawny integrated amp? Hey, who needs any high-end gear? Some of us want it and can afford it—and, thank goodness, some companies go to all the trouble of making it for us.
The Boulder 865 is big and, at $12,000, not inexpensive. But it's made in America, using sound engineering practices and a humongous amount of hand labor. Just reading the parts list of a Boulder component would wear down some audio CEOs.
Best of all, the 865 does exactly what Jeff Nelson wanted it to do: It mates a superb solid-state preamplifier to a superb solid-state power amplifier, without compromise. It neither adds distortion or noise to the audio signal, nor does it neglect any part of the frequency response—at least, not that I could detect.
It's simple, and it's darn near perfect.