Bel Canto e.One Ref600M power amplifier Measurements
Sidebar 3: Measurements
I performed a full set of measurements on the Bel Canto Design e.One REF600M, using my Audio Precision SYS2722 system (see the January 2008 "As We See It"). As the REF600M uses a class-D output stage, ahead of the analyzer I used Audio Precision's auxiliary AUX-0025 passive low-pass filter, which eliminates noise above 200kHz that might otherwise overload the SYS2722's input circuitry.
The Bel Canto's voltage gain into 8 ohms measured 26.9dB from both its unbalanced and balanced inputs, though the latter result was obtained with the Audio Precision's balanced output floating with respect to ground. Grounding the XLR's pin-1 connection reduced the gain by almost 5dB and increased the noise level, so I floated the balanced ground for all the tests. Both balanced and unbalanced inputs preserved absolute polarity (ie, were non-inverting). The unbalanced input impedance measured close to the specified 100k ohms at low and middle frequencies, dropping to a still-high 58k ohms at 20kHz. The balanced input impedance was 77k ohms.
The REF600M's output impedance, including 6' of cable, was low, at 0.1 ohm from 20Hz to 20kHz. As a result, there was very little variation of its response with our standard simulated loudspeaker (fig.1, gray trace). This graph was taken with a balanced input; the unbalanced behavior was identical. Despite KR's conjecture, the amplifier's response is flat in the audioband, rolling off above 20kHz to reach –3dB at 40kHz. A 10kHz squarewave was reproduced with a very slight overshoot but no ringing (fig.2).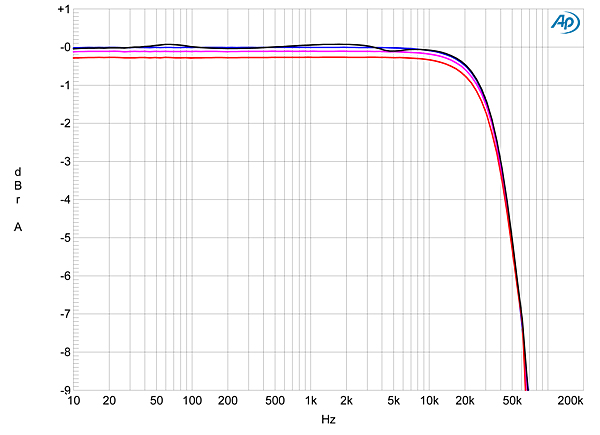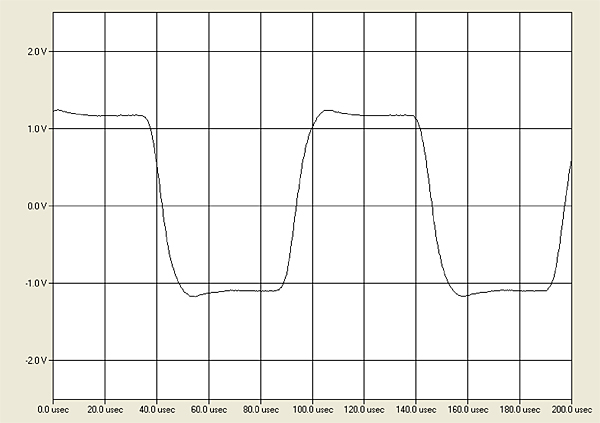 Although its class-D output stage produces 381mV of ultrasonic switching noise with a center frequency of 442kHz with no audio signal present, the Bel Canto was otherwise an extremely quiet amplifier. With the Audio Precision low-pass filter removing the switching noise, the unweighted, wideband signal/noise ratio (ref. 2.83V into 8 ohms with the input shorted to ground) was an extraordinary 109.9dB, which improved to 113dB when A-weighted. Spectral analysis of the amplifier's low-frequency noise floor while it reproduced a 1kHz tone into 8 ohms (fig.3) indicated that the only spuriae present were at 60Hz and its odd-order harmonics, though these all lie below –120dB and are thus negligible.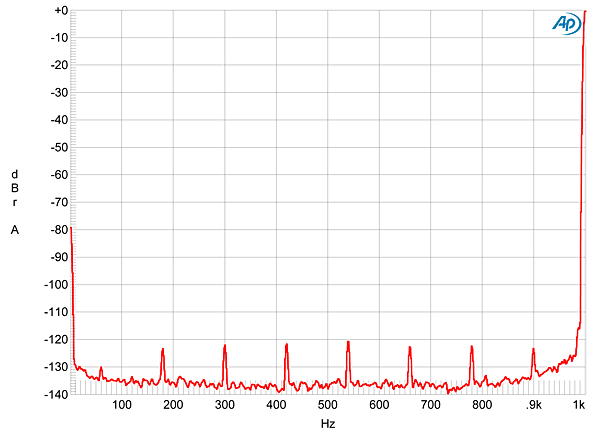 Fig.4 plots the percentage of THD+noise against power into 8 ohms. Distortion is extremely low up to 10W or so, and the REF600M clips (defined as 1% THD+N) at 340W (25.3dBW), exceeding the specified power of 300W into this load (24.8dB). The amplifier clipped at the specified 600W into 4 ohms (24.8dBW).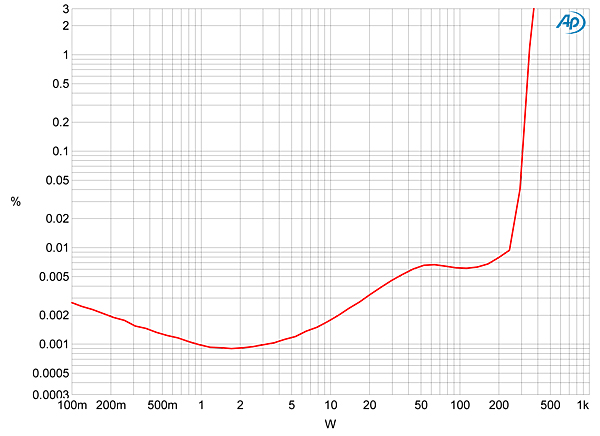 How the Bel Canto's THD+N percentage varied with frequency at a level, 9V, where I could be sure I was examining actual distortion rather than noise, is shown in fig.5. Below 3kHz, the THD varies little with either frequency or load impedance, but does increase in the top octave. The 2 ohm trace (red) is a little irregular, apparently due to a slight history effect with the amplifier driving this very low impedance; that is, the measured percentage took a few seconds to stabilize. The distortion signature at this voltage into 8 ohms primarily consisted of low-order harmonics (fig.6), and the second and third harmonics were still predominant at high powers (fig.7). Even so, the third harmonic lay at just –86dB (0.005%). Intermodulation distortion was similarly very low in level, even at high power into 4 ohms (fig.8)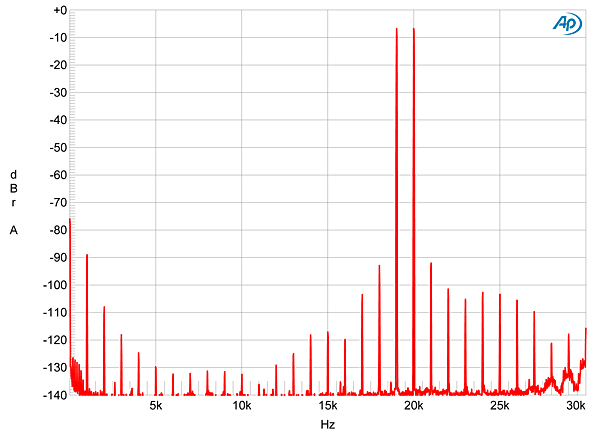 Bel Canto Design's e.One REF600M amplifier packs a huge amount of power into a small package, and offers impressively low levels of distortion and noise.—John Atkinson