AXPONA: Ascending the Heights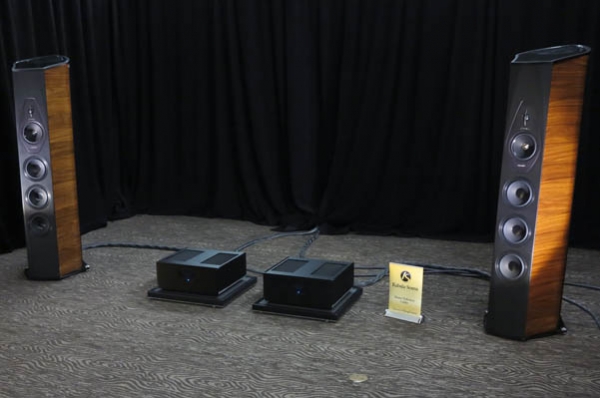 Self to Herb: "Help! Can you bail me out? 68 rooms in three days are more than I can possibly cover…"
Negotiations complete, fingers crossed, I discover myself with 18 more rooms to go on floors 12 and 4, and a short day in which to cover them. Well, in the Jewish religion, 18=chai=life: if ever there were an affirmation that there is light at the end of the tunnel, 18 is it. So I say some Baruch atahs, Hail Marys, and Hare Krishnas, and off I go.
Before continuing the tale, however, I want to extend my sincere apologies to the 4th-floor exhibitors whom I was unable to visit. I assure you that I didn't pull out the Show Guide, look at whose room was what, and cross the ones I didn't care about off the list. Hey, I missed rooms with some of my dearest industry friends. Truth be told, I didn't even have time to keep checking the Show Guide. Rather, I simply tackled floors 4 and 12 and discovered how far I could get before the show closed.
Let's begin with my favorite room of Day 3, and indulge in the present tense as I relive the experience. At one point, I decide to take a break from the small rooms on 4, and jump to the big suites on the top floor. Rather than wait for the ridiculously slow elevators, I bound up eight flights of stairs and arrive, a bit breathless, in the large O'Hare 1 room sponsored by Quintessence Audio Ltd. and Musical Surroundings.
Now playing—the LP of MA Recordings' classic effort, Sera una Noche. Color, range, slam, beauty: this system has it all. The sense of space is supreme, the control of different instruments, including percussion, excellent. When each instrument radiates its own distinct color, just as instruments sound at the San Francisco Symphony, I am one happy camper. Yes, the sound is a bit on the warm side of neutral. But it's a lovely warmth, and the perfect complement to a rare 82-degree day in Chicago.
Garth Leerer of Musical Surroundings must be psychic, because once MA's South American improvisation session concludes, he picks the perfect recording for the system and day: Zubin Mehta and the LA Philharmonic's rendition of Gershwin's ever-optimistic An American in Paris. The huge soundstage is as airy as can be, and communicates the music's openness and optimism. Every sound is beautiful, as the smiling sheen of the presentation complements Gershwin's marvelous creation à la perfection.
I am having so much fun that I hate to say adieu. But au revoir I must bid to the AMG Viella V12 turntable with 12J2 tonearm ($17,500), new DS Audio DS Master1 flagship optical cartridge ($20,000), un-auditioned Aesthetix Romulus Eclipse DAC/CD player ($13,000), Aesthetix Rhea Eclipse phono stage ($10,000), Aesthetix Atlas Mono Eclipse amplifiers ($25,000/pair), Aesthetix Janus Eclipse preamplifier ($13,000), un-auditioned Aurender N100H digital music server ($2699), and major looker Sonus Faber Lilium loudspeakers ($70,000/pair). I look forward to the next time we can meet again.
Mark Sayer's Meniscus Audio Group of Grand Rapids, MI displayed various speakers that customers built from the company's speaker kits. As far as I was able to understand, the Midwest Audio Club (midwestaudioclub.com), headed by Bryan Keane, puts on an annual event where DIY enthusiasts share their speaker designs. Meniscus then sells the best of these designs in kit form.
Kris Kosiba of Lakeview Audio is the sole US distributor of Lahave Audio's Nova Scotia-born Avaza loudspeakers ($11,000/pair). Paired with an Artisan Fidelity Achates SE turntable ($18,500) with Kuzma 4 point tonearm ($7900) and Miyabi Fuuga cartridge ($9900), David Berning Pre One preamplifier with Jensen step-ups ($12,360), and David Berning ZH230 amplifier ($8360), this totally non-fatiguing system gained in weight and fullness when the volume was turned up. On Straight No Chaser's Under the Influence, "I Want You Back " (featuring Sara Bareilles) was lots of fun despite gray tonalities. A track from Reference Recordings' frequently played Mephisto & Co. displayed fairly good depth, but again lacked the color saturation I find essential to enjoyment.
It seems that my brother Herb also visited the Bricasti Design room. Our experiences, however, differed. As much as I've praised Brian Zolner's set-up on previous occasions—the man has studied and played various instruments throughout his life, at one point performed in a band, loves music and knows what it can sound like—my experience this time around was mixed. Playing a bit of the same version of Ivan Fischer's rendition of Mahler Symphony 9 that I play on my reference system, I enjoyed the weight and detail in the lower octaves, but missed some of the color and air I hear in my own system. The presentation was certainly darker and less transparent than I'm accustomed to hearing. It was as though the Budapest Festival Orchestra has been transported to a different, far darker hall.
Bricasti showcased the new M12 dual-mono source controller ($15,995), M1 D/A Limited Edition ($15,000), M1 D/A Special Edition ($10,000), and M21 monoblock amplifier ($30,000/pair). The company claims that eschewing Sigma Delta devices in its equipment means that they output pure DSD without conversion to PCM. The system also included Tidal Audio's Piano Diacera loudspeakers, Silver Circle Audio's TCHAIK 6 power conditioner ($10,000), Oyaide cabling, and StillPoints Ultra Isolators.00), EPX optional power
Who should be hanging in the ATC room—with the ATC SCM40 3-way passive loudspeakers ($6999/pair) and the 96K mixes of Eighth Blackbird's fabulous Hand Eye that I reviewed for Stereophile (www.stereophile.com/content/hand-eye-wigs-out#Z6dc4Bb4Prs6dfIZ.97)—but fabled recording engineer Michael Bishop. From hand and eye to the horse's ears, as it were. Michael reports that he uses both the ATC SCM150 actives and SCM25 actives in his studio and mixing room.
"The passives have quite a different sound," he told me by phone, post-show. "The actives are tri-amped and do not have a passive crossover. The SCM40 in the room used different amps and has a passive crossover."
Michael clarified further in a follow-up email: "I wouldn't have expected the SCM40s, set up in a hotel room, to give everything I know is on the masters. Do they have the same basic characteristic as what I expect? Yes, they do, but lacking some of the finesse, color, power, and soundstage of a better setup under better conditions. With the setup in that room, the best focus was obtained about 18" in front of the center chair and about 15" closer to the floor. The speakers also should have been elevated somewhat. In short, the seating and setup were what they were—ie, far from ideal. The difference between an SCM40 8" woofer and the SCM150 15" woofer is also significant."
This explanation underscores the unpredictability of hotel room demos, and helps explain why the sound in this room differed greatly from the sound of the CD of Hand Eye upsampled to DXD on my far more costly reference system. I missed the warmth and transparency I experience at home, as well as the rainbow of colors. (Hand Eye is a fabulous showpiece for a sound system.)
On the other hand, my Wilson/dCS/Pass/Nordost/Grand Prix system is by no means as fast as the one on display, and softens the sheer brutality of the percussion experience that absolutely blew me away at this demo. That major wow was courtesy of an ATC P1 power amp ($3999), ATC CA2 preamp ($2699), Playback Designs Merlot DAC, and JRiver computer source. Cabling was unidentified save for Michael's USB cable, which, in answer to my query, he identified as "Woolworth's." Someone is going to spank the boy bad some day.
Bill Parish's GTT Audio paired YG Acoustics Hailey 1.2 loudspeakers ($42,800/pair) with Audionet's PRE G2 preamp ($23,350), MAX mono amps ($30,500/pair), PAM G2 Phono ($10,100), EPX optional power supply ($10,100), DNC streaming DAC ($10,100), and EPS G2 optional power supply ($4,050). Source was a Kronos Pro turntable ($38,000), Kronos Black Beauty tonearm w/armboards ($10,000), and new AirTight Opus 1 cartridge ($15,000). Cabling and Xpander were by Kubala-Sosna.
This system helped define what great sound is all about. Ben Webster and the Tete Montoliu Trio made beautiful sounds on their Analogue Productions reissue, with warmth and sizzle perfectly combined. It was perfection. Less satisfying, however, was a 45 rpm reissue of Ernest Ansermet's version of Falla's over-played, far more densely populated-by-instruments The Three Cornered Hat, on which excessive midrange emphasis muddied detail and seemed to choke off some of the air.
In the second of three GTT Audio rooms, a very simple set-up paired the Kii Three self-powered loudspeaker system ($13,900/pair), including custom color option ($1960 if this particular black finish is custom color) and stands ($1250/pair), with an Auralic Aries streamer, Kubala-Sosna cabling, and a MacBook Pro equipped with just-released Roon 1.2. An AES/EBU cable went from streamer to left speaker, and a network cable from left speaker to right speaker. Despite its size, the 3000 watt class-D speaker system, which also boasts analog inputs, is claimed to descend to 20Hz +/-.5 (!), and to transmit bit-perfect music wirelessly through the new WISA standard. I hope I got that right.
Some synthesized pop doo-doo from the group Yellow was impressive in its impact. Since the music was so synthetic that I couldn't tell much else, we switched to Buddy Guy's "We Done Got Old." (Oh, Jesus, was the switch a not-so-sly commentary on yours truly?) Timbres were mostly natural. I look forward to hearing these badass babies again.
Completing the GTT Audio sweep of floor 4, YG Acoustics Carmel 2 loudspeakers ($24,300/pair) joined Mola Mola's Makua linestage ($11,740), Makua optional phonostage ($2900), Makua optional DAC ($7850), and anything but optional Kaluga mono amps ($16,500/pair). Source was a Kronos Sparta turntable ($21,500) with Kronos Helene tonearm w/armboards ($7125) and Air Tight Supreme cartridge ($11,000). Cabling and XPander were by Kubala-Sosna. With volume adjusted by an iPad Mini, and the right resistance, capacitance, gain and equalization curve set on the supremely adjustable preamp, timbres were just lovely on a piano and violin version of Massenet's Meditation from Thaïs. On music from the same not very exciting composer's ballet, Le Cid, highs were very clear, albeit a bit massed together, and low bass was more hinted at than articulated. Depth and clarity, on the other hand, were excellent. If the system had been auditioned in a different room, it might have been a very different story...
In a room that featured Zanden electronics, on both Mari Boine's "Grandma" (from an SACD compilation) and ballet music by Delibes (from a superbly recorded Reference Recordings CD), percussion sounded shallow, the bottom wasn't fully present, strings were a bit wiry, and warmth and fullness had deserted the midrange. Which leads me to wonder if everything was broken-in and functioning optimally. Heard: Verity Parsifal Anniversary loudspeakers, TW Acustic Raven turntable and 10.5 with Ortofon A 95 cartridge paired with Zanden 6000 KT-120 push-pull integrated amplifier with remote ($22,000) and balanced input unity gain upgrade ($1000), Zanden 1200mk3 stereo phono equalizer ($25,000) and 3100 balanced preamplifier ($12,500), Zanden limited edition 2500S CD player ($22,000), and Zanden cables.