AXPONA 2018 Opens With a Bang
A half-hour after the show opened (held today, tomorrow, and Sunday at the Renaissance Schaumburg Hotel, 1551 Thoreau Drive North, Schaumburg, IL), this was the scene in front of the seminar center, where a presentation on Room EQ Wizard was about to start. With well over 160 exhibit and listening rooms and another 80 booths, and what must be every dealer in Illinois participating, this is the biggest consumer audio show to be held in the US in quite a while.
Typical of the booth exhibits at AXPONA was Audeze's, allowing hands-on listening.
A wall of Clearaudio turntables greets visitors to the show.
And next door, a familiar face, PrimaLuna's Kevin Deal, gets set up outside the room PrimaLuna is sharing with GoldenEar Technology, and demming the Triton Reference speakers I reviewed in January.
"That sounds like a real electric guitar!" I thought as I walked from the Expo area back to the hotel lobby. And it was, Louis Zagoras playing a cream Stratocaster though a Schroeder amplifier with an Audience cable and with what I was told was Jimi Hendrix's own Univibe effects box. But why should a real guitar played through a speaker sound different—more real—from a recording of the same guitar played through a speaker?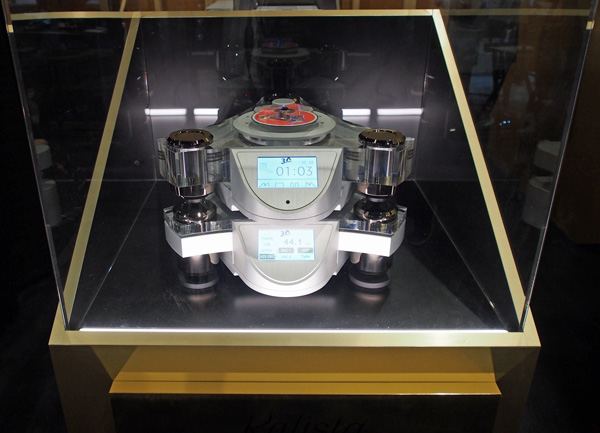 And finally, locked in a box but spinning a disc, the magnificent but ridiculous Metronome Kalista CD player.
More reports from Herb Reichert, Jason Victor Serinus, and myself, with video from Jana Dagdagan, will follow. And if you're in Chicagoland, stop by the show to hear my keynote speech, "A Life in Audio," Saturday at 1:30pm.