Avatar Acoustics' Multiple World Premieres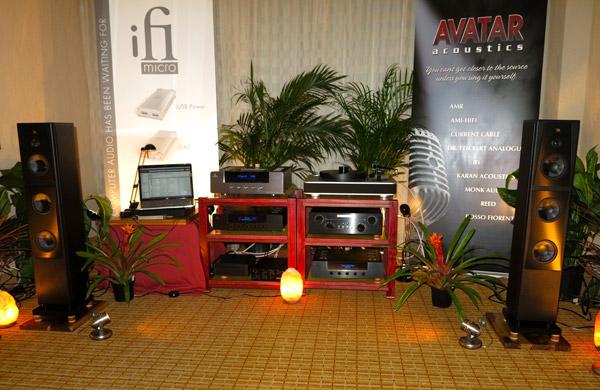 I never thought that yet another listen to Rebecca Pidgeon's "There is a Rose in Spanish Harlem" would hold my attention, but, on the set-up from Avatar Acoustics' Darren Censullo, the recording sounded irresistible. I was especially seduced by the system's compelling warmth in the midrange and correctly proportioned bass. But really, everything in this room sounded really good.
The room included a host of new products. Most prominent were the leather-clad Rosso Fiorentino Certaldo loudspeakers ($5995/pair), whose performance belied their price. Smaller but no less important, the new iFi micro computer audio division of AMR (Abbingdon Music Research) brought us the iFi iUSB power filter with dual USB ports ($199); iFi iDAC, a USB DAC with analog volume-controlled headphone amp ($299); and iFi iPhono, an MM/MC phono preamp ($399). Together with an AMR DP-777 DAC ($4995), AMR AM-777 integrated amplifier ($4995), and AMR CD-77 used as a transport ($10,995); Current Cable Conqueror and Guardian Series cabling; Dr. Feickert Analogue Firebird turntable ($12,995) and DFA 12.0 tonearm outfitted Lyra Kleos cartridge ($12,995 and $1495, respectively); and other products from First Sound, Monk Audio, Purist, and Avatar Acoustics itself, this system made music.