AudioQuest Headquarters Tour
The Southern California headquarters of cable manufacturer AudioQuest, which includes their offices, a listening room, conference rooms, a very very large warehouse, assembly rooms, a graphic design room, a few kitchens and various and sundry other more mundane but just as important places, is within a few-minutes' drive from
T.H.E. Show at Newport Beach
. Shane Buettner, AudioQuest's Director of Education who you will most likely recognize as the former Editor-In-Chief of
Home Theater
magazine, Joe Harley VP of AudioQuest (Joe Harley is also a recording engineer/producer responsible for among others the Blue Note 45rpm reissues from Music Matters and he's a musician), and Andrew Kissinger, Regional Sales Manager, gave a group of A/V journalists, including Tom Norton, Senior Editor and Video Technical Editor of
Home Theater
magazine, the full tour.
My comments on the tour/AudioQuest facility can be summed up by saying that this is one of the most organized, clean, neat and tidy places I've ever seen. And it's not the kind of organized, clean, neat and tidy you can fake for a tour. From the huge warehouse to the tiniest Ziplock baggy, everything had its place and label. Impressive.
We also partook of a few demonstrations that are meant to highlight the differences cables can make and I'll give you an overview of what we heard. I'm not going to get into describing sonic minutiae since a) it's my belief that you really need to experience this kind of thing for yourself, and b) those who believe cables do not and can not make a difference won't believe a word I have to say so I'm not going to waste my time gilding a dead lily. To get right down to it, the Emperor does in fact have clothes; you cable deniers just have dirty minds.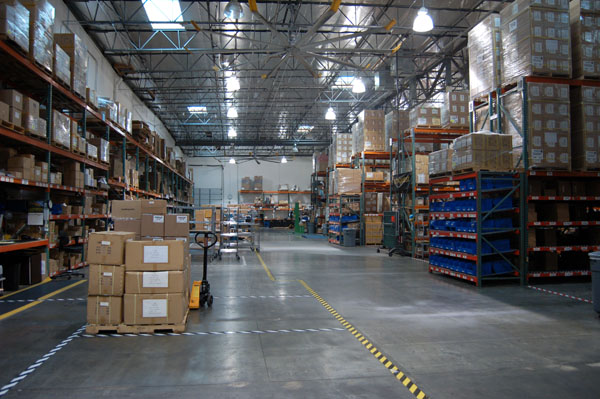 The first demo involved a simple setup and premise: one inexpensive micro-component system, different speaker cables—stock and AudioQuest—connected to each speaker and a balance control. As you listen you or someone else switches from one speaker/cable to the other using the balance control. And back again as many times as you'd like. It took one swap to hear a difference and few more to hear it again and again since it was not subtle—the AudioQuest speaker cable improved the presentation and the most obvious change can be described as lending the music a more natural voice. Or if you prefer, the micro system simply sounded better with the AudioQuest cable.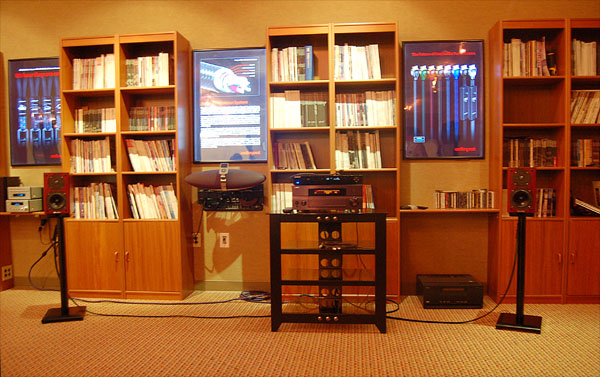 The next demo, and you'll notice that AudioQuest had cleverly setup these demos in order of least controversial on up, involved a B&W Zeppelin boombox and two power cords—stock and AudioQuest. Listen, swap, listen. You could also keep your eyes closed for this one, I didn't, but the improvement in sound quality was easily and readily apparent after the first swap. I'd characterize the most obvious improvement as a less constricted presentation—the sound was no longer tied so tightly to the box.
Next up was the new favorite bugaboo on the block—the HDMI audio cable. Yes, we're going there. One modest system, two HDMI cables—stock and AudioQuest. Listen, swap, listen. Blind or not your choice but I preferred to watch everyone's reaction, which was the same as mine—wow! The difference was not subtle and can be summed up as a lack of compression when the music was played using the AudioQuest HDMI cable as compared to the stock piece of crap. The change in the quality of the vocals stood out so much that it enhanced the emotional impact of the song.
Lastly, we moved to the big rig: Rockport Aquila loudspeakers, Ayre MX-R monoblocks, Ayre KX-R preamp, Ayre DX5 Universal A/V Engine, AudioQuest Oak speaker cables, Wild and William E. Low Signature interconnect and power cords. It's worth noting that the previous demos were intentionally set-up on moderate to damned-cheap gear to illustrate, in addition to the basic premise that cables do in fact make a difference, that you don't need to have fancy-assed audiophile stuff in order for cables to make a difference. This time we listened to HDMI audio cable's more popular cousin—the USB cable.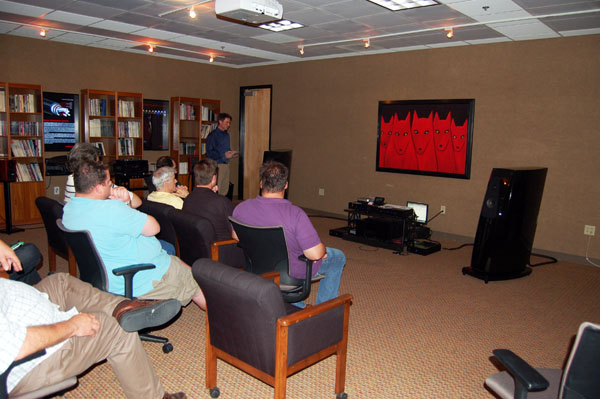 Listen, swap, listen. Shane swapped the USB cables from the external 2TB hard drive to the Mac mini and from that to the Ayre player from stock to AudioQuest and back again. He also introduced a few levels of AudioQuest USB cables—the Carbon, Cinnamon DBS, and the Diamond, as well as adding and taking away AudioQuest Q Feet isolation devices under the external hard drive and Mac mini. In each and every case, the improvement when moving up the USB cable line or adding isolation to things that spin was readily apparent to everyone. In fact swapping just one stock USB cable for an AudioQuest Carbon improved the sound quality to such an extent as to render the music more engrossing. More groovy, if you will, as if the band had just hired a better bass player or drummer or both and the lead singer had removed his scarf from covering the microphone.
(A Free AudioQuest Tip: If your external hard drive offers both Firewire and USB, you can improve the sound quality of your computer-based playback by using Firewire from your hard drive to your computer and USB from your computer to your DAC.)
Of course this wasn't a science experiment and I readily admit that all kinds of things could have influenced what I heard, especially the most obvious one which is that cables, even HDMI audio and USB, can make a difference in sound quality. If you remain skeptical, and some skeptics always do no matter what, I'd suggest that AudioQuest set up a series of demos for each and every cables-don't-matter skeptic. They could easily bus them in from nearby John Wayne Airport, let them listen for themselves and then put them back on the bus and drive them into the middle of the desert and leave them there to fend for themselves. At least that's what I'd do.
I don't know about you, but I was shocked to see the size of the AudioQuest warehouse. Shocked to discover that so many people buy so many cables. I had never given this matter much thought. But with fan blades larger than any helicopter, even one former-Governor Arnold would use in his next action flick Predator III, the Housekeeper, hanging over your head and row after row after row of cables stacked up to the ceiling, you have to accept the fact that cables make a difference to a lot of people.