Audio Physic Step Plus loudspeaker Page 2
I did all of my listening with the Steps' grilles off. I also switched out my usual Auditorium A23 speaker cables for Triode Wire Labs American cables, which improved focus from top to bottom. AudioQuest's Castle Rock speaker cables sounded rather hot at the frequency extremes, Tellurium Q Black somewhat lightweight.
I evaluated the Step Plus using LPs, CDs, and four different amplifiers: the Heed Elixir and Parasound Halo Hint6 integrated amps, and the Mytek Brooklyn and Shindo Haut-Brion power amps.
Listening with Parasound's Hint6 Integrated
With rumors circulating in Beatles Internet groups that Eric Clapton played the guitar solos on the Beatles' Abbey Road (LP, Apple PCS 7088), I played side 2 of the Fabs' final masterpiece with an ear toward plectrums, tones, tactile qualities, and soundstaging.
Spinning vinyl on my Thorens TD 124 Mk.I turntable with Jelco 350S tonearm and Ortofon Quintet Bronze cartridge, into Luxman's fine 500-EQ phono stage and the Parasound Hint6 ($2995, 180Wpc into 8 ohms, 270Wpc into 4 ohms), Abbey Road sounded crisp, vivid, and wide, if panned hard left and right. The Parasound occasionally imbued the sensitive Step Plus with a coolish quality that highlighted leading edges of notes, but not to a detrimental degree. With voices, that quality was a plus, John Lennon's serene, layered vocals in "Because" sounding spookily palpable and well defined. Here and elsewhere, the Step Pluses pulled a brilliant "disappearing" act, colorful images coming fully alive in my small listening space.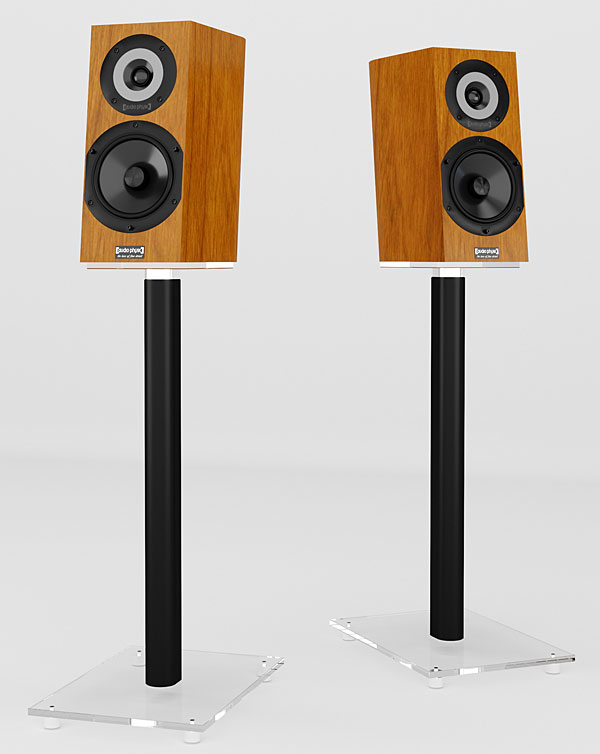 Paul McCartney plays many exceptional bass parts on Abbey Road, and the Audio Physics generated a decent sense of warmth and grip from his (Rickenbacker?) electric bass. Macca's glowing whole notes in "Because" rang out with excellent color, a palpable sense of touch, and more than respectable weight for such small speakers. As I learned, the Step Plus could produce serious lower-register heft for such a small speaker.
Also a delight through the Step Pluses was Ella Swings Brightly with Nelson (LP, Verve V/V6-4054). Front and center on a spacious soundstage, Ella Fitzgerald's voice sounded massive, with her every enunciation, elongation of note or phrase, and rhythmic cadence beautifully portrayed. There was enough reverb on her voice to challenge Phil Spector, but that only added to the feeling of jubilation throughout this album of arrangements by Nelson Riddle.
A recent addition to my collection is Ernest Ansermet conducting the Swiss Romande Orchestra in Stravinsky's The Rite of Spring (LP, London CS 6031). This beloved warhorse found favor with the Audio Physics' deep, spatially rich soundstage. Instrumental tone was excellent, and when the oboes, bassoons, and various strings begin swirling together in an early section of this work, the Step Plus never lost the plot, never strained, never ran out of steam. I easily followed the melody of each well-proportioned instrument, the music deeply focused on this excellent mono recording. When timpani were smacked hard, the Step Plus resolved all the force of the attacks that was needed to make them sound fully convincing. And, once again, these speakers "disappeared" as the sources of the sound, leaving only the instruments in space before me. Pure delight.
Rafael Anton Irisarri's The Unintentional Sea (LP, Room40 RM445) ultimately proved that, with the right LP, the Step Plus could replicate bass weight of epic proportions. The Step Plus recreated the totality of this beautiful, menacing, dirge-like music, which conjures up images of a frigate crossing the ocean as odd metal objects are dragged past its side, sea spray pummels your face, and the ominous sea churns below. As a replicator of distinct soundfields and spatial relationships within those fields, the Step Plus could shock me with its ability to completely vanish.
Digitally sourced music gave further evidence of the Step Plus's prowess. As I played CDs through an ATC CDA2 Mk.II CD player into the Parasound integrated amplifier, the Steps reproduced quality bass tonnage that was extraordinary. I'm not talking a merely passable low end, but deep, round frequencies. The best example of this was Forq, from the scrappy funk-jazz quartet of that name (CD, groundUP 8829514692). Forq includes members of Snarky Puppy, and their organ-generated robo funk sounds as if recorded inside a bass drum. Every ounce of bass-drum air—most plentifully produced by jazz drummers who don't mute the drum—is present on this bass-grip-of-doom CD. Imagine Chic by way of the Meters and Tower of Power: Forq is that lowdown and dirty.
"The Halo Integrated played with generous measures of that afore-defined neutrality," Herb Reichert wrote in his review of the original version of this Parasound amplifier ($2495) in the November 2015 issue. "What little personality it had remained hidden, like a cat in the bushes—which made it easy to hear the sonic qualities of every associated component I used with it." While I largely agree with Herb's conclusion, it made me all the more curious about how the Step Plus would boogie with my faithful Everyman integrated, the Heed Elixir.
Listening with Heed Audio's Elixir
When I played CDs in the ATC CDA2 Mk.II driving the Heed Elixir ($1195), instruments danced before me, suspended in space and fully corporeal; at times, it was downright spooky. The Step Pluses "disappeared" like no other speaker I've had in my three-room Greenwich Village pad. As I keep saying.
The Elixir's 50Wpc into 8 ohms (17dBW) or 65Wpc into 4 ohms (15.1dBW) are enough to drive any speakers, and its sound is essentially dark-toned and warmish. When I played a reissue of Fritz Reiner and the Chicago Symphony Orchestra's recording of Rimsky-Korsakov's Scheherazade (2 LPs, 200gm, 45rpm, RCA Living Stereo/Analogue Productions AAPC 2446-45), the Elixir/Step Plus combo nearly blew the walls off my apartment and the ears off my head. So much orchestral power and dynamics emanate from these LPs that it's a virtual torture test for your hi-fi. Rimsky-Korsakov's music flew from the Step Pluses with force, potency, and exhilaration, even if the Elixir didn't provide the last bit of resolution or tonal purity. I think of the Heed as lush but not lazy, and the Step Plus as clearheaded, capable, and quick enough to match well with any amplifier.
Almost.
Listening with Shindo Laboratory's Haut-Brion
My beloved Shindo Haut-Brion power amp (20Wpc, $11,000 when purchased) is one of the finest music/electrical-signal–amplifying machines I've ever heard. Its tonal saturation, palpable and immediate re-creation of space, and unerring naturalness are, in my opinion, unparalleled. The late Ken Shindo imbued each of his products with a unique soul that makes possible a more emotional listening experience. But the Haut-Brion couldn't drive the Step Pluses—no matter the medium, music sounded weak. Could any amplifier drive the Step Plus? Not with less than 35Wpc. Any less than that, and you're looking for trouble.
Listening with Mytek's Brooklyn
Powered by Mytek's class-D Brooklyn (300Wpc, $2495), the center fill of the Step Pluses' image with mono LPs became much broader, each instrument imbued with greater focus and clarity. More so than with any of my other amps, each instrumental line was more discernible with the Brooklyn driving the Audio Physics—The Rite of Spring became a hi-rez canvas of swirling sounds in which I could follow each aural brushstroke with ease. The Mytek lacks the low-end richness of the Parasound or Heed, instead offering deeper, exceedingly well-sorted soundstages with laser-like resolution of instruments.
Ella Swings Brightly with Nelson sounded drier, yet its soundstage was larger and deeper, no longer panned hard left and right—those larger images made the entire sound better fleshed out, and Fitzgerald's voice had decay trails to die for. The Step Pluses' already remarkable imaging only grew with the Mytek, as did their spatial cues, speed, resolution, overall soundstage depth, and retrieval of spatial information.
Everything But the Girl's Amplified Heart (CD, Atlantic 82605) revealed even stronger bass frequencies and sonic sorting through the Mytek and Audio Physics. Perhaps it was the overall lighter sound of my analog setup, but CDs generally have more force and low-end gravitas, even with the Step Plus's energy focus lying between its midrange and treble frequencies. Danny Thompson's double bass is brilliantly recorded on this album, and the Step Plus dug deep for his every bowed slide and plucked accent. Bass notes were tactile and deep, with precise transparency.
Conclusions
Whew! The Audio Physic Step Pluses proved overachievers to the nth degree. Their imaging and soundstaging were consistently top notch, but this mighty mite was just getting started. Offering first-rate bass-frequency reproduction, particularly from CDs (in my system), the Step Plus was clear, well-focused, and generally got out of the way, letting not only upstream components sing, but every disc I played, LP or CD. Compared to the similarly sized Quad S2 stand-mount ($1000/pair), the Step Plus offered cleaner, more extended frequency extremes at both ends of the audioband, with a fast, crystal-clear sound that was never fatiguing, always revealing. If you're in the market for a soundstaging and imaging champ that produces clear upper-range frequencies and solid bass fundamentals with almost any amplifier, the Audio Physic Step Plus should be numero uno on your list.