Audio Physic Step Plus loudspeaker
In the 1990s, while putting together one of my early hi-fi systems, I'd often visit New York City audio retailer Sound by Singer to gawk at their top-tier wares. On one such visit I noticed a serious-looking gentleman listening to Stravinsky's
The Rite of Spring
through a pair of Audio Physic's Step loudspeakers (accompanying electronics long forgotten). Sitting on their dedicated, minimalist-looking metal stands, the pint-size Steps were angled up 22° or so, to create a physical time alignment of the tweeter's and midrange-woofer's wavefronts. The Step looked odd—kind of scrawny. But these petite minimonitors projected music that seemed to exist entirely free of their cabinets, pulling off a sort of "disappearing" act I'd never before heard.
Introduced in 1994, the original Step consisted of "a ¾" metal-dome tweeter and a tiny (4" plastic-cone) woofer with a chassis just 4" across—and a rear-firing port 1.25" in diameter," wrote Jack English in the October 1994 issue of Stereophile. That first Step was specified as having a sensitivity of 84dB, a nominal impedance of 5 ohms, and a minimum impedance of 3.3 ohms.
"The Steps' soundstaging presentation was consistent," wrote Jack: "excellent width and depth, pinpoint placement, and loads of spaciousness. For virtually any musical performance, I felt as if I was sitting at least mid-hall. Performers were never sitting out in the room or on the plane of the speakers. Rather, they were well behind and around the back. In addition, unless recorded as such, the music was never located in the cabinets. While many people may dislike the Steps' distant presentation, I found it quite enjoyable."
Not long after I'd heard the Steps at Sound by Singer, a pair of Audio Physic's floorstanding Virgo speakers became one of my proudest purchases. On each Virgo's narrow, 6.5"-wide baffle were a ¾" aluminum-dome tweeter and a 4" treated paper-cone midrange drive-unit, and on each side panel was one of two 6" woofers. They made glorious music in my small apartment. The slender baffle made possible these speakers' exceptional imaging, and those side-firing woofers gave me the lowdown goosebumps. Even if the Virgo's midrange was congested, and it didn't offer the last degree of dynamics or resolution, it was an easy speaker to love.
A pair of DeVore Fidelity's similar The Nines (narrow baffle, side-firing woofer) took up residence in my home in the mid-2000s, followed by their Orangutan O/93s. But I've always fondly remembered those original Audio Physic Steps. So when John Atkinson suggested I review that model's latest iteration, the Step Plus, I got (anticipatory) lowdown goosebumps all over again.
Description
Standing 12.6" high by 6.9" wide by 9.8" deep and weighing 12.1 lb, the Audio Physic Step Plus ($2599/pair) has elegantly curved and tapered side panels that replace the original model's boxier look. The front of the Step Plus's cabinet is slightly wider than its rear panel, though its MDF walls are uniformly ¼" thick. Whereas the straight-sided Step was designed to be held at an angle, the Step Plus's rearward tilt—the angle is unspecified—is built into the cabinet itself. I imagine the design is both cosmetic and functional, lovely to look at while breaking up the cabinet's internal standing waves and aligning the drivers for optimal time arrival/phase coherence at the listening seat; I put this to Roy Feldstein, chief technology officer of VANA Ltd., Audio Physic's US distributor, who replied via e-mail, "The purpose of the slope was to add stability to the cabinet and create a more attractive form factor."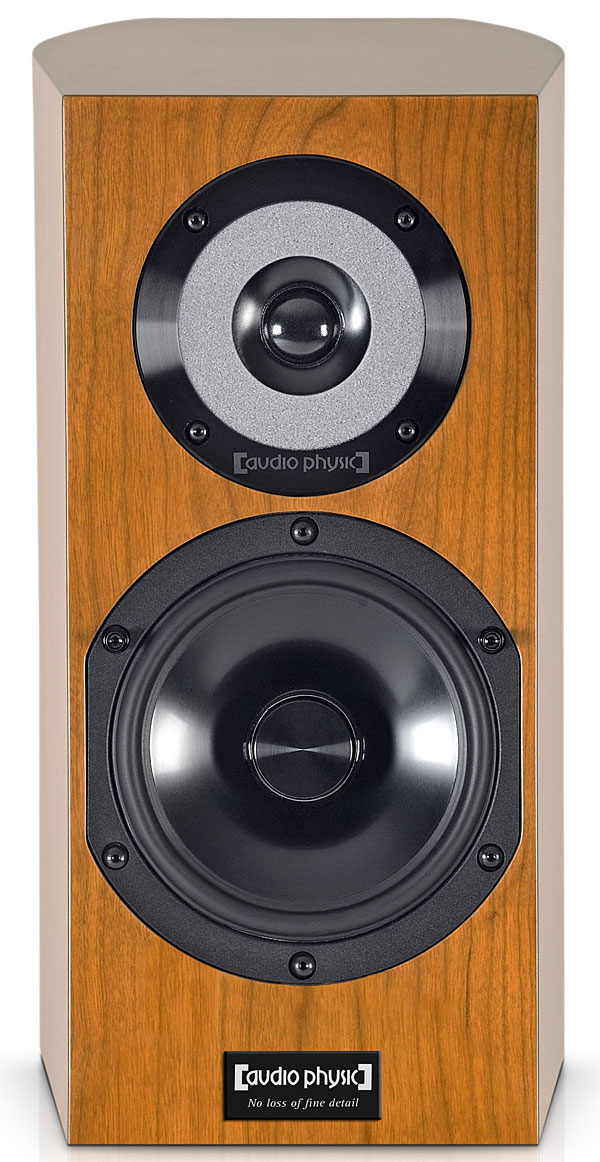 The Step Plus's drivers are the ones used throughout the Audio Physic range: a 1.75" (45mm) tweeter and a 5.9" (150mm) midrange-woofer, both with Hyper-Holographic cones of ceramic-coated aluminum (HHCM-III in the tweeter, HHCM-II in the mid-woofer). These custom-built drivers are made in China by Wavecor, Ltd. Manfred Diestertich, Audio Physic's R&D manager, is involved in every phase of these drivers' development, including the Step Plus's ClarityCap capacitors and its Dual Basket Design—basically two baskets in one, claimed to reduce unwanted mid-woofer resonances. Other Diestertich-enriched Audio Physic technologies include Active Cone Damping (a rubber ring around a driver's circumference) and CCAC ceramic coating of aluminum driver diaphragms to prevent "partial oscillations" ("ceramic coating increases the stiffness of the cones therefore the natural modes of the cones are moved higher in frequency," Feldstein wrote).
New to me was the use, in the Step Plus's midrange-woofer, of a flat-faced aluminum phase plug mounted directly on the driver's magnet motor. "The phase plug is made of solid aluminum and acts as a heatsink for the neodymium magnet," according to Diestertich. "The response curve is optimized off axis—as a result the phase plug was designed flat."
The Step Plus's drivers aren't mounted directly on its cabinet. The cabinet's drill holes contain neoprene plugs that tighten when screws are fitted, creating an elastic connection between drivers and cabinet that reportedly further damps resonances. Per Diestertich, Audio Physic also uses "ceramic (open cell) foam which acts as a brace to strengthen the cabinet, and as a diffusor (with a large surface area) to control resonances and standing waves." This silicon-carbide foam, used for filtering molten iron in the aircraft and power industries, looks like a dense gray sponge, and reportedly strengthens the cabinet and thus reduces its tendency to resonate.
The Step Plus's tweeter and midrange drivers, crossed over to each other at 2.8kHz, are mounted close together on its 6.9"-wide baffle. A 1.75"-wide port opens 0.5" below two sturdy WBT NextGen binding posts (the manual calls these "modern connecting terminal[s]") on the rear panel.
Audio Physic's website specifies the Step Plus's frequency range as 50Hz–40kHz. With a specified sensitivity of 87dB at 8 ohms impedance (6.5 ohms minimum), the little Step Pluses played comfortably loud in my smallish listening room at any wattage, assuming I was using the appropriate amplifier (see below).
Setup and System
Finding the optimal positions for the Step Pluses was, generally speaking, a breeze. Placing the speakers too close to the front wall diluted their fine imaging qualities, so no dice. Eventually, what proved ideal placements were with the speakers' rear panels 26" from the wall and their front baffles 65" from my listening seat. I toed them in until their inner side panels were barely visible. And though I'd first placed the speakers in more or less the same spots as my go-to DeVore O/93 Orangutans, moving the Step Pluses a bit farther apart than that—91" between their outer sidewalls—increased their already fantastic soundstaging. That didn't work with every recording, but when it did, the Step Pluses created a very wide soundstage with large, precise images.