Audio Physic, Acoustic Signature, Trigon, Nordost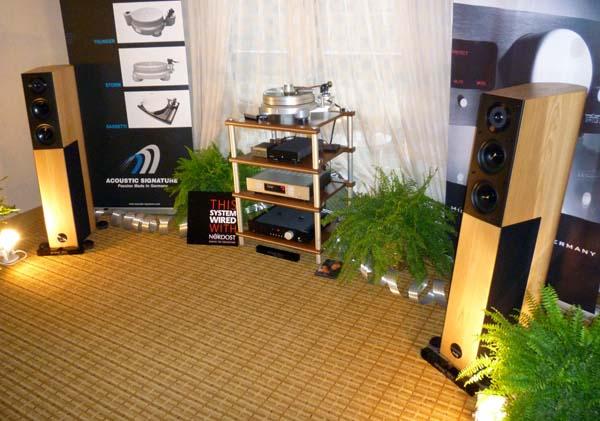 In the room presented by Audio Physic, Acoustic Signature, and Trigon, music was sweet and nuanced, played at low volumes, but nevertheless involving and deeply enjoyable. I admired the subtlety of touch, richness of texture, and ease of flow. We listened to a few minutes of
One Foot in the Gutter
, a live, 1960s recording by the Dave Bailey Sextet, and I swear I could hear the joy and humor in the band's playing.
The system: Acoustic Signature Storm turntable ($7500, without tonearm and cartridge), Trigon Chronolog disc player/music server ($9495), Trigon Energy integrated amplifier ($4950), Creaktiv Audio 1-4 Aktiv Plus audio rack ($2200), and Audio Physic's 25th Anniversary Avantera loudspeaker ($24,000/pair). All cabling was provided by Nordost.
The speakers were positioned with an extreme toe-in and created a wide, deep soundstage with solid, well-focused images. Despite the apparent complexity of the design—Reinhard Goerner lightheartedly referred to the Avantera as a "3-and-a-half-way, plus a half-way system"—the presentation was smooth and seamless—easy on the ears, easy on the mind, soothing to the soul.