Analog Corner #300: Boulder 2108, Consolidated Audio Monster Can Page 2
Prior to installation, the 995S and 993S assemblies are retested and trimmed to spec using an automated, computerized process that evaluates up to 10,000 different resistor value combinations to match each gain stage to a predetermined engineering specification. Boulder claims that all aspects of the new 993S and 995S are superior to the ones used in the 2008. "Superior" in what way or ways was not specified. (Measured? Sonically? Both?)
Setup and use
Connecting, configuring, and using the 2108 was straightforward. As on the 2008, each of the three balanced-only inputs (Boulder supplies a set of RCA-to-XLR input cables) for both left and right channels features a "personality card" on a smoothly operating slide-out tray located below the input. A DIP switch on each sets MM or MC and either "low" or "high" (+10dB) gain. In MM mode, gain is either 40 or 50dB. In MC, it's either 60 or 70dB. The MC loading default is a sensible 100 ohms. The third input is intended for MM cartridge use. Its personality card has no load resistor, which produces from the circuit 47k ohms. When set to MC, the load is 1000 ohms.
You can obtain MM loads of 1000, 5000, 10,000, and 20,000 ohms by soldering in resistors, with values provided by Boulder in a chart that also offers MC resistor load options from 50 ohms to 1000 ohms in 25 ohm increments.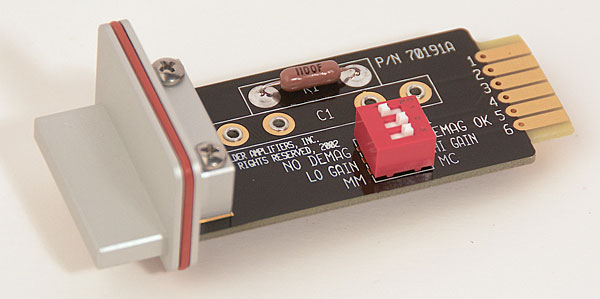 Boulder supplies an extra pair of "personality cards" with no resistors soldered in so you can add your own and then easily swap cards to hear the sonic differences. While that may sound a little DIY for a luxury product, soldering to the personality card is particularly easy and it allows you your choice of premium resistors, which you can be sure alters sonics.
The 2108 retains the 2008's convenient "demag" function that lets you plug your electronic MC cartridge demagnetizer into a pair of back-panel RCA jacks. At the push of a front-panel button, the 2108 routes the demagnetization signal to the cartridge. The "personality" card DIP switches let you select which inputs you want the demag signal routed to.
In terms of convenience of setup and use, as well as cosmetics, Boulder's 2108 is a luxurious product worthy of its steep price point.
Smoother sonic sailing?
Comparing the 2008's sonics with the 2108's without having both on hand is impossible. Anyway, my system has changed completely since 2002, as has cartridge technology. Today's best cartridges are neither analytical and astringent nor warm and bloomy. At one time, it seemed that at the top end of the market, those were your choices.
The Lyra Atlas Lambda playing back the "Bach Suites for Unaccompanied Cello" (Mercury/Analogue Productions SR3-9016), the production and mastering of which was supervised by Wilma Cozart Fine and Robert Fine's son Tom, created a believable, well-textured, 3D picture of a musician seated before me playing the instrument that no digits have ever produced in my listening experience: no unnaturally hard edges nor unnaturally soft and "romantic" ones. The picture of the cello was tightly focused, the surrounding space precisely delineated against a black background. When Starker tugs that bow across the strings, if it doesn't tug your midsection, what's the point? The 2108 produces both a sense of soaring exultation in the upper registers and gritty drama in the lowest one.
Playing the same Suite ("#2 In D Minor") through the Ypsilon VPS-100 produced a different picture: somewhat warmer, more diffuse, with more midband presence. The cello's image was less precise and more expansive, with less definition between the instrument and the space. However, the instrument's bass register produced a thrilling, majestic swell through the Ypsilon that the Boulder either suppressed or delivered with less added coloration, depending on your sonic perspective and tastes. Though clearly different, I found both appealing. The Ypsilon avoids bulbous bloom and the Boulder steers clear of sounding timbrally drab. Each one, though, veered in one direction or the other.
Afrobeat inventor and longtime Fela Kuti drummer Tony Allen passed away April 30 at 79 years old. In 2017, he co-composed and arranged all of the tracks on The Source (Blue Note France 5778336—also reissued by Blue Note America from the same pressing). This is a fascinating jazz–Afrobeat fusion album produced with no digital intervention. ("AAA Triple Analog" is on the front cover.) It's infused with brass and reeds and features Blur's Damon Albarn on piano.
It's a perfect test of the 2108's rendering of space, dynamics, timbre, transient precision—everything (but string tone. No strings attached.). This recording produced a warm sound through both the Ypsilon and the Boulder. You'd enjoy it both ways. There was more slam in the drums and a greater sense of stick-on-metal cymbals through the Boulder, plus more expansive front-to-back instrumental delineation, but I didn't favor one over the other.
I also checked out an original 1959 pressing of Barney Kessel Plays 'Some Like It Hot' (Contemporary S 7565) featuring Art Pepper, Shelly Manne, Jimmy Rowles, and other West Coast greats, engineered by Howard Holzer. This is a really warm outing in which the Boulder gets it all right on a huge, 3D stage. Kessel's hollow-bodied Guild is way out front and as rich, round, and juicy as you'd expect or want. Top to bottom, this Boulder produced the musical goods. If I told you the 2108 was a 508 on supersteroids, it would be paying it a high compliment. I am telling you that.
Still, the 2108 will not please bloom-fanciers. In navel terms, sonically, the Boulder is an innie, the Ypsilon more of an outie. The Audio Research Ref 3 I reviewed a few years ago was a way-outie. All are far out as far as I'm concerned. Boulder detractors who think their products are too analytical, sounding dry and bleached, ought to give the 2108 a listen, just as Lyra detractors ought to give the Atlas Lambda a listen before returning to their Koetsu silo. The 2108 is none of those things. It is very musical, plus, like the original 2008, it is granite-like in the best possible sense.
Consolidated Audio's "Monster Can"
A few months before last year's "Making Vinyl Berlin," I got an email from a fellow named Frank Wonneberg, whom I did not know. He'd heard from Bryan Ekus, one of the event's organizers, that I'd be coming to town, and he offered to pick me up at the airport very early in the morning.
He fetched me at the airport and took me on a tour of Berlin that, in addition to bucket-list stops like The Brandenburg Gate, included a few record-centric spots that few people know about, like a small, rundown car-repair joint that was where the Odeon and Parlophone labels were born in the early 20th century—as well as the first two-sided records. Mr. Wonneberg is a Frank Zappa discography expert and author of the giant coffee table book Grand Zappa, which is out of print.
Later, we met for lunch with tonearm manufacturer and all-around vinyl genius Frank Schröder; after that, we did some record shopping at a huge outdoor fair. After visiting the apartment building where David Bowie lived (commemorated with a plaque that mistakenly claimed Bowie recorded "Heroes," "Low," and "The Lodger" in Berlin), we had dinner with a crew that included the two Franks and Consolidated Audio's Michael Ulbrich, an electrical engineer and transformer expert.
Despite an early-morning landing and a late-night finish, I didn't experience even a hint of jet-lag. In fact, it was difficult getting to sleep when that event-filled day drew near its end.
Consolidated (footnote 3) offers transformers using cores of either mu-metal—an 80% alloy of nickel balanced out with 12% to 15% iron and a variety of other elements (Consolidated calls it "Hi-Nickel")—or Nano Crystalline, which offers a number of technical advantages over normal ferrite cores and claims advantages over amorphous cores.
Either type of core can be wound with copper, 99.99% silver, or a mix of both. Consolidated offers SUTs with low (1:10/20dB), medium (1:15/23.5dB), or high (1:20/26dB) turns ratios, intended, respectively, for cartridges that output 0.5mV, 0.35mV, and 0.25mV. Used with a standard 47k ohm moving-magnet phono stage, the cartridge would "see" loads of 470, 209, and 118 ohms.
Oswalds Mill's Jonathan Weiss sent for review a transformer with a low-inductance Nano Crystalline core wound with silver wire in a 1:20 ratio, ideal for cartridges like the Ortofon Anna D and Lyra Atlas Lambda SL. (Lyra recommends a transformer-based load of between 1 and 10 ohms, though I'm not sure why that low.) The $5700 Consolidated transformer offers RCA loading jacks, but I chose to review it as is (a cartridge "sees" a 118 ohm load) and compare it to my Ypsilon MC-16L, which has a turns ratio of 16 and so has less gain and presents the cartridge with a higher load impedance (184 ohms with a standard 47k ohm MM load). The Ypsilon SUT features a proprietary amorphous core and is wound with copper wire. Here, I did load the secondary with 15K nude Vishay resistors to drop the impedance from 200 ohms to about 50. Ypsilon offers a silver-wire version that costs $18,600, for any turns ratio. I used my copper-wire version ($6600).
I compared the two transformers using the Atlas Lambda SL and the Ortofon Anna D, listening to the direct-to-disk Bruckner Symphony No.7 with Haitink conducting the Berlin Philharmonic I have mentioned in past columns. I also listened to the Electric Recording Company's Martzy Bach Unaccompanied Violin Sonatas Volume One (ERC001), the Decca Classical Stereo Sampler (DECCA SXL 6177), and the ORG edition of Rickie Lee Jones's Pop Pop (ORG 007). It was necessary to adjust levels, because the 20-turn Consolidated SUT produced a few decibels more gain than the 16-turn Ypsilon.
I was not kidding last month when I wrote that the CAD Ground Control system transformed the sound of my system. Still, I was taken aback when I played, for the first time since I installed the CAD system, the Bruckner LP that I'd repeatedly played to write my notes for the box. I knew what to expect, but what I got with either transformer was far more liquid, 3D, transparent, and timbrally spot-on, though it was originally quite good. Now the massed strings didn't exhibit even a hint of edge or brightness, and the see-into-the-picture sensation was greatly intensified.
These are both outstanding, high-performance transformers. Both produced open, transparent, supple, rich sound. I also compared the Bob's Devices Sky 20, which, while easily the best value of the three, at $1375, couldn't compete in terms of bass control, transparency, high-frequency extension, or dynamics. I doubt the Bob's Devices SUT will be paired very often with a $52,000 phono preamp.
Even after level-matching, the Consolidated SUT delivered somewhat better bass microdynamics on "Up from the Skies" from Pop Pop, though the Ypsilon had better bass control. The nylon-string guitar was slightly more transparently real through the Consolidated. Rickie Lee Jones's voice was convincing through both.
On the Martzy solo violin, the Consolidated had more sheen on top while the Ypsilon was more burnished, with more body. On the Bruckner, the Ypsilon let me see further into the soundstage, and the strings were sweeter (even though the load was 470 ohms vs 120 on the Consolidated; a larger loading resistance should, if anything, mean more high frequencies). The Consolidated had the edge (no pun intended) on "The Toreador Song" from Carmen on the Decca compilation: There was more sheen on Nicolai Ghiaurov's vocal.
Which of these two transformers you prefer is a matter of system matching and sonic preference. While hardly inexpensive, the $5700 Consolidated SUT strikes me as a good deal, especially if you want silver wire
---
Footnote 3: Consolidated Audio, Am Volkspark 5510715 Berlin. Tel: (+49) 030 49771162. Web:
consolidated-audio.de/en
. US distributor: OMA (Oswalds Mill Audio). Tel: (917) 743-3780. Web:
oswaldsmillaudio.com
.