Analog Corner #289: Ortofon Anna Diamond MC phono cartridge Page 2
On a practical level, this development allowed Ortofon to use a lightweight, precision-molded, high-strength, high-rigidity, nonmagnetic armature that doesn't alter the magnetic field as it moves. That, combined with ultrapure oxygen-free copper coils, is said to produce "perfect," uncompromised electric reproduction of the armature's physical movement. The efficient system also means significant voltage output is possible using a minimum number of coil turns—which, of course, reduces the system's mass.
The design achieves greater vibrational control using an improved WRD (wide-range armature damping) system. The Anna's WRD system extends the armature beyond the coils, allowing it to interface directly with the rubber dampers in which is sandwiched a small, heavy platinum disc that produces more consistent armature movement. Ortofon claims the changes to this system improve both stereo perspective and transient clarity and accuracy. In addition to the self-damping SLM body, the Anna's body is damped with a thermoplastic elastomer compound that forms the bottom cover assembly. This may strike some as minutiae, but those details are among the reasons an ostensibly state-of-the-art flagship cartridge can be costly—those plus the precision with which all of this must be hand-assembled.
Setting up the Anna D
The new cartridge has an output of 0.2mV; channel balance within 0.5dB at 1kHz; channel separation of at least 25dB at 1kHz (22dB at 15kHz); frequency response (±1.5dB) of 20Hz–20kHz; lateral compliance of 9µm/mN; a recommended tracking force of 2.4gm; a tracking angle of 23°; an internal impedance of 6 ohms; and a weight of 16gm. These specifications are identical to those of the original Anna, other than the 2.4gm recommended tracking force, which is 0.2gm less than the 2.6gm recommended for the original.
According to Ortofon, "both [Anna] models are a perfect match for a high-mass, high-precision tonearm with gimbaled bearings." I installed the Diamond on the Swedish Audio Technologies CF1-09 arm, which qualifies. When I reviewed the original Anna, I still had the dual-pivot Continuum Cobra tonearm on the 'table and did not yet have the CH Precision P1/X1 current-mode phono preamplifier, both of which are also ostensibly ideal for use with either Anna.
Setup was relatively quick and easy. With the arm parallel to the record surface, I observed an ideal 92° stylus rake angle, and minimal crosstalk/ maximal separation and balance with the stylus very close to perpendicular to the record surface—as it should be when you fork over this much money!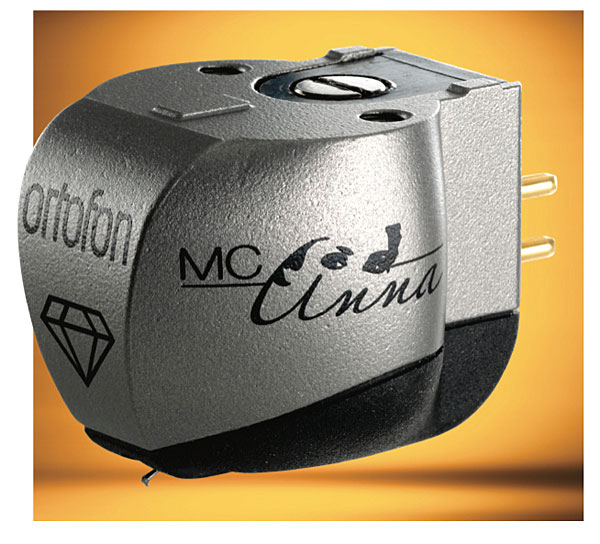 Spectacular sonic performance
Prior to Ortofon's MC Century, the only experience I'd had with a diamond-cantilevered cartridge was Transfiguration's Proteus D. I'd reviewed the original Proteus and liked it a great deal (as I liked all of the many Transfiguration cartridges I've heard and reviewed over many years)—but their D version was a big step forward in terms of transient precision and speed, with no sonic downsides. Transparency was greater, and everything was faster and more exciting. The sound was more like a "direct shot" rom the grooves. But then the company's founder and designer, Immutable Music's Seiji Yoshioka, passed away in 2018, and per the family's wishes, the company ceased operations.
Like that cartridge and, of course, the MC Century, the MC Anna Diamond is joltingly fast, clean, and transparent, yet with solidity, weight, and body. Whatever issues I had with the original Anna's midbass transients have been eradicated. From top to bottom, the Anna D is as tonally (I hate that word, but there it is) balanced and neutral-sounding as any I've heard. It unravels detail with the very best Lyras. And, where appropriate, it can sound warm, sweet, and fully fleshed out harmonically. It does not sacrifice body or texture for speed—in fact, I cannot hear any trade-offs whatsoever. I fell in love immediately with the Anna D, fresh and out of the box and carefully installed.
I bought the Kinks' The Mono Collection (Sanctuary 889853281) when it was first released, but for more than a year this 10-LP set, cut by Kevin Gray from the original master tapes, sat unplayed, owing to other listening obligations. Even though these are relatively primitive mono recordings, one of the discs from that set—the album Something Else by The Kinks—was among the first records I played with the MC Anna Diamond (with the preamp set for mono). The Anna D presented Ray's voice in vividly three-dimensional relief as I'd never before experienced from this recording, and unraveled Ray's vocal doubling and Dave's harmonies as I'd never before heard them—along with what sounded like Mick Avory's drums bouncing off the studio back wall. In spite of being in mono, with the Anna D these recordings produced impressive front to back layering and exceptional overall spatial organization. (I went back to the original UK pink-label Pye pressings, and while I think the reissues sound better, the presentation of the originals was better with the Anna D than I've ever heard them before.)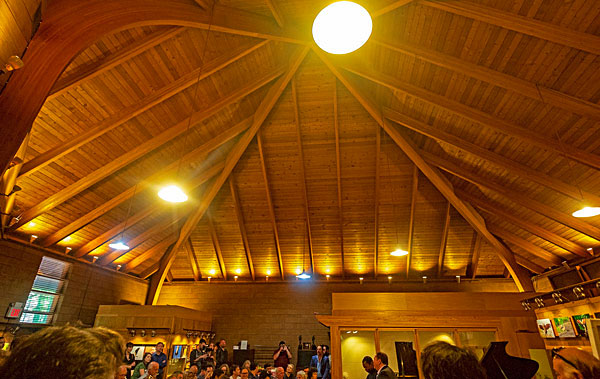 Recently, I had the opportunity to spend time inside Van Gelder Studio in Englewood Cliffs, New Jersey, twice in two days: first to be interviewed for a documentary video about Creed Taylor and then to hear Newvelle Records artist Billy Lester perform live on the piano from Rudy Van Gelder's Hackensack living room, which had been played by Bud Powell, Thelonious Monk, and countless other greats. I was keen to play something that had been recorded there, to see if I could associate what I heard at home with the space I had finally experienced in person.
I pulled from the shelves an original pressing of Africa/ Brass by the John Coltrane Quartet (Impulse! A-6), recorded on May 23, 1961, at Van Gelder's and released on the label Creed Taylor founded. Another reason to play it was a story published a few days earlier in The New York Times Magazine about the big 2008 Universal Studios fire that destroyed thousands of master tapes, including, the story said, Trane's whole Impulse! Catalog (footnote 2). The master tapes for this recording no longer exist.
Here, too, the Anna D cast its spell, producing that same room-defining magic. Van Gelder Studio is not a dry room. It has a fast, natural reverb that the legendary engineer purposely designed in; he captured it on tape by insisting on not using isolation, at least until his later years when it was made available. The natural reverb is there in Africa/Brass, subtly expressed as a lively bloom around sax, drums, and piano early in the opener, "Africa." The key word is around: Lesser cartridges make it part of those instruments, while even lesser ones miss it altogether. When McCoy Tyner is given space for a piano solo in that track, the room comes into focus behind him. Cartridges that push midbass warmth produce a "piano in a barrel" sound.
I'm going to skip the usual, specific record references and leave it at this: The MC Anna Diamond is a cartridge for all musical genres. Its frequency balance is as neutral as I've heard. Its dynamic expression at the micro and macro levels (and in between) left nothing on the table, and its response at the frequency extremes was fully articulated. It could be raunchy when required, or silky smooth and refined. It never left me wishing for more or less of anything, whether I was playing symphonic music, small jazz combos, female vocals, or '90s-era grunge. The music, not the cartridge, called the shots.
When I returned the MC Century to service (just a headshell change and a few quick minor adjustments were needed), it was clear that although the Anna D and MC Century sound very similar, they don't sound identical—at least my samples don't! The Anna D is faster, with more sharply drawn high-frequency transients. The bottom end is more nimble. The MC Century's bottom has slightly greater weight and authority; perhaps because of that, while it did recreate the Van Gelder Studio space, it was more blended into the instruments and less well-defined. However, these were minor differences, ones that I had to go looking for to find.
These are two of the best sounding cartridges I've ever heard, and they perform equally well on every kind of music. One is sold out. The other, like the standard Anna, is available as a non-limited-edition product. Keeping the original Anna in production is an interesting choice: My thinking is that anyone who can afford to drop $8394 on a phono cartridge can just as easily (or with equal difficulty) drop $10,499 on the Anna D. Maybe they're keeping the original Anna around for those who want that extra bit of midbass "coziness" and warmth. Of course, with or without a diamond on the sole of her shoe, Anna should be mounted on only the highest quality tonearms.
There are 10-carat pretenders and 10-carat stars. The MC Anna Diamond is a star.
---
Footnote 2: After it ran, I was told by people who ought to know that
A Love Supreme
was spared because it was being used to make a reissue.