AMG Viella Forte turntable and 12JT tonearm Page 2
Adjusting speed is easy: Just hold down the button for the speed you want to adjust for about 5 seconds, then use the other two buttons to adjust the speed up or down. While the resulting green-line plot does not compare especially well to results from constantly monitored-and-adjusted, light-plattered, direct-drive turntables, the numbers themselves are very good: low-pass–filtered to remove deviations due to record eccentricity, the relative maximum deviation was –0.02%/+0.01% and the absolute was –0.7Hz/+0.5Hz (figs.1 & 2). These are very good numbers! The Air Force One Premium's numbers, for instance, were –1.4Hz/+2.1Hz.
A stethoscope snoop revealed absolutely no motor noise anywhere on the plinth, and a tap test anywhere on the plinth with the stylus on the (not-turning) record platter produced a faint and quickly dissipating "pt" sound, indicating low energy retention and effective mass-damping. Using the Hi-Fi News & Record Review test record's horizontal and vertical resonant frequency bands produced expected results given the arm's effective mass, the cartridge's weight, and its low compliance: around 10Hz horizontal and 9Hz vertical.
None of this surprised me because first I listened to a lot of tunes and found that the arm/'table combo's performance well captured the Ortofon Anna Diamond's formidable sonic performance.
AMG's new screw-on record clamp, combined with the new PVC top plate, produced effective record-grip-ping abilities. A small POM washer over the spindle provides the needed flex.
Using the Vielle Forte and 12JT arm was a 100% pleasure.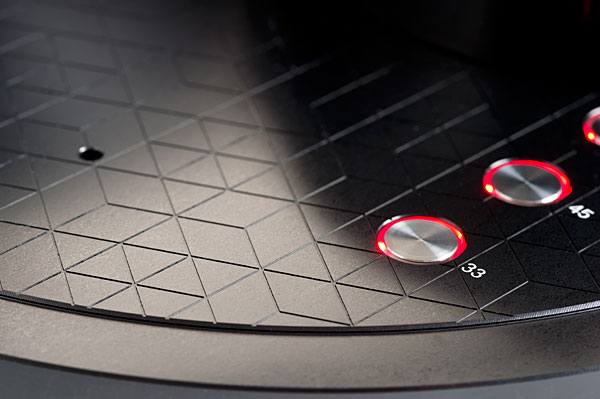 Structural integrity produces sonic solidity
I'm working on a direct-to-disc piece for AnalogPlanet.com and so played many new and recently released D2D recordings for this review. This arm-'table combo produced, on every one of these records, solid soundstaging integrity—especially three-dimensionality—and reasonable though not total timbral neutrality that allowed the balance on the record to express itself instead of the 'table/arm combo imposing its own colorations.
Recorded at AIR Studios, Forgotten Dreams on the Chasing the Dragon label (VALDC006) is an intimate set with Irish singer/songwriter Eleanor McEvoy on guitar accompanied by pianist Damon Butcher. McEvoy opens the set with "The Spanish Word For Heart Is Corazon," one of her best known songs. Set the spls "just so" and McEvoy appears as a solid, 3D entity bathed in the large former church's acoustics, Butcher's grand piano off to the side as in the cover shot. The producers wisely put the duo in a corner close to a wall so they would not be swallowed up by the cavernous room, so the picture combines intimacy with space. The Anna D excels at spatial delineation, and the 12JT and Viella Forte delivered what that cartridge is capable of producing.
This is not the easiest record to track on sibilants—no de-essing is possible on D2D recordings—yet the 12JT/Anna D combo handled most of them cleanly throughout (no cartridge or arm that I've used handles them all perfectly), helping to produce a consistently pleasing, artifact-free rendering. I've been in that room and, within the limitations of stereo, this record puts you there.
The Dutch Night Dreamer label specializes in direct-to-disc recordings produced at Artone Studio, which is located above the Record Industry pressing plant in Haarlem, Netherlands. (I've been there, too.). The label was fortunate to land jazz saxophone great Gary Bartz for a D2D collaboration with six-member funk/jazz group Maisha, with whom Bartz has been associated for some time. There's a YouTube video of the October 29 and 30 recording session.
Bartz plays both soprano and alto sax with the group, which features trumpet, percussion, drums, guitar, and electric bass. There's lots of slam, bottom-end drive and weight, plus shimmering cymbals, bell trees, and sufficient cowbell. It's a closely miked, intimate recording more interested in getting it directly in your face than situating the group in acoustic space. Crank it up and I dare you to sit still.
The Viella Forte and 12JT combo held together well and delivered a coherent, rich, well–fleshed-out rendering of the record, especially rhythmically. The 'table has drive to spare. The combo also delivered all the dazzling colors and textures of Bartz's sax. The overall sound had a slight midrange emphasis that imparted a fullness and solidity to the picture without producing congestion. While the Anna D's spatial abilities were fully rendered, I thought the overall picture was slightly darker and sweeter than I remembered the Anna D producing on my reference rig. I switched back to the reference rig and found I was right.
In the original 2013 Viella review, I noted a "smoother, sweeter" sound from a second sample of Clearaudio's Goldfinger cartridge that Leerer provided for the review than what the previous Goldfinger had produced mounted on the Continuum Caliburn/Cobra combo. I also noted that it seemed to give up some "transient snap and attack speed," but I couldn't be sure if it was the new cartridge or the Viella/12J2 combo.
Now I'm certain that the Viella Forte/12JT combination, like the previous combo, produces a somewhat sweet, midband-rich sound—at least compared to my reference turntable, now fitted with the SAT CF1-09 arm, a combination that costs about 7× the cost of the Viella Forte/12JT combination. Whether the arm or the 'table or both are producing that character, I can't say, but the combo does, for sure. The bigger, costlier rig produced wider macrodynamics, deeper bass, and greater transient sparkle and shimmer from the same cartridge playing the same records.
That's not criticism as much as it's a description of what spending seven times as much gives you. That said, what I wrote about the Viella/12J2 seven years ago holds true for this pairing, too: "the overall musical presentation held together remarkably well and exhibited exceptional transparency and freedom from mechanical artifacts. The combo was rhythmically agile and had an attractive 'jump' factor, aided by nimble, well defined bass, though bass lines were not as deeply executed as the much bigger 10× more expensive Caliburn."
An older Chasing the Dragon D2D record, Binaural Baroque (VALDC005), demonstrates the Viella Forte–12JT combination's greatest strength. It's another Air Studio recording, this one done using a Neumann "dummy head" binaural microphone, so is best heard with headphones, but it still manages to produce intense, wrap-around three-dimensionality to where even Pachelbel's overexposed "Canon" becomes engrossing. This performance by the Locrian Ensemble of London delivers timbral, textural, and dimensional richness that the Viella Forte renders with full authority.
I can't get off the D2D kick. I found lurking in my utility room a Sheffield Lab classic: The Chicago Symphony Winds playing Mozart's Serenade No.11 and Grieg's Four Lyric Pieces (LAB 22), recorded September 8, 9, and 10, 1983. This recording demonstrated the Viella Forte's superquiet backgrounds, timbral verisimilitude, image stability, and precision three-dimensionality. I know of no digital presentation that comes close to this record's ability, especially through a turntable, tonearm, and cartridge combo of this high quality, to put a wind octet so convincingly in a space that magically appears where your speakers once stood. This was a no-fault rendering of a no-fault recording that I spent way too much time listening to on the Viella Forte!
Conclusion
Like the original Viella, the Viella Forte at $23,000–$25,000 (the latter price with the engraved plinth) is among the best values in "top tier" turntables. Its build quality and engineering make it worthy of placement in that category even if the sonic performance is a notch below the absolute best; remember that it does so at, in some cases, a fraction of the price. Add the high-performance 12JT arm, and at around $30,000 you have a combo that costs two-thirds the price of just the arm to which I compared it.
As I wrote about the original Viella, what makes this big brother so appealing is its midrange presentation, which, though ever so slightly thick, is highly resolved and includes complete freedom from overhang. The very bottom, too, while not the most fully extended, is completely free of muddy hangover. The forceful, insistent delivery makes you want to play records of every musical genre and revel in the luxuriousness of the presentation. As the late Art Dudley used to say, "It plays the tune."
Pardon me for this detour: Just as I was finishing this review, The Electric Recording Company announced a reissue of the sonic spectacular Shostakovich's Symphony No.13 "Babi Yar" (EMI ASD 3911) with André Previn conducting the LSO, Dimiter Petkov on bass, with the LSO Chorus, recorded at legendary Kingsway Hall. It's a grand, sweeping, cinematic piece telling a tragic, depressing story. I hadn't yet played the German Alto Analogue reissue of this recording on the Forte; it was cut, in the mid-'90s, from the original analog master tapes, as were all of the late producer Joachim Bose's reissues. So I put it on.
Without an original Viella here to compare, I cannot tell you how much of an improvement the Forte might deliver on this recording, compared to the V12, but the presentation was massive and generously sized as the great Kingsway Hall recordings are, and effortlessly presented, as the AMG turntables always manage. I can't wait to hear what ERC makes of this one!
So many years after reviewing the V12, I'd be blowing smoke if I told you I was sure that the Forte's grander physical scale produces commensurately grander sonics, but, given that it's a mass-loaded design and there's far more mass, and with both the motor and arm platform more tightly coupled than before to the more massive plinth, it stands to reason that the Viella Forte offers more of everything. One thing I'm sure it offers more of is microdetail.
AMG offers an upgrade program: Trade in a Viella V12 and get a Forte with 12JT Turbo tonearm for $22,000 (an $8000 credit). There are other upgrade paths—too many to list here. Ask your dealer. If you make the move, you'll be in a far better position to tell the difference between the two 'tables than I am. Let us know!
As with the original Viella, the V12, the AMG Viella Forte, with or without the 12JT tonearm, is among the best values in high-performance, "top shelf" turntables. It competes well in terms of sonic performance and build quality with similar products, including some priced far higher.