Acapella Revises the High Violoncello II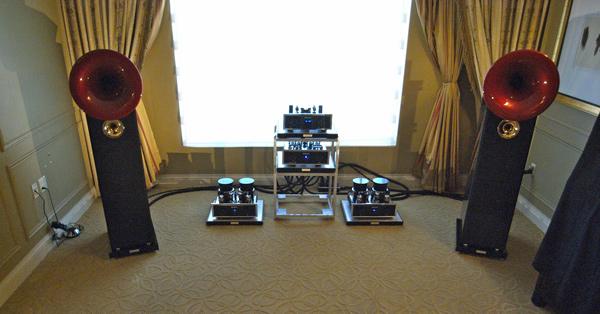 A highlight of my reviewing year in 2010 was living with and writing about the Acapella High Violoncello II speaker from Germany ($80,000/pair). With its horn-loaded, ionic tweeter and horn-loaded midrange unit, this speaker offered both high sensitivity and some of the most satisfyingly musical sound I have experienced in my room.
Current production has been modified a little compared with the much-traveled samples I auditioned for my review. (They were the same pair I had auditioned at the 2010 CES, Axpona and RMAF Shows.) The drive-unit complement, cabinet, and crossover are all the same, but there is now a greater range of level adjustment for the ionic tweeter and isobaric-loaded woofers. But the sound of the latest version at CES. driven by Einstein electronics, sounded just as I remembered: dynamic, transparent, neutrally balanced, and not a trace of horn colorations.