The 2003 Products of the Year 2003 Joint Amplification Components
2003 Joint Amplification Components
Linn Klimax Twin power amplifier (review) ($8995; reviewed by Art Dudley, Vol.26 No.6, June 2003)
Parasound Halo JC 1 monoblock power amplifier (review) ($6000/pair; reviewed by Michael Fremer & Sam Tellig, Vol.26 Nos.2, 6, & 12, February, June, & December 2003)
VTL TL-7.5 Reference preamplifier (review) ($12,500; reviewed by Paul Bolin, Vol.26 No.10, October 2003)
Runners-Up (in alphabetical order):
Bel Canto eVo6 multichannel power amplifier (review) ($4900; reviewed by Kalman Rubinson, Vol.26 No.9, September 2003)
Cary CAD 805C Anniversary Edition monoblock power amplifier (review) ($8995/pair; reviewed by Sam Tellig, Vol.26 No.8, August 2003)
Classé Omega monoblock power amplifier (review) ($28,000/pair; reviewed by Brian Damkroger, Vol.26 No.7, July 2003)
Conrad-Johnson Premier 140 power amplifier ($6795; reviewed by Sam Tellig, Vol.26 No.10, October 2003)
darTZeel NHB-108 Model One power amplifier (review) ($10,000; reviewed by John Marks, Vol.26 No.9, September 2003)
Manley Steelhead phono preamplifier (review) ($7300; reviewed by Michael Fremer & Paul Bolin, Vol.24 No.12, Vol.25 No.7, Vol.26 Nos.9 & 10, December 2001, July 2002, September & October 2003)
Naim NAC-552 preamplifier (review) ($22,400; reviewed by Michael Fremer, Vol.26 No.7, July 2003)
Too tough to call, so we picked three.
It's hard to believe—but refreshing for those of us who have to haul these things around—that Linn could squeeze 100Wpc and so much goodness into the Klimax Twin's 20-lb, 14" box. We're glad they did, helped by a switch-mode power supply that substitutes smart circuitry for heavy iron. Art Dudley got to know how incredibly detailed the Twin was: "Textures, inflections, nuances, and even nonmusical sounds were offered up clearly and organically," while he never heard better in terms of "dependably right pitches and timing."

The second winner in this category doesn't get hauled around by anyone: With the Parasound Halo JC 1, we go from sleek'n'sexy to brawny brute. While we admire grace, we still crave power, and the JC 1 delivered: 400Wpc specified into 8 ohms, 586W (!) at clipping, to be exact. But the Halos were not merely strong; they were also refined, impressing Michael Fremer most with their "phenomenal transparency, resolution of low-level detail, and overall tonal neutrality." Sam Tellig enthusiastically agrees, feeling this John Curl design specialized in truth of timbre and smoothness. "Before you blow $10-$20k or more on some amps that were recommended by a reviewer who didn't buy them," summed up Sam, "give a listen to the Parasounds, which this reviewer did purchase."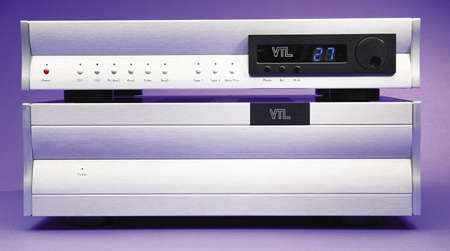 Our final winner, the two-chassis VTL TL-7.5, combines tubes and FETs and was designed with the express purpose of being a world-beating line stage. Presumably, VTL succeeded. In this case, however, less proved to be more, as Paul Bolin was most impressed by the '7.5's lack of character: "The TL-7.5 had such an infinitesimal sound of its own, and did everything so supremely well, that I found nothing to rationally criticize....It is, by no small margin, the finest line stage I have ever heard at length." Enough Stereophile scribes concurred to put the VTL up there on the podium.