The Fifth Element #35
The relationship between many audiophiles and well-sung, well-recorded female vocal tracks is like the relationship between alcoholics and alcohol—or between, apparently, quite a few congresspersons and unworked-for money. The sentence, "Thank you, but I really have had enough already," is seldom heard. In defense of our hobby, buying and setting up stereo equipment so that gorgeous singing can enthrall you does no one any harm, and arguably does much good. "Beauty is truth," and all that.
So, the lead-in to this issue's "The Fifth Element" is a tip-off to an absolutely enthralling vocal by one particular woman, on a track that may have slipped between the discographic cracks. It is Jane Monheit singing "Besame Mucho," (footnote 1) her only contribution to the debut recording of an ensemble called The Frank and Joe Show.
That the CD is entitled 331/3 and has a cover designed to look like an LP label (including dividing the tracks between "Side One" and "Side Two") should give you some idea where these guys and girls are coming from: swing, swing, and more swing. Industry veteran Joel Dorn produced 331/3 for his own label, Hyena Records. Formerly vice-president of Atlantic Records, Dorn's credits include Charles Mingus, Hubert Laws, Roberta Flack, Keith Jarrett, Gary Burton, Leon Redbone, Bette Midler, and Monheit's own discs. Todd Parker, Gene Paul, and Jamie Polaski engineered, and the sound is first-rate (footnote 2).
The Frank and Joe Show is Django Reinhardt–influenced swing guitarist Frank Vignola and drummer and percussionist Joe Ascione, aided by various friends, including Dr. John on piano. 331/3 is actually much like a fast-paced live show, with guest vocals from Dr. John and The Manhattan Transfer's Janis Siegel as well as Monheit. The set list is all over the map, including instrumental takeoffs of Mozart and of Rimsky-Korsakov's The Flight of the Bumblebee, all of which may or may not be your cup of tea. But I think all but the most rigid listeners will break into smiles and start tapping their feet. Even if most of the other tracks were to strike you as nothingburgers, "Besame Mucho" is a smash. If ever there was a case of one track justifying an album purchase, "Besame Mucho" is it (footnote 3).
Monheit's rich, somewhat dark voice has a particularly seductive timbral voluptuousness that by now should be as well known as it is self-evident. Listening to her tenderly shape musical tones is like bingeing on a warmed-up jar of Williams-Sonoma fudge sauce, without the fat and calories. Her pitch security in the stepwise section of this melody is wondrous to behold—dead smack in the center of each note, with total self-confidence. Her vibrato is pure, even chaste. Her dynamics are under extraordinary control. Her diction is classy without being mannered. Her phrasing is elegant. The way she handles the repetition of the word besame at the beginning of the song is as perfect as such things get. She doesn't hit you over the head with it or pretend that it's opera, but neither does she miss the point that the repetition has dramatic as well as emotional significance—the catch in her voice is almost subliminal.
In a word, it all sounds natural, which in the domain of art usually means that a hell of a lot of hard work has been done over the course of many years. Brava and bravi. Give Jennifer Warnes' Famous Blue Raincoat and the collected works of Patricia Barber a well-deserved rest, and get 331/3. And here's a suggestion for exhibitors at Home Entertainment 2006 in June: for a demo cut, you could do far worse than "Besame Mucho." (Readers in the Northeast will be tickled to learn that Jane Monheit will appear with the Boston Pops at Symphony Hall in May.)
The perfect vehicle
I don't think one could ask for a better loudspeaker through which to hear Jane Monheit sing "Besame Mucho" than the Concert Grand SI from ESP Loudspeakers. It just sounds so right, so natural, so effortlessly easy to listen to. And, as is the case with singing, that usually means years of hard work. The ESP Concert Grand SIs and associated equipment (about which more later) made the most musically realistic and emotionally compelling sounds I have ever heard in my listening room.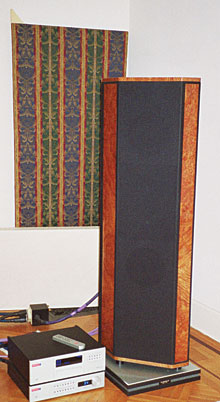 ESP's Concert Grand has been in production for many years. Counting from the beginning, approximately 120 pairs have found homes, which, for such a large, ambitious, and expensive (currently $40,000/pair) speaker, I find impressive. I wrote it up enthusiastically in my report on the 1996 Consumer Electronics Show, "Las Vegas on One Pair of Underpants" (Stereophile, May 1996, Vol.19 No.5). By then I had already heard the speakers at two or three earlier CESes, and had always been mightily impressed.
The Concert Grand SI looks so unusual and sounds so coherent that first-time listeners often ask if it's an electrostatic or planar speaker. Nope. The Concert Grand was and is a conventional dynamic (cone and dome) speaker, but with several uncommon features. ESP designer Sean McCaughan once worked for legendary speaker designer Harold Beveridge, so he's no stranger to thinking outside the box.
The Concert Grand is a very large floorstander of the sort that used to be common in the days when the Duntech Sovereign 2001 was king of the hill, but which are no longer so much in fashion. Each speaker is approximately 5' 7" tall, 14.5" wide, and 19" deep. Also somewhat reminiscent of Duntech designs, the ESP's drivers are arrayed on the baffle board in a D'Appolito configuration: tweeter in the middle, midrange drivers above and below, woofers above and below the midranges. The crossovers are reportedly first-order.
Where McCaughan's designs depart from the crowd begins with the mounting of the baffle board. Viewed from above, the right-hand Concert Grand's footprint looks something like a map of the state of Nevada with its southern point squared off. (The left-hand speaker is the right's mirror image.) In other words, the inside front corner of what would otherwise be a conventional rectangular loudspeaker enclosure is cut off at an angle of about 45°, leaving about 5" of the front (at the outside) and 9" of the inner side (at the rear) of the original rectangle. Those surfaces, as well as the top, are covered in a high-quality veneer. The resultant angled front baffle is about 14.5" wide and covered with a nonremovable grille of black knit fabric. Finishes are furniture-grade veneers, applied to a very high standard and with a high-gloss finish. The review pair came in handsome Olive Burl.
---
Footnote 1: "Besame Mucho" is a 1940s-vintage Latin torch song that was one of the numbers the Beatles recorded in their ill-fated tryout for Decca Records on January 1, 1962 and their June 6, 1962 EMI audition. They even rehearsed it (but did not record it) at their September 4, 1962, session at Abbey Road, which resulted in the release of "Love Me Do." The EMI "Besame Mucho" was eventually released on the Beatles'
Anthology 1
box set. The Decca version was released on LP in 1981 but, as far as I know, never on CD.
Footnote 2: Apparently, Jane Monheit is somewhat tuned in to the importance of good sound equipment, and has expressed a preference for AKG microphones. In appreciation, AKG presented her with a one-off engraved and gold-plated mike, which she used for one concert, and then donated to a charity auction. Nice.
Footnote 3: One could, in true postmodern fashion, download the track for 99¢ from Hyena Records. The Hyena site offers brief (0:30) streaming sound samples; www.amazon.com's samples, at one minute, give a slightly better idea. O tempora! O mores!