Recording of November 1996: The Complete Columbia Miles Davis & Gil Evans Studio Recordings
MILES DAVIS & GIL EVANS: The Complete Columbia Studio Recordings
Gil Evans (arranger/conductor); Miles Davis, Ernie Royal, Johnny Coles (trumpet); Cannonball Adderley, Lee Konitz, (alto sax); Gunther Schuller (french horn); Paul Chambers (bass); Philly Joe Jones (drums); many others.
Columbia 67397 (6-CD set) Michael Cuscuna, exec. prod.; Phil Schaap, Mark Wilde, Bob Belden, reissue producers; additional engineering, Tom Ruff. TT: 6:56:39.
After several delays and successive waves of anticipation, it seemed as if nothing, let alone the playing of mere mortals, could live up to the expectations surrounding Sony's ever-impending Miles and Gil box. A towering buildup of this sort would have doomed a lesser project to bad reviews and inevitable disappointment. Yet these austere, haunting collaborations, most recorded nearly 40 years ago, still possess enough elegance and innovation to have made it more than worth the wait. And even if you've worn your copy of Miles Ahead smooth long ago, half of this set will still be intriguing. The incomplete Quiet Nights album has been augmented with two late, unissued Evans/Davis collaborations, "The Time of the Barracudas" and 1968's "Falling Water," which was their last work together. There's also two full discs of out-takes and rehearsals (some previously issued) to tug at your wallet.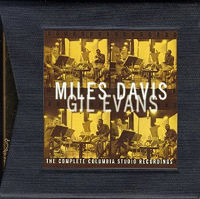 The guts of this exquisitely packaged set (one that comes with the first etched-metal binding in boxed-set history: Will it self-destruct like Madonna's Sex book fiasco?) are the three albums that remain among the fullest realizations of the Third Stream school of jazz/classical hybrids—Miles Ahead, Porgy and Bess, and Sketches of Spain. Three chapters of the same distinct narrative, these albums continue to be a source of inspiration, one that's resonated recently in projects by Max Roach, Joe Zawinul, and Chick Corea.
Borrowing from the orchestral music of Debussy, Ravel, Delibes (whose "The Maids of Cadiz" Evans arranged for Miles Ahead), and others, Evans became the maestro of large musical canvases, splashing them with textures and layers of tone, tempo, and color that coalesce into smooth, long-playing "concertos" of jazz. Evans also championed unorthodox instrumentation, which in these sessions meant creating a kind of jazz chamber orchestra with flutes, french horns, and tubas. He eschewed the saxophone, and against all advice also dropped the traditional guitar and piano.
The magic in these sessions is how Evans's writing drew out some of Miles's best playing, and conversely how Miles's gorgeous, lyrical side became the flashpoint that made sense of Evans's expansive arrangements. Too fluffy and mannered for some tastes, the long, languid phrases in "The Duke" (from Miles Ahead), "Summertime" (from Porgy and Bess), and countless other tracks here were an entirely different musical language from the one Miles was speaking in Kind of Blue and the additional small group dates he was recording at the same time. The contrast added much to Miles's status as one of jazz's most imposing players.
The two discs of outtakes, rehearsals, and overdubs are a moderately interesting, if overly long, window into how Evans, in particular, constructed the master takes. Suprisingly, few of the alternate solos or rejected takes are superior or even equal to what was issued. Still, it's hard to get too much Miles.
The sound on the original albums, which varied from good (Miles's trumpet) to fuzzy and unfocused (the orchestra), is much improved. Because nearly all of the original takes were a patchwork of overdubs (on Miles Ahead only "The Meaning of the Blues" is a complete take), this remastering job is a story unto itself. The story is told in detail in a section near the back of the package by producer/engineer Phil Schaap, who, along with Mark Wilder, deserves kudos for masterminding the restoration and remastering of this essential set.—Robert Baird