Comfort Vol.1: New Christmas CD from Cantus
John Atkinson and Cantus are at it again. Last June, John and
Cantus
, the Minnesota-based male vocal ensemble, traveled to Goshen College in Goshen, Indiana, to record an adventurous two-volume Christmas CD.
Comfort and Joy: Volume One
is being released this week.
Comfort and Joy is a uniquely conceived Christmas project. The idea is to have each volume tell the Christmas story from a different perspective: Volume One focuses on the idea of Christmas comfort; Volume Two, to be released in September 2005, on Yuletide joy. Volume One features Gregorian chant, folksong arrangements, and major Christmas works for male choir, such as Morten Lauridsen's glorious "O Magnum Mysterium" and Franz Biebl's moving "Ave Maria." Also featured are new arrangements by members of the ensemble of familiar holiday songs, as well as newly commissioned Christmas compositions.
As the artistic coordinator for Cantus I am always on the prowl for great recording spaces. I convinced the un–Grinch-like JA to travel to northern Indiana and hunker down for five days of recording. "You're coming in at night, so be careful you don't hit any buggies," I told John on the phone. "Buggies?" said JA. "Yeah, this is Amish country," I replied. I immediately sensed his fear that I had picked a recording location not on the power grid. No lie—Goshen's local McDonald's boasts a matching red-and-yellow hitching post.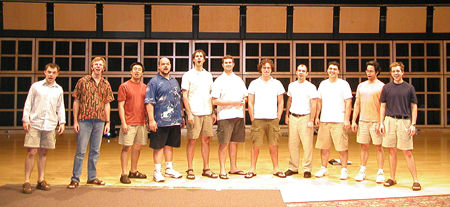 Amish or no Amish, this recording was anything but low-tech. Last year, Goshen College opened a brand-new music center that includes a state-of-the-art 1000-seat concert hall with variable acoustics. Sauder Hall is the real deal—a voluminous yet intimate concert hall with choir seating behind the orchestra, an adjustable acoustic cloud, and curtains that can cover or expose almost every vertical surface. With all the curtains pulled back, the decay time is a lush three seconds. With the curtains closed, the place is dead as a doornail.
JA's recording gear didn't necessarily embody the ideals of plain Amish life. For this album, John recorded Cantus in eight channels of high-rez, 24-bit/88.2kHz data in surround sound for Comfort and Joy's possible release on SACD and/or DVD-Audio. (The equipment for John's "minimalist" recording took up most of a large dressing room.) For the current CD release, JA omitted the rear channels and mixed the master from the three front-facing pairs of mikes (DPA cardioids and omnis).
Comfort and Joy: Volume 1 (CTS1204) is intended to go well with a cold night, a roaring fire, and some eggnog. Due to the loving work of John Atkinson and the singers of Cantus, the album is that and more. It illuminates the human side of the Nativity, focusing on the idea of new life in the dead of winter and the bond between parent and child.
To purchase Comfort and Joy: Volume 1, please visit the secure "Recordings" page.
Comfort and Joy: Volume One Track Listing
Puer natus est chant, plainchant 3:06
Gabriel's Message, arr. John Rutter 2:42
Ave Maria, Franz Biebl 6:44
O Little Town of Bethlehem, Kenneth Jennings 3:29
Hodie Christus natus est, plainchant 1:02
O Magnum Mysterium, Jacob Gallus 2:10
O Magnum Mysterium, Morten Lauridsen 5:25
Mary Had a Baby, William Dawson 3:08
Suo Gan, Lawrence Wiliford 2:31
A la Nanita, arr. Norman Luboff 2:12
I Wonder as I Wander, John Jacob Niles 2:42
The Three Kings, Healy Willan 2:49
What Child Is This? Tim Takach 2:54
Die Konige, Peter Cornelius 2:31
Coventry Carol, arr. Robert J Powell 2:57
Silent Night, arr. Brian Arreola 3:34
Total Time: 49:55
Recorded in the Sauder Hall, Goshen College, Goshen, IN, June 16–21, 2004
Erick Lichte & Cantus, production
John Atkinson, engineering, editing, mastering
Tim Takach, CD package design
Comfort and Joy: Volume One Equipment Listing
Microphones & Preamplifiers: Two DPA 4006 omni mikes, wide-spaced, with Metric Halo ULN2; two DPA 4003 omni mikes on Jecklin Disc with acoustic equalizers, DPA power supply, & Metric Halo MIO 2882; two DPA 4011 cardioid mikes as ORTF pair with Millennia Media HV3B.
A/D Converters: Metric Halo ULN2 & MIO 2882, dCS 904, all operating at 88.2kHz with 24-bit resolution and work-clock–slaved to dCS Verona master clock.
Recorders: A-One Pentium IV PC with RME Digi96/8 Pro, Apple TiBook, Nagra-D.
Session Monitoring: Stax Lambda Pro, Sennheiser HD580 & HD600, Sony MDR-7506 headphones, Musical Fidelity XCans v3 headphone amplifier, Benchmark DAC 1 D/A headphone amplifier, Headroom BlockHead headphone amplifier
Sample Rate Reduction: dCS 972 format converter.
Equalization & Redithering: Z-Systems rdp-1 running POW-R2 algorithm
Digital Audio Workstations: Sonic Classic, Bias Peak 4.0, Adobe Audition.