Head-Fi Meet in Queens
On November 12, the audio forum
Head-Fi
staged a meet at the Adria Ramada Inn and Conference Center in Bayside, NY. You may be asking yourself,
What's a Head-Fi meet?
That's a complicated question, but the simplest answer is that it's an attempt to provide a real-world equivalent to the sense of community that Head-Fi's forum has engendered on the Internet. It's also a chance for like-minded enthusiasts to share their favorite equipment and software with one another. In a hotel conference room, some 30–40 headphone lovers set up their systems (frequently incorporating more than one headphone amp and multiple sets of headphones) and then everybody started listening, taking turns around the room, and discussing what they'd heard.
Forty people isn't all that big a crowd, but it was a big deal in that it reminded me of the excitement and sense of community I haven't seen in high-end audio in many years. Part of that is the strong presence of the do-it-yourself ethos that pervades the headphone scene. "These guys aren't just building their own gear," HeadRoom's Tyll Hertsens said, "they're building stuff that sounds so good that it makes me have to keep coming up with better sounding products or I'll be left in the dust!"
As an example, Hertsens pointed out a tiny box with the name JMT M3 silk-screened on it. "That's an amp utilizing an active ground channel, based on a design created by Morsel (most Head-Fiers go by their Head-Fi tags rather than their full names—Ed.). The M3 stands for Morsel's Mighty Monster or something like that—and I've got to tell you that it sounds good enough to have cost me some sleep."
There were lots of new faceplates (at least for me) at the meet: Single Power Audio, Inc.'s solid-gold–plated Maestro Aurum XLR, a 35-pound balanced monster with a grove of six tubes sprouting off its top-plate; a couple of offerings from Rudistor, the RP5.1 and RPX33; Radji Audio's HAP-0311 headphone amp; the only just released AKG K 701 headphones; and Ray Samuels Audio's Hornet portable headphone amp, with Ray Samuels in attendence. Other significant gear included Samuels' Raptor, an Exemplar-modded Antique Sound Labs MG Head OTL-32, many Sony Qualia headphones, Audio-Technica ATH L3000 headphones, and a Sennheiser Orpheus electrostat set-up.
The meet was organized by Aaron Kovics (immtbiker), who is also organizing a national Head-Fi meet April 22 and 23, 2006, which will feature even more gear, as well as representatives from major headphone manufacturers and headphone accessory vendors. John Atkinson has offered to show up with some of his hi-rez digital masters to be used for demonstrations, and I'll be there to moderate a panel discussion with engineers from Sennheiser, AKG, and other manufacturers to be named later.
The November Head-Fi meet gives me hope for the future of audio, even while many "experts" are making dire predictions. (The difference between an expert and an "expert" is, of course, whether or not the person in question agrees with you.) The folks at the meet were excited about hi-fi and obviously spent a ton of time and money pursuing their passions—which runs counter to the "too many things competing for people's spare time" argument frequently given for the decline of audio as a hobby (as well as declining box-office totals, TV ratings, and just about anything else that has been commoditized into insignificance).
The reason for their involvement, many Head-Fiers explained, was that the entry cost was low. They could buy an acceptable level of high fidelity for under $500 and then make their own cables, amps, even transducers. It's a plausible theory, and I suspect there's some truth to it, but even as folks were touting the affordability theory, I was looking around the room and spotting $7000 amplifiers and multiple sets of $3000 headphones. True, that's small potatoes compared to $70,000 loudspeakers, but we aren't talking pocket change either.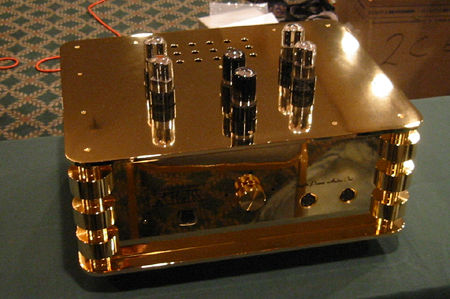 I suspect a better answer might come from the three teenage brothers I spotted cruising the show. They looked as though they'd be more comfortable in a skateboard park, but they were slipping into headphones and debating the merits of the different models. Tyll Hertsens introduced me to them and told me they'd walked into a Philadelphia Head-Fi meet and were hooked. They later turned their father on to headphone listening, and he'd bought a rig to listen to his music on. As I pondered that tale, I got it. The brothers already listen to headphones—as does just about anybody in this iPod-crazy era. They don't just understand headphones, they use 'em every day. Show them a room full of people listening to headphones and they don't find that too far divorced from everyday life; play them headphones that make their music sound better than they've ever heard it sound, and they'll want them. Who wouldn't?
John Cage said, "When we separate music from life we get 'art.'" I say that when we separate audio from life, we get indifference. If audio component sales are falling (and, as JI's article shows, they are), one reason is that the audio industry has done a magnificent job of separating itself from the lives we live now. What I saw in a hotel in Queens just might be a way to put life back into audio.
The revolution just might be in your head.