Bernie Grundman at RMAF
A Show like last week's
Rocky Mountain Audio Fest
presents me with conflicts. As a member of the press I should be spending my time covering the Show. However, I am also spending my time as a participant, in this case giving a
series of presentations
in which I allowed Showgoers the opportunity to listen to the hi-rez masters of many of my
Stereophile
recordings and compare them with CD and MP3 versions.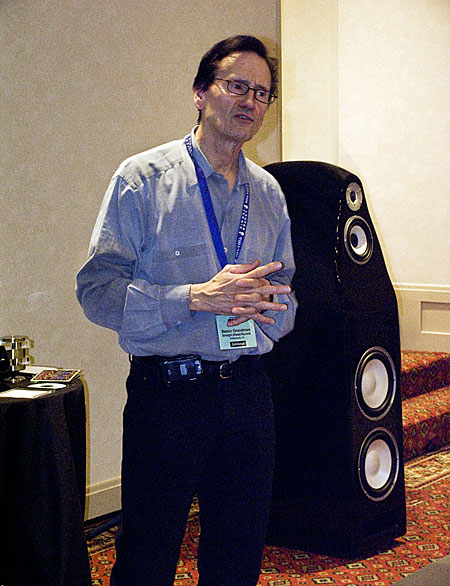 These presentations clashed with something that I really wished I could have attended: legendary mastering engineer Bernie Grundman—he was nominated for no fewer than 37 Grammy awards in 2005 alone—gave two seminars in the Aspen Amphitheater at RMAF on the Art of Mastering. He played before- and after-mastering tracks from some very recognizable music as well as several tracks from LPs & CDs released on his relatively new Straight Ahead Records label. (Michael Fremer at musicangle.com gave his highest rating, "11," to one of Bernie's releases, Hugh Masekela's Almost Like Being in Jazz.) Bernie's mastering chain is all-analog for those who prefer LPs, and direct from his single-ended board to two proprietary processors for the folks that get down with the ones and zeros...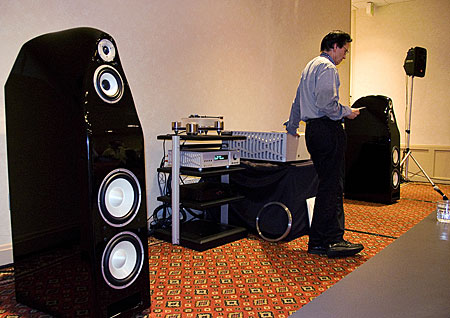 The system assembled for Bernie to play music in his seminar was, according to Hansen Audio's Wes Bender (who also provided the photographs): Hansen Emperor loudspeakers ($53,000/pair), partnered with the Boulder 1012 D/A preamplifier/phono stage and 2060 stereo amplifier. Digital source was a Metronome CD player and the LP front-end (supplied by Garth Leerer of Musical Surroundings) a ClearAudio turntable fitted with a Graham tonearm and a Benz Ruby cartridge. Cabling was all-Stealth. Wish I had been there.