Stereophile's Products of 2006
This Is The Perfect Time
—the time of year we love most. Madison Avenue's confounding street signs are suddenly dressed in green and red wreaths, the city's weary scaffolding blinks happily with golden light, the ordinary clamor of traffic and jackhammers is magically transformed into jingle bells and drummer boys. There is music everywhere and nothing to get in our way: A look down the avenue in either direction throws open a window to all that is past and all that is to come.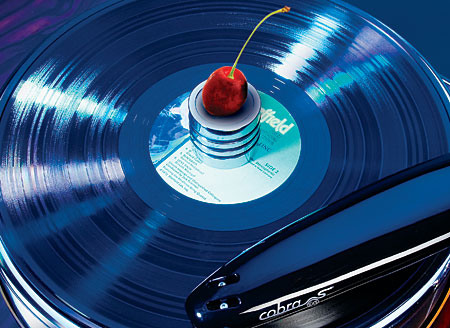 Let us take a moment now to stop and admire the view, for this has been an extraordinary year in hi-fi. We saw the number of great titles available on LP grow endlessly, giving guys like Michael Fremer all the more reason to buy that Continuum Audio Labs Caliburn turntable. At the same time, real advancements in the digital world made listening to small, silver discs a bit (or two) more enjoyable—that is, if you still own any of those small, silver discs. You were able to "squeeze more bits from the pits," as Sam Tellig might say, and without having to refinance your home. For those who've abandoned physical media altogether in favor of server-based systems, companies such as Sonos and Slim Devices proved that there is no limit on how often, when, or where we listen. Yes: There is music everywhere, and nothing to get in our way. This is the perfect time to announce Stereophile's "Products of the Year."
This is our opportunity to recognize those components that, we feel, provide musical pleasure without boundary, far beyond our formal review period. We break it down into categories: "Loudspeakers" (including subwoofers), "Amplification Components" (preamplifiers, power amplifiers, etc.), "Digital Sources" (CD players, transports, processors), "Analog Sources" (phono cartridges, turntables, tonearms, FM tuners, etc.), "Multichannel Music Components," and "Accessories" (wood blocks, magnetic stones, alcoholic beverages, and all that woo-woo stuff in between). Finally, the two most important categories are self-explanatory: Our overall "Product of the Year" is the best of the bunch, and our "Budget Component of the Year" leaves us with the most cash to spend on new records. To top it all off, John Atkinson gives us his own "Editor's Choice."
Here's how the voting works: Each of Stereophile's hardware reviewers is asked to nominate up to six components in each category (with the exception of "Editor's Choice"). To be a contender, a product had to have been reviewed in one of the 12 issues of Stereophile cover-dated November 2005 through October 2006, whether in a full Equipment Report, a Follow-Up review, or in one of the regular columns by Art Dudley, Michael Fremer, John Marks, Kalman Rubinson, and Sam Tellig. That way, only those components could be nominated for which a writer had put his opinion in print for public scrutiny. We then put together a ballot form listing all components nominated by three or more writers and/or editors. This process ensures that most of the nominees in most of the categories will have been auditioned by most of the reviewers. Each editor or reviewer then gives three votes for his first choice in each category, two votes for his second choice, and one vote for his third choice (if any). JA tallies the votes; address compliments and complaints to him. He loves them both the same.
The prices listed were current as of the end of September 2006. To order back issues mentioned in this article, call (888) 237-0955, or visit www.stereophile.com (MasterCard and Visa only).
And the winners are . . .