Wilson's Sasha Series 2 Debuts in SF
Wilson Audio Specialties' Sasha Series 2 loudspeaker ($29,500/pair), which began shipping in March, celebrated its formal California debut on Saturday, May 24, at Music Lovers Audio in San Francisco. Handsomely accompanied by recording engineer Peter McGrath (above), Wilson's Director of Sales for North America, and Rich Maez of Boulder Amplifiers, whose electronics joined a dCS front end and cabling from Shunyata, Transparent, and Synergistic Research, the Sasha Series 2, aka Sasha 2, more than lived up to its
promise
in a less-than-ideal room whose set-up included Synergistic Research's HFTs and FEQ and Grand Prix Audio's Monaco equipment racks.
The changes between the original Sasha (successor to Dave Wilson's distinguished WATT/Puppy lineage) and the Sasha 2 are numerous. Starting from the top, the inverted titanium tweeter has given way to a proprietary Wilson Audio soft-dome tweeter similar to that in the more expensive Alexia and Alexandria XLF. In addition to its more natural sound, the tweeter boasts dispersion characteristics that allow for wider speaker placement than before.
While the midrange driver remains the same as on the original Sasha and the Alexia, its loading (ie, its enclosure's layout and structure) is entirely different. Ditto for the loading of two woofers, which otherwise are identical to those in the Sasha 1.
Thanks to the B&K laser interferometer vibration measuring system that Wilson used to develop both the Alexandria XLF and its smaller sibling, the Alexia, the company has achieved a 32% reduction of resonance in the woofer compartment. "It's a significantly better woofer system," McGrath told Stereophile. "It presents far less of a load on an amplifier, and is easier to drive."
Another major improvement is that the Sasha 2 is far more adjustable in terms of the group delay adjustability of the head assembly. Taking a clue from the Alexia (above), whose tweeter and midrange enclosures are independently adjustable, the Sasha 2's tweeter/midrange compartment offers a total of 40 possible positions. Hence, it will perform quite well in extremely challenging listening environments (which, let's face it, many of us have).
All of this added up to a most impressive demonstration. Despite the handicap of a post-flood listening room, whose absence of an intentionally reflective wooden floor resulted in extreme high frequency die-off as one sat farther back, the Sasha 2's seamless, full-range presentation impressed attendees with its musical truth.
During the question and answer period, McGrath explained that Dave Wilson voices his loudspeakers in the company's five different listening rooms. These include rooms designed to emulate European rooms, as well as overly damped and overly live environments. He also uses many amplifiers, ranging from solid state to tube, and enough different cabling to keep many a silver mine in production. The final stage of voicing, which entails fine adjustments in the crossover, is perhaps the most critical phase in the completion of the loudspeaker's design. The goal is to produce a speaker that will function well in a wide range of environments, and in diverse company.
"Loudspeakers are only as good as the person who sets them up," said McGrath. "Given the complicated acoustic interactions between loudspeakers and their environment, it's essential to find the acoustical demons and slay them. This is why all Wilson loudspeakers are sold by trained dealers who travel to your home and take the time to set them up properly. As a retailer of 26 years, I feel it important to work with dealers whose decisions you can trust."
McGrath may have achieved fame for his classical recordings, but he also came equipped with "Come Home" from Ryan Adams' latest album, Tom Jones singing "The Tower of Song" wonderfully at age 72, and Amon Tobin's "Piece of Paper" (a Stephen Mejias favorite). As sensational as some of these sounded through Boulder's 860 stereo amplifier and 810 linestage; dCS's Vivaldi DAC, Paganini transport, and Scarlatti clock, all connected to Shunyata Research'a Hydra AV power distributor; and a combination of Shunyata, Transparent, and Synergistic Research cabling - Mc Grath loves Transparent's extremely neutral, full-range USB cable, as well as the company's other products - it was the contrast between his own live, 88.2/24 recording of a baroque tango ensemble from Buenos Aires and Keith O. Johnson's recording of Virgil Fox in Grace Cathedral that best brought home the Sasha 2/Boulder/dCS combo's ability to convey both high treble delicacy and growling brute bass with equal aplomb. The bass was, in a word, as fabulous as the absolutely seamless transition from the piano's lowest notes to highest tinkles.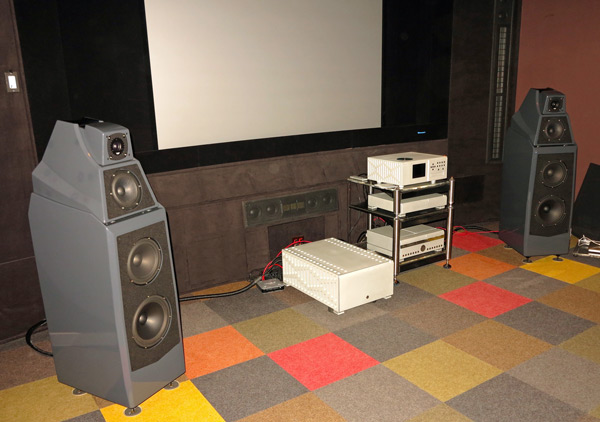 The Alexias
In Music Lovers' bigger home theatre room, the gorgeous Wilson Alexias (above, $48,500/pair through June 1) kept company with Boulder's 2160 class-A stereo amplifier, 2110 preamplifier, 1021 CD player/network streamer (which, alas, does not currently play DSD), and Shunyata cabling. Oh my. Not only was the sound of the electronics significantly more transparent and liquid, but the Alexia's higher resolution also produced far greater dynamic contrasts on the same material played in the admittedly post-flood handicapped Sasha 2 room.
I was impressed by the remarkable and truthful range of harmonics and overtones on Benjamin Grosvenor's piano (as recorded in high-res by McGrath). "Fabulous bass, highs, space . . . everything," I scribbled when listening to "Drunk in Love" from Beyoncé's newest album. Further listens to a jazz track from Tomas Stanko's Wislawa, Pierre Boulez's recording of Mahler Symphony 3, and Paavo Järvi's recording of Stravinsky's L'Histoire du Soldat further confirmed that, of all the loudspeakers I've heard, the Alexia's ability to communicate air and space around instruments and voices is second to none. Thanks to the superb set-up skills of Hugh Fountain at Music Lovers Audio, it was, by far, the most convincing demo of the Alexias I've ever attended.