Why Do Any of This At All?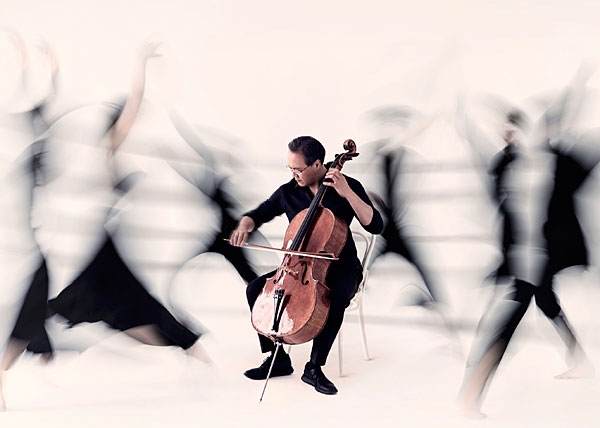 I've just returned home from one of the greatest concerts of my life, and felt absolutely compelled to share my thoughts with you. Yo-Yo Ma performed all six of J.S. Bach's Cello Suites, from memory, over a mesmerizing two-and-a-half hours at Red Rocks Amphitheatre, in Morrison, Colorado. It was a truly special experience.
When I was eight, Yo-Yo Ma was my inspiration to pick up the violin. I have over a dozen of his recordings in my collection. My copy of his 2001 recording of the Bach Cello Suites 1, 5, and 6 (CD, Sony Classical 89796) is so worn that the CD case is falling apart. I am a fan.
Sometime between 2004 and 2006, while I was attending Texas A&M University, Yo-Yo Ma and Emanuel Ax saw fit to perform there an all-Beethoven concert. It still stands the test of time as one of the most incredible concerts I have ever attended. The energy Ax and Ma unleashed on that auditorium was astonishing. A small part of what made the evening so memorable was that at one point Ma accidentally knocked over his music stand—but such was his composure that anyone in the audience that night would be hard-pressed to remember any perturbation or flaw in his performance. It cemented everything I "knew" to be true about him from his recordings.
After the concert, I remember excitedly rushing home to listen to a system I truly adored, and into which I'd sunk every penny I could afford from my afterschool jobs. This was a system carefully assembled and comprising very good gear from respected manufacturers. It took years to build, under the direction and tutelage of an audiophile possessed of many more years' experience than I, and whose taste I respected. It played jazz and classical almost as well as it could play blues, hip-hop, and rock'n'roll. It could reproduce honest-to-goodness instrumental textures. It was the envy of my college buddies. This was my first "music" system. When the school/work day got long, I could count on this system and a glass of wine to help me unwind. It just did things . . . right.
So I couldn't wait to put Ma and Ax's shiny silver disc in the tray and hit Play. But when I did, I was utterly disappointed. The textures of the instruments were all wrong. Everything was flat, mushy, and hazy, and the sense of timing was simply wrecked. Ma and Ax did not feel present in the recording. Shortly after turning the system on, I powered it down. Despite the daily affirmations, obtained in the absence of the sounds of real instruments in real halls, that my system was just right, it had let me down when forced to compete with the experience of live music beautifully performed—or, at least, the fresh, visceral memory of the event I had just witnessed. It probably wasn't fair to ask it to do so. It would have been something of a Sisyphean effort to attempt to craft such a space-time machine.
Nonetheless, I continued to love that system for many years, and never faulted it for not sounding as good as real life—obviously, no system can—but I couldn't help but be disappointed. It might not have been the first time a stereo has let me down, but it's the instance that has most stuck with me through nearly 30 years of listening to audio.
Now here we are, a dozen or more years further down the road. I am no music reviewer, but I can attest that mastery of an instrument is, for some, only the beginning. Compared to Yo-Yo Ma's recordings of the Cello Suites, in 1982, 1998, and 2018, tonight's performance was at once more powerful and more delicate. There was a sense of yearning in those earlier recordings that I didn't feel in the performance this evening. Instead, that yearning was replaced by so much assuredness and passion. Ma lilted and danced—he also ripped and rocked. His interpretations are inspired by his 55 years of playing these works. You can argue that his version of the Suites isn't straightforward Bach—that he opines too much, that the performances are less authentic to the original score than those of other players. But you could also argue that, confronted with a musician with the skill, passion, and vision to play them as Ma played them tonight, J.S. Bach himself would have adored the performance. You should see him on this tour, if you can. He's the best he's ever been.
So what did I do after the concert? I raced home to fire up the rig and listen to some of those earlier renditions of the Cello Suites, of course. I'm such a glutton for punishment, right? But as I sit here, listening, something has changed. I am not disappointed. I am not reaching to lower the volume. I am not quite fooled into believing Yo-Yo Ma is in my room, but I feel different from how I felt 12 or 14 years ago. He's so much closer now. All the things that were then mostly wrong are now mostly right. I can finally let go . . .
In terms of music reproduction, where we are today seems light-years beyond where we were 20 years ago. It almost feels as if the best gear just peels away the stuff that isn't music—the electrical equivalent of Rodin seeing a sculpture inside a block of marble, then carving away anything that wasn't art.
Which brings me to what started this whole thought process. Why do we do any of this at all? I think it might be because great music systems can bring us remarkably close to the experience of hearing high musical art in person. At least I hope that's the case, because it's so addicting. I think we're privileged to be able to create and enjoy products that can help us do this. I know I'm privileged to be able to share these experiences with like-minded people. The more people who can feel as everyone did tonight at Red Rocks, the better.
---
Footnote: Isaac Markowitz is the performance sales account manager for AudioQuest. He believes that music is the space between the notes.